I wear the (yoga) pants in this family
November 20, 2009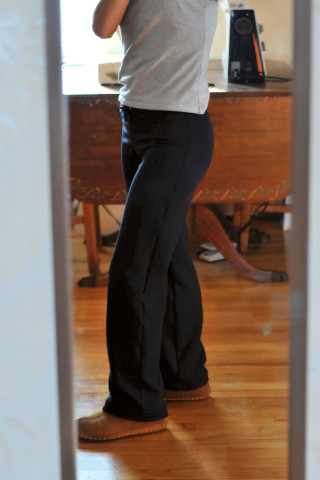 I suppose that title is misleading on a couple counts. Firstly, I don't practice yoga. Nothing against it, I just don't exercise in general outside of my normal life routine. Except for that time during my mom's March visit when we watched a yoga instructional video and I laughed through my clumsy downward dogs, warrior, tree and cat poses. I hike 4-6 miles a week, go on walks year round with the kids, and garden during the summer. That's my exercise.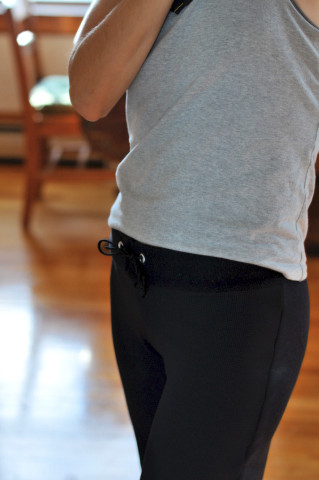 I also don't technically "wear the pants" in the family. I threw that part in for fun. Although from time to time I've tried them on for size you couldn't pay me enough to wear the pants in this family. Way too much responsibility. So what exactly is this all about? Well, Damien sewed these yoga pants for me, to my exact specifications: slim fitting (just because I'm home all day I don't want to look frumpy), stretchy & warm. That last note being of utmost importance as we head into "cold house" season here. What I would give for a wood stove. No, not everyone living in Maine has one of those. Instead of a woodpile we have a heating bill and we try to keep it as low as possible. For 6 months of the year I wear long underwear pants, pants, wool socks, sheepskin slippers, long underwear top, fleece/wool/acrylic sweaters, a down vest and on really chilly days a neck warmer and hat. Inside. I know, I deserve a prize.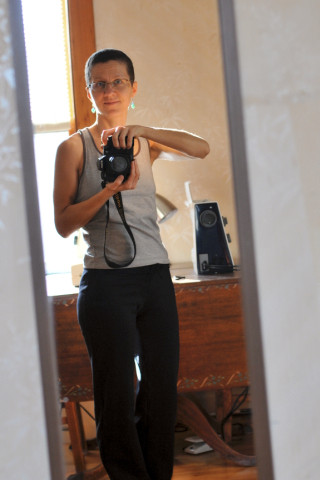 So my husband made me these pants and with a long pair of wool socks (the kind the come to just below the knee) I don't even need long underwear. Just to clarify, for these photos I wore a tank top, it looked more "yoga-ish" than the aforementioned indoor winter wear. But let me tell you, there ain't no tank top wearing around here in winter! Damien used this Jalie yoga pant pattern. Jalie makes awesome active wear patterns that can be used for both children and adults. One pattern for sizes toddler through large adults. Cool. So when the girls want a new pair of pants Damien can use this same pattern to sew them. This is one way to make sewing your own clothes more economical, when you can re-use the pattern and save on that cost for next time around. Isn't it ironic that with cheap foreign labor making your own is often more expensive than buying ready made?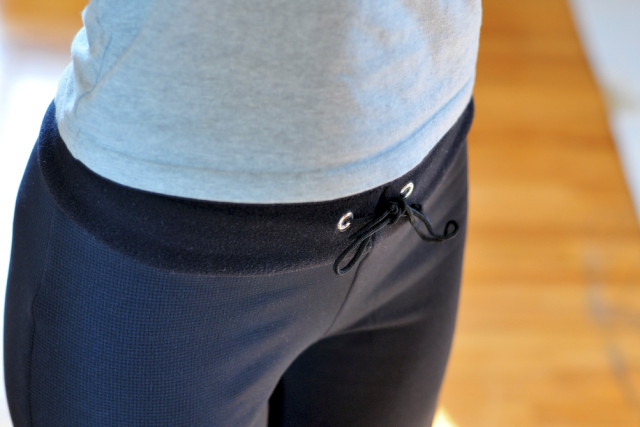 These pants are made out of Polartec Wind Pro which is (as the geese in Charlotte's Web would say) "toasty-oasty-oasty". This fabric is warm, wind resistant, fleecy soft on one side and sheds rain and snow. I'm loving it! I have to say my husband knows just the way to my heart - warm clothes. A man who wears the pants and sews. I've got it good.
Nothing to do with the pants
I just love how the sun lights up the green in my earrings
Renee Tougas participates in affiliate marketing, including the Amazon Services LLC Associates Program. Whenever you buy something on Amazon from a link you clicked here, I get a (very) small percentage of that sale. See disclosure for further explanation.
You can subscribe to comments on this article using this form.
If you have already commented on this article, you do not need to do this, as you were automatically subscribed.