How to make an herbal salve
November 19, 2009
This is a giveaway post, as well as a salve making tutorial. The giveaway is now closed.
Years ago I bought a large pre-mixed package of arnica flowers, St. John's wort and cayenne pepper (aka: Miracle Herbal Rub Mix) from The Bulk Herb Store. I used it to make a muscle rub Christmas gift for my parent's who are runners and very active people.
This mix of dried plants is good for aches and pains. The company doesn't sell this mix anymore but no fear because you can get some from me.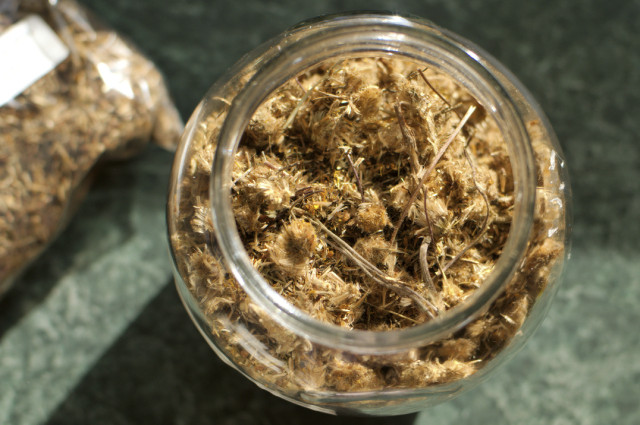 I have a lot of the Miracle Herbal Rub mix and I am offering it as a giveaway: a 4 oz package of mixed dried herbs along with beeswax so you can make a herbal salve.
What I'm giving away will be enough to make a a few jars of salve, one for you and some to give as handmade holiday presents. A double whammy!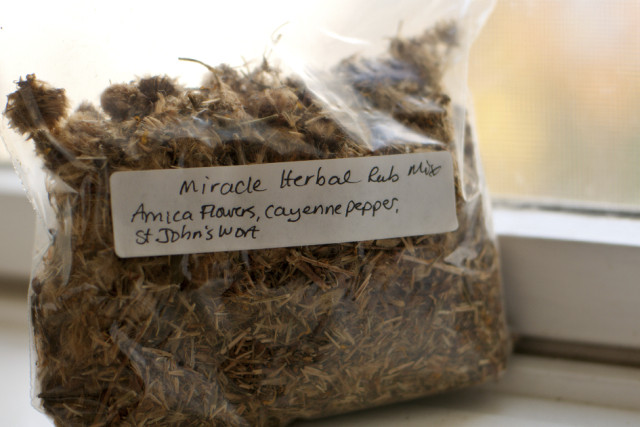 How to Make a Salve
Step 1: Prepare an Oil Infusion
Because I'm in no rush I'm using the cold infusion method, aka: jar on a sunny windowsill. If you're short for time you could use heat extraction instead.
Cold Infusion:
In a large jar cover 1 oz dried herbs with 6-8 oz of oil.
I used a mix of canola, soybean and sunflower because that's what I had. However, many sources recommend using either extra virgin olive oil for heat extractions or grapeseed oil for cold oil infusions. Both are naturally resistant to oxidation (which makes oils rancid) and have a longer shelf life.
If you are starting with a different amount of herbs a good rule of thumb is to cover the herbs with at least an inch of oil. At first the dried plant matter will rise and float but after a day it will settle and you can see if you need to add more oil.
Please note: the photos in this post show an infusion of 4 oz of herbs with 32 oz. of oil.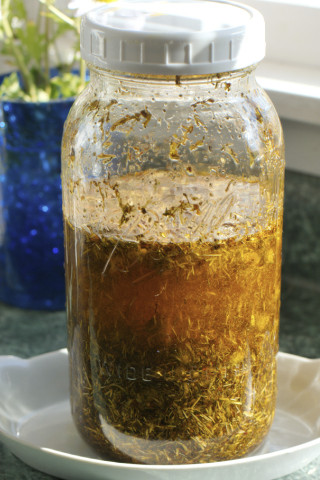 Hot Oil Extract:
According to Practical Herbalism: Ordinary Plants with Extraordinary Powers fresh herbs are best extracted with heat and dried herbs with cold infusion. If you choose to use heat extraction Practical Herbalism says to do it this way: put herbs in pot (not aluminum), cover with oil, simmer & stir at a very low temp till herb matter is completely crisp. Can take 4 hrs or up to a full day.
On the other hand Rosemary Gladstar's Herbal Recipes for Vibrant Health says to do it this way: "Place the herbs and the oil in a double boiler and bring to a low simmer. Slowly heat for 30 to 60 minutes, checking frequently to be sure the oil is not overheating."
Step 2: Strain Oil
Whichever method you choose when the oil is done infusing you need to strain the oil out through cheesecloth or muslin. Wring it out really well to get every last good drop of oil. Compost the used herbs.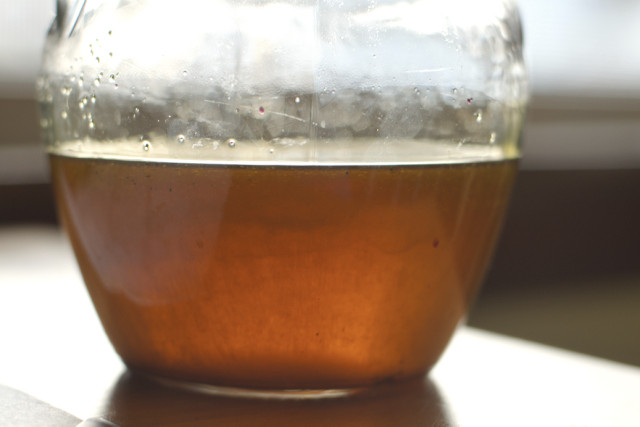 infused oil: after the process described above
Step 3: Add Beeswax & preservative (optional)
When making a salve (or ointment, it's the same thing) the general guideline is to add 1/2 -1 part beeswax for 4 parts oil.
In a saucepan, add lesser amount of beeswax to oil and melt over low heat till all mixed. To check if the mixture is the right consistency (remember, it will harden when it cools) Rosemary Gladstar's book suggests placing a "tablespoon of the mixture in the freezer for just a minute or two. If it's soft, add more beeswax; if too hard, add more oil."
I suggest starting with the lesser amount beeswax and add more if needed. When the consistency is right pour into sterilized containers. Which reminds me you should sterilize all your equipment to start with.
You also might want to add a few drops of natural preservative to your salve. Vitamin E (easy to find) is good for that or Grapefruit Seed Extract (less easy to find) or Rosemary, Sage or Tea Tree essential oil. Essential oils are in themselves anti-microbial and will impart a nice scent and other skin friendly properties to your salve.
How to make a salve summary
Make an oil extract.
Strain the oil.
Add beeswax and preservative (optional).
Pour into jars.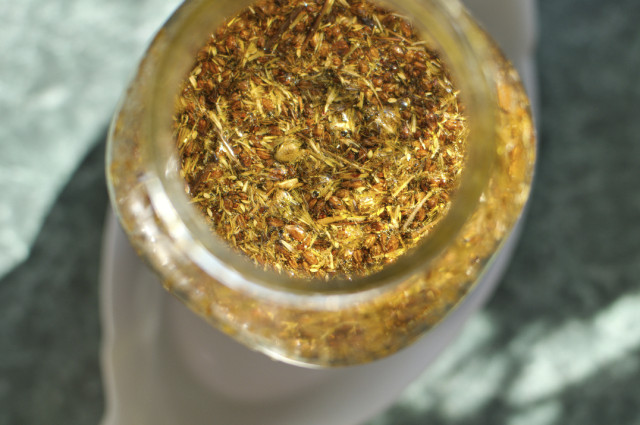 Giveaway
The giveaway for the 4oz bag of mixed herbs and beeswax will end Sunday, November 22nd at midnight. To enter please leave a comment as simple as "hey I'd like that" or something more in depth like "I've always wanted to make salve, now I can" or something really informed like "you crazy lady, you don't make salve that way, now here is the way I make it..." 
Congrats Candelion!
Related FIMBY Posts:

Post Script: This post is part of the Home Remedies Carnival at Keeper of the Home.
Looking to buy dried herbs to prepare a salve or any other herbal remedy?
I recommend either Mountain Rose Herbs or the Bulk Herb Store.
Renee Tougas participates in affiliate marketing, including the Amazon Services LLC Associates Program. Whenever you buy something on Amazon from a link you clicked here, I get a (very) small percentage of that sale. See disclosure for further explanation.
You can subscribe to comments on this article using this form.
If you have already commented on this article, you do not need to do this, as you were automatically subscribed.