How To Make Simple Soap ~ A Video Tutorial
January 17, 2011
Last September our family got a teeny, tiny video camera. We wanted this mostly for recording and producing video of our outdoor adventures, like this one of Damien's seven day hike in Wyoming last fall.
Also, we have a theatrical daughter (number 3) who we thought might appreciate a tool of the trade.
With a new little video camera in hand (both Brienne's and mine) I was inspired to make a video of the soap making process from start to finish.
The recipe is for my Simple Soap, the soap I use for making Homemade Laundry Soap and cleaning bars.
If only video production was as easy as making soap!
After taking the actual video I had to edit, edit and edit to produce something that you all might want to spend your time watching (and hopefully learn from).
Needless to say it only took me four months to share this with you but I hope it will help you along your soap making journeys.
Simple Soap Recipe (shown step-by-step in video):
48 oz (3 lb) tub of vegetable shortening - the kind you buy at the grocery store
6.5 oz lye - see Suppliers list at Homemade Soap & Body Care
18.5 oz water, distilled is best
Complete directions on video.
This is a photo of the finished bars, cut and cured. It turns a little pink. Don't know why.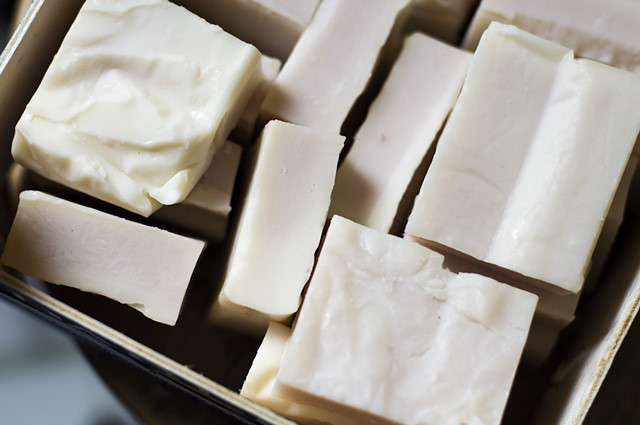 Why Having Friends with Scientist Dads Is Cool
When my friend Renee (yep, same name) read that my soap turned pinkish and I didn't know why she shot a question off to her scientist father who had this to say:
Manganese (Mn) is often pinkish when it forms manganese sulfate, so my best guess is there is some manganese in the lye as a minor "contaminant." Or there may be dissolved manganese in their water that then can form manganese sulfate in the recipe.
Well, who knew? He does I guess. Thanks Renee's dad for enlightening us all. By the way, the photo above emphases the pink and in the bars in real life it's barely noticeable and not at all once I start using them. 
Filed Under
Resource Library
You can subscribe to comments on this article using this form.
If you have already commented on this article, you do not need to do this, as you were automatically subscribed.