Homemade Laundry Soap
May 19, 2008
I've been trying for a couple years now to make all our own cleaning products. I've succeeded fairly well with cold process hand & body soaps.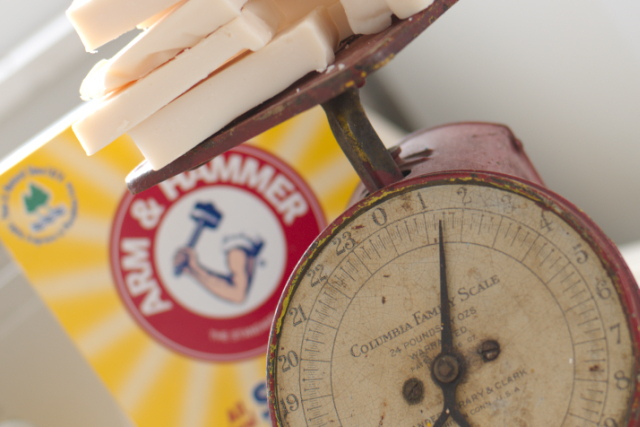 Clean, Naturally: Recipes for Body, Home, and Spirit by Sandy Maine is a great start for basic soap making. (This is an older book and is now out of print. Newer books have since been published. And now of course there is a proliferation of soapmaking blogs.) 
Vinegar, baking soda and borax work for most household cleaning. Add a little Dr. Bronner's (we like peppermint, though tea tree sounds great too) when you want a liquid cleaner for floors or toilets. 
I am now making our own laundry soap and it's a bit complicated so it may not be for everyone. But a friend asked me how I do it and I thought I'd share it here.
First, I make a batch of cold process soap. This is the hardest part. I have a tutorial called 4 Steps to Making Homemade Soap to get you started. You could also watch my video tutorial How to Make Simple Soap.
Once I make that Simple Soap I mix it with borax and washing soda. Voila. Laundry soap.
Simple Soap:
4 lbs of lard or vegetable shortening
28 oz water
8.5 oz of lye
When the soap is ready (takes about a month to cure) I grate most of it in the food processor, saving some for basic cleaning bars.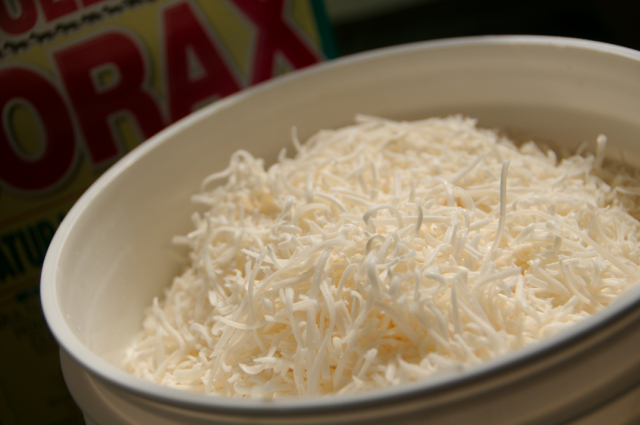 Laundry Mix:
12 cups washing soda, not the same as baking soda
8 cups borax
6 cups grated Simple Soap
Directions:
I use cold water wash and rinse. For an extra large laundry load I use 1/2 cup of laundry mix. The Laundry Mix doesn't dissolve well in cold water so I whisk the 1/2 cup with 1 cup or so of hot water to help it dissolve before I add it to the washing machine.
For stains I scrub and lather a bar of Simple Soap into the stain, or soak in a concentrated solution of water and Laundry Mix. I'll be honest, our clothes get stained and all the scrubbing in the world doesn't take some of them out, oh well.
Note:
You can use any bar soap to make this recipe. I have also made laundry soap with failed soap batches. If a batch of soap doesn't turn out, especially if its caustic and not moisturizing for our skin, I grate the soap as I would simple soap and make it into laundry soap following this recipe.
More FIMBY make-your-own recipes:
Laundry Soap Recipes from Other Blogs:
Renee Tougas participates in affiliate marketing, including the Amazon Services LLC Associates Program. Whenever you buy something on Amazon from a link you clicked here, I get a (very) small percentage of that sale. See disclosure for further explanation.
Filed Under
Resource Library
You can subscribe to comments on this article using this form.
If you have already commented on this article, you do not need to do this, as you were automatically subscribed.