Holiday Spice Soap
November 10, 2011
Clove and orange are two of my favorite ingredients in a holiday-inspired soap. Late fall and early winter just feel and smell like citrus and spice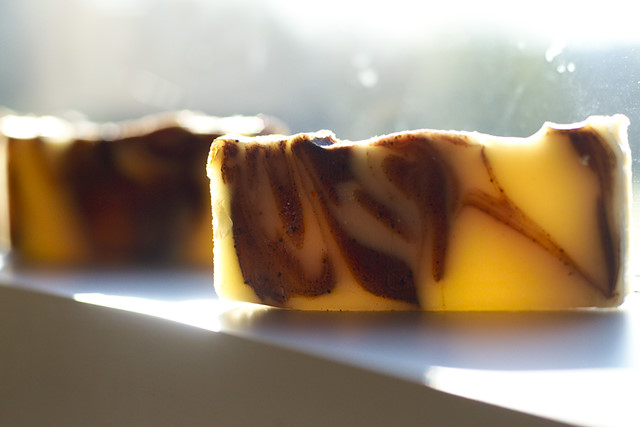 Three years ago I made Orange Clove Pomander soap for Christmas gifts and ever since that time I've been hooked on the combination of orange, clove and rosemary essential oils. If you try this recipe I think you'll see why.
Clove adds spice, like warm cookies out of the oven. Orange is that refreshing citrus zing. And rosemary hints at evergreens (with a somewhat pine-y essence), reminiscent of a Christmas tree or a walk in the winter woods.
The poetry of soapmaking.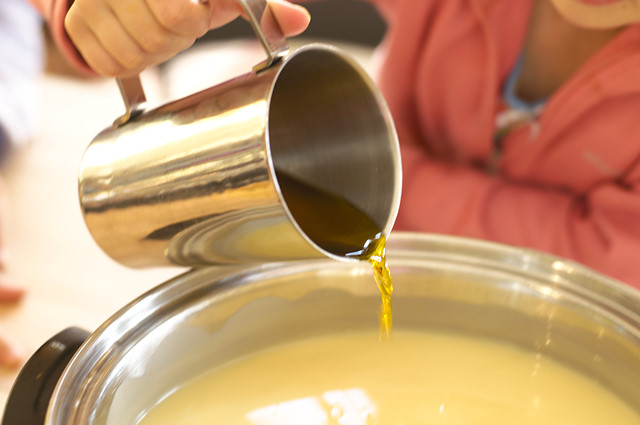 The recipe I'm sharing reflects that I now live north of the 49th parallel. And up here we use metric measures. This has been an adjustment to me, mostly in my supply ordering. Having been used to ounces and pounds for so many years I'm having to do a lot of math these days to figure out quantities and costs.
Below is the recipe in metric (except tbsps, we use those). But don't worry because I have both metric and imperial recipes available as downloads.
Carrier Oils
675 gm olive oil
675 gm coconut oil
405 gm shea butter
325 gm canola oil
270 gm cocoa butter
195 gm soybean oil
155 gm castor oil
Lye & Water
Botanicals
2 tbsp. ground cloves
2 tbsp. cocoa powder
Essential Oils
30 gm rosemary essential oil
60 gm clove essential oil
60 gm orange essential oil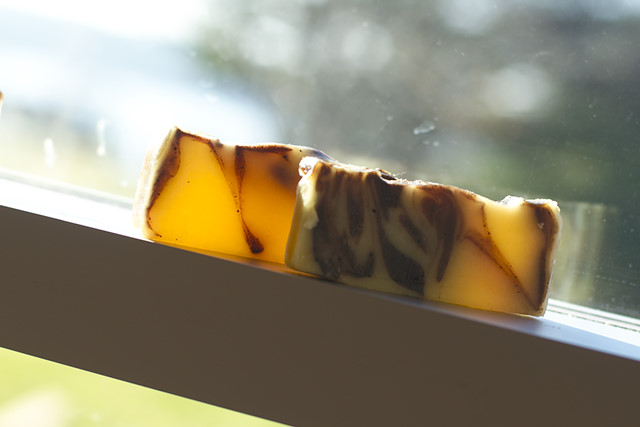 Just so you know, both orange and clove oil can be irritating to sensitive skin. This hasn't caused a problem in our household (and my husband has sensitive skin). I'm just giving a heads up.
The method is explained in the download. See the below posts for exact "how to make soap" instructions.
To get that lovely swirl read the instructions in this post (scroll down to the Holiday Spice header).
I hope you enjoy making this. Your house will smell like the holidays when you make it, while curing, and when you use it. 
Renee Tougas participates in affiliate marketing, including the Amazon Services LLC Associates Program. Whenever you buy something on Amazon from a link you clicked here, I get a (very) small percentage of that sale. See disclosure for further explanation.
Filed Under
Resource Library
You can subscribe to comments on this article using this form.
If you have already commented on this article, you do not need to do this, as you were automatically subscribed.