"heirloom" tomatoes
September 18, 2008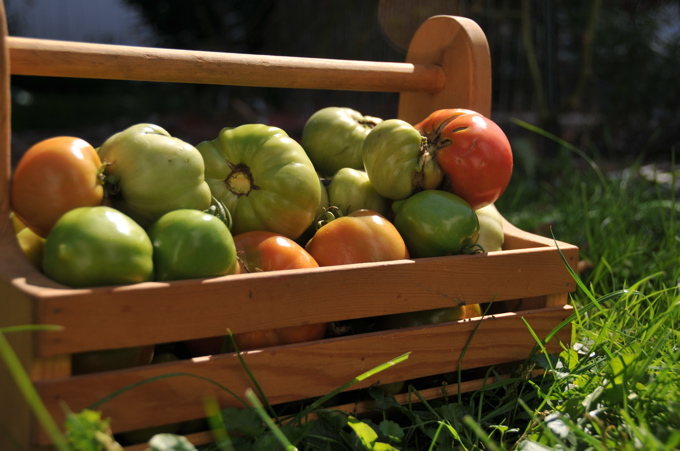 According to the meteorologists (man that was tricky to spell) tonight will be our first frost. I picked the remaining tomatoes off the vine this morning. Nothing speaks of summer, life and vitality more than tomatoes picked from the garden and eaten that same day. Eating a home grown, vine ripened tomato is like eating sunshine.
Picking the last tomatoes connected this week's intangible feelings of love and loss to something very tangible, something I could literally touch and smell.
My tomatoes which I've lovingly cared for and in turn nourished my family are nearing their end. "Gosh!" you're thinking, "isn't that kind of dramatic, they're just tomatoes for pete's sake". But they're not just tomatoes. They're the smell of my great grandmother's prolific in-town garden. They're the taste of having a summer lunch at my maternal grandparent's farm. And they're the look of pride on my paternal grandfather's face as he shows off his once again impressive yield.
At a time of year when I am tired of gardening and the end-of-season chores I'm reminded why I LOVE my garden. Even though I make my home on the east coast of the United States, thousands of miles from where I grew up on the Canadian prairies, my garden reminds me where I've come from. It takes me back (tomatoes in particular) to my childhood and time spent with my grandparents.
That's what I call heirloom tomatoes.
Renee Tougas participates in affiliate marketing, including the Amazon Services LLC Associates Program. Whenever you buy something on Amazon from a link you clicked here, I get a (very) small percentage of that sale. See disclosure for further explanation.
You can subscribe to comments on this article using this form.
If you have already commented on this article, you do not need to do this, as you were automatically subscribed.