Grandma's quilt
January 11, 2010
Four years ago today my maternal grandmother died. Memories of her sneak up on me all the time. In summer I think of her when I'm in my garden; recalling her own green thumb, her fondness for flowers and all the food she grew and prepared for her family over the years. In the winter I remember the weeks we spent as children at the farm while my parents were vacationing in warmer climes.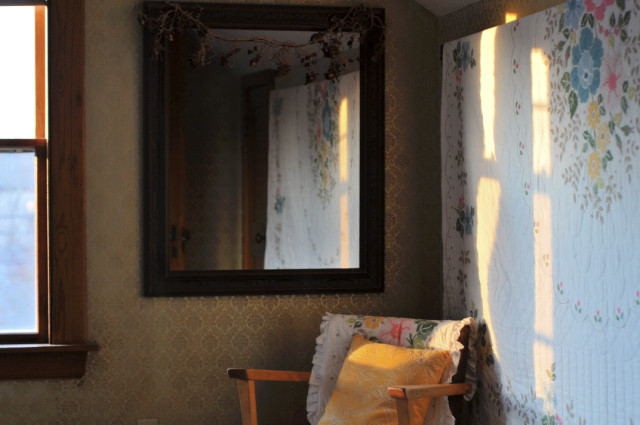 And I dream of her often; remembering days when she was healthy, as she was for most of her long life. In my dreams we laugh and talk and I tell her "I love you". And other nights I cry so much in my dreams for missing her that I wake up emotionally exhausted. Just writing this now is making me sob. Which is curious considering that during day time hours I am not saddened anymore by her death, nor do I usually miss her in my day-to-day life. What I feel most when I think of her is loneliness for my grandfather and anticipation of seeing her again when I die also.
All of those are the normal emotions I suppose in dealing with the death of a dearly loved one. But I didn't really intend this post to be about my grandmother's death so much as how her life, and specifically her handiwork, touches me every day. My grandmother contributed SO much to who I actually am, her very personality courses through these veins of mine, but she also bestowed her handmade goodness into my life and there are touches of her throughout my whole house for which I am very grateful. Things she made years ago that I didn't fully appreciate because I still had her I treasure now.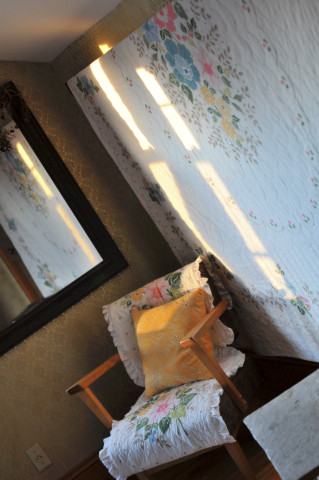 One such gift I received, that for years has not had a proper home, is the quilt she stitched for my high school graduation (I did get it for high school, right mom?). She started it early, in my teens, intending it for a wedding gift. But my grandma was a master seamstress, an artisan woman really, and what she started never took her long to finish. Needless to say, I wasn't getting married at 17! But the quilt was ready so I received it early.
Years ago we bought a new mattress (my back will forever thank me) and since then the quilt hasn't fit right on our bed. We have a memory foam top with a wooden base that Damien built. The bed is lower than normal beds so the quilt drags on the floor. In addition our cat has claws and the last thing I wanted was the quilt clawed to shreds by our furball (the cat and I are on speaking terms only and aren't what you'd call best buds).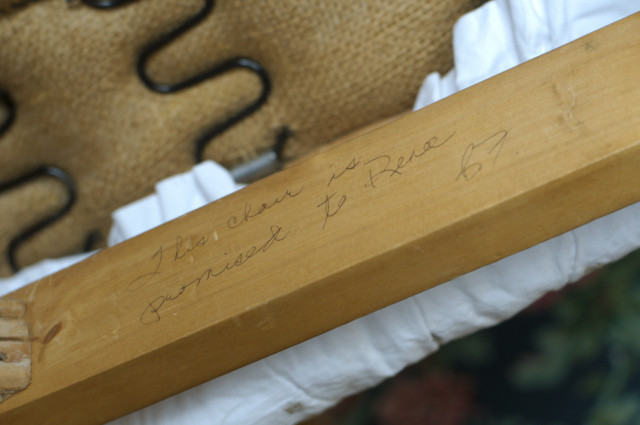 So for years the quilt has sat in a plastic bag in our linen closet until last fall when Damien built me a rack to hang this piece of art on the wall of our bedroom. I improvised with the pillow shams (tacked them in places not showing) and made them into a chair cover. The chair itself came from my grandparent's home and even has my name written on it, in my grandmother's hand, from the day I expressed interest in having that chair when they no longer needed it.
So many memories today. So many good, good memories. And touches of her all around.
I love you grandma and miss you very much.
Renee Tougas participates in affiliate marketing, including the Amazon Services LLC Associates Program. Whenever you buy something on Amazon from a link you clicked here, I get a (very) small percentage of that sale. See disclosure for further explanation.
You can subscribe to comments on this article using this form.
If you have already commented on this article, you do not need to do this, as you were automatically subscribed.