Getting rid of the TV once and for all ~ Creating a pretty bedroom
January 13, 2010
We've had an on again, off again relationship with TV throughout our family life. For the first 5 years or so (Celine was born 2.5 years after our wedding) we didn't have a TV. Somehow (I honestly don't remember the details) we came in possession of one when the kids were toddlers and preschoolers. And I must say for about a year of our lives, half an hour of PBS Kids in the morning saved my day. At the time the kids were 4, 2 & 1; no wonder everyone commented on how "busy I must be".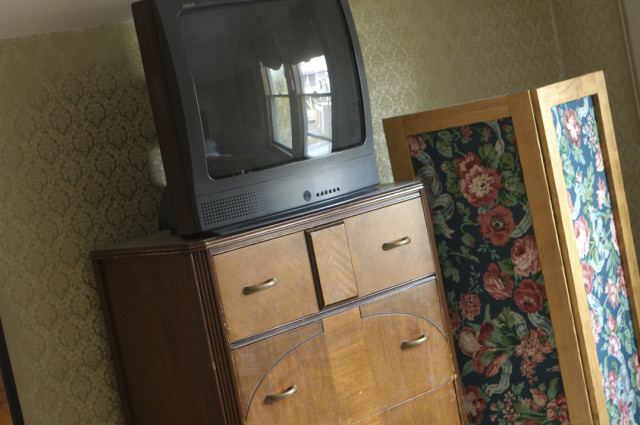 After a time we weaned ourselves off that and would watch videos & DVD's instead. A couple times a week (usually in the afternoon) for the kids and adult movies for date nights at home.
The TV remained in our living room because that was the most logical spot for it. In addition, for several years we taught a health course in our home and used a DVD series in which the TV was a very necessary teaching tool. A few years ago we "upgraded" to a bigger model when our neighbors down the street put their old one out on the curb. It worked perfectly well but was just too large and black for the living room. Off it went to our bedroom.
By this point we only used it once a week or so and for family movie night when we'd all pile on our double bed, squish and squirm together to watch a movie. But then we bought a new computer monitor to feed mommy's photography addiction support mommy's photography endeavors. A monitor that is nice and large and conveniently located in our central living area. The monitor became the preferred watching source and the TV was left alone to take up space in our bedroom.
Last fall we finally got rid of the beast for good. It was sitting in our front porch, while we were trying to decide what to do with it, when our buying club driver (the guy who delivers our order to our house from the distributor) noticed it and said they could use it in their warehouse for breaktimes. Or maybe they watch TV while working, who knows. I don't care when it's used, I was just happy to get it out of my house. And now we are officially TV-less and I love it.
Even though we haven't watched real TV at home for years (the kids love watching it when we visit family etc...) we still used it to watch movies. But now we use our computer monitor and it's one less thing to own, one less thing cluttering up our lives. So instead of a TV on my dresser I now look at this. (I remember drying those hydrangeas in the last sweet days of summer).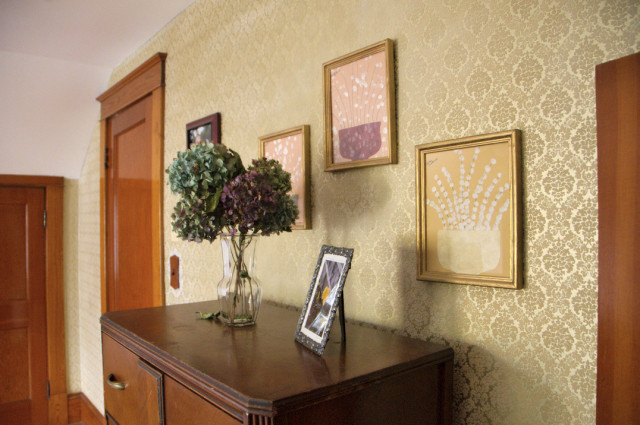 While I'm talking about our bedroom I wanted to share a few photos of that space. Since it's no longer a bedroom/video watching room I like to keep it pretty. I still don't like the flocked wall paper but I can almost forget about it with my grandmother's quilt on one wall and the other touches of beauty I've put in the space.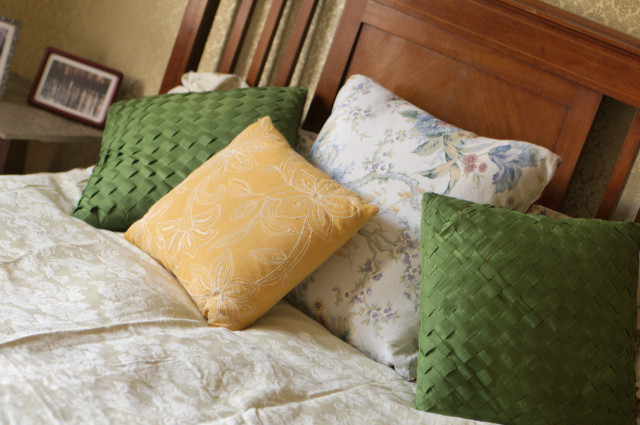 Our winter bed (summer bed looks like this). I sewed the big pillow, perfect for back support while reading in bed, and picked up the others at for $1 a piece at a sale.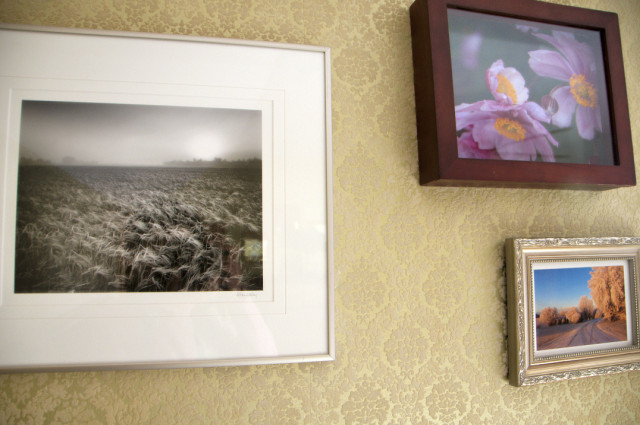 A collage of photos that I happened to have developed and frames for. One of my goals is to frame more of my photography. The black & white photo is a gift from my parents by another photography. The wintery photo is taken by my cousin of my grandparents/aunt & uncles farm on a cold January morning. The flower photo is mine.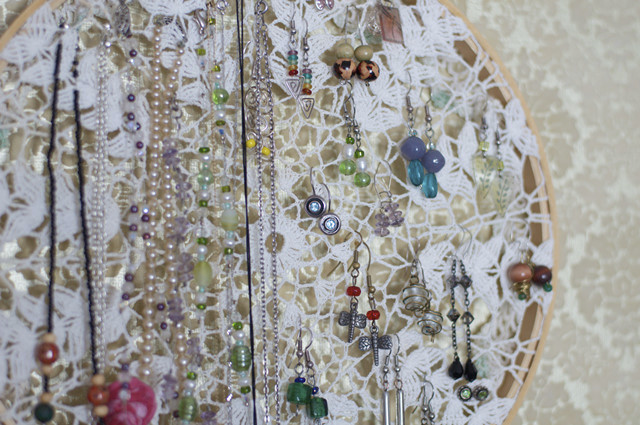 I saw this idea at beauty that moves, before Christmas. I raided my mom's doilies while visiting there, took this one my grandmother made and fashioned this jewelry hanger last week. I absolutely love it.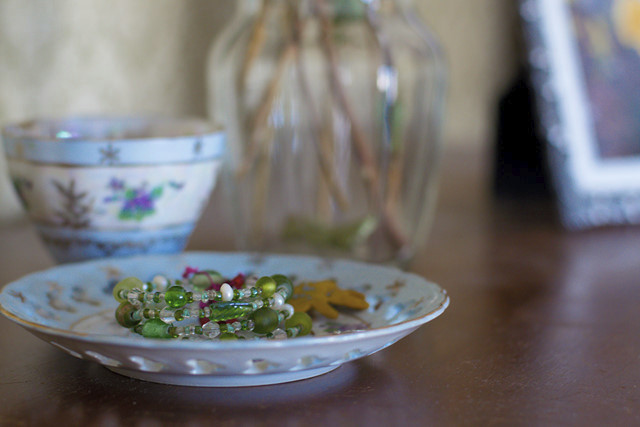 Remember my baking soda cup and soap dish? I decided to use this beautiful teacup & saucer from my great-grandmother to store all the non-hanging jewelry I own.
No TV and lots of pretty. Much, much better. 
Filed Under
Resource Library
You can subscribe to comments on this article using this form.
If you have already commented on this article, you do not need to do this, as you were automatically subscribed.