Give Nurturing Creativity for Mother's Day (I've made it super easy and lovely to do so)
May 8, 2012
It's Mother's Day this Sunday. Like you needed me to remind you. Or maybe you did. These things creep up on me, unnoticed. Especially this month when Mother's Day is sandwiched between our backpacking trip and Céline's birthday. Squished in there with packing, moving and anticipating next month in Montréal.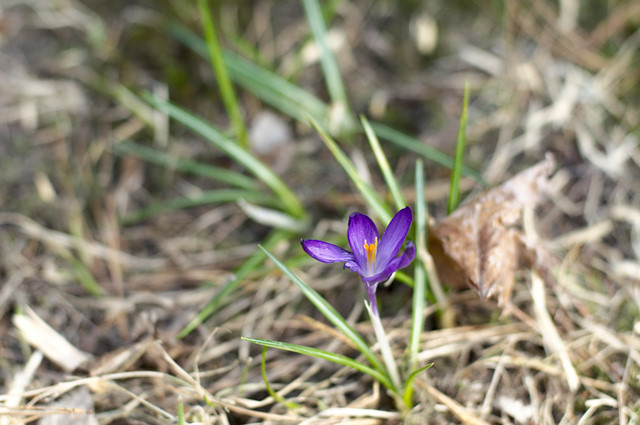 We're not doing much for Mother's Day, probably hiking. Or maybe I'll be given a quiet day in a clean house. (What a gift that would be in this busy, messy month of May). Mostly I want to remain out of the kitchen and have a general "chill" vibe to the day. (Maybe Céline will read this post and pass the info around.)
I don't need anything wrapped, but then again I'm not a "gift" person. Thankfully my mom isn't wired that way either so I think her Mother's Day gift will be a chat on the phone and looking forward to our in-person girls retreat in a couple weeks.
All that to say, Mother's Day gifts just hadn't occurred to me.
Then yesterday I read Megan's post about books to give for Mother's Day. And my book was included in her list! Thank you Megan.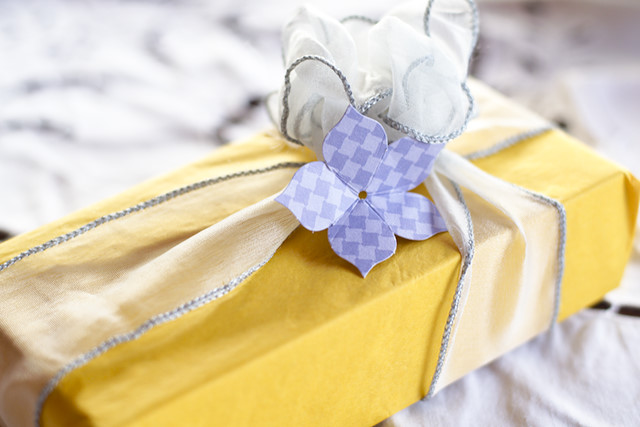 That's when I realized that some of you might give gifts on Mother's Day.
Well, I've got a gift recommendation for you.
My book Nurturing Creativity: A Guide for Busy Moms is the perfect gift to give a sister, neighbor or friend for Mother's Day. Assuming those women are moms, of course.
Honestly, I don't think it's the most appropriate gift to give to your "grown up" mom. My mom read my book (and helped with editing) but I wouldn't give her a copy as a Mother's Day gift.
I wrote this book for moms with children still at home, especially those with little children who are wondering how to make time for creativity in their lives.
So if you know a mother in your life (not necessarily your mom) who could benefit from my book why don't you give her a copy for Mother's Day?
Gifting an e-Book
Many of us are still new to this world of online publishing and it's kind of awkward to give digital gifts.
I'm making it easy for you to give Nurturing Creativity. So that it feels like a "real" gift for your recipient.
Here's how it works:
You shoot me an e-mail to renee at tougas dot net or use the contact form here at FIMBY telling me how many copies you want to purchase. I'll send you a confirmation e-mail with your cost (number of copies x $3.00) and my paypal information.
You paypal me the money and I send you a gift code for each recipient. I'll also send you directions to give your recipients for them to download the book.
You give that coupon code and directions to your gift recipients (via e-mail or printed card if you prefer) and voilà. You've gifted Nurturing Creativity.
I also know we women like things pretty. So I've created this little card to go along with your gift. You can just drag it off this page and include it with the coupon code and download directions. Put it all together in an e-mail or print it out on cardstock and you've got an gift to give to a mom you love (or just like).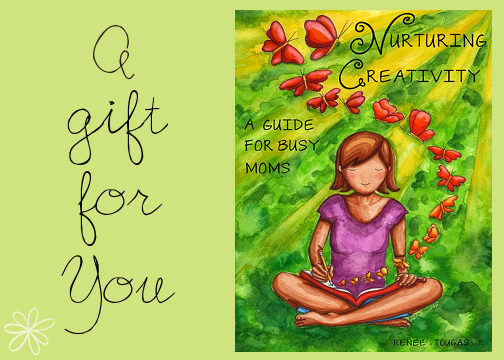 Cool, eh?
After reading Megan's post I wondered, "If someone wanted to gift my book how could I make that easy and lovely for them to do?" I'm pretty pleased with myself on this, thinking strategically and everything (and learning how to "market" my products in a way that feels right for me). 
Seeing as I've got this book written, I'd love to see it encourage as many mamas as possible!
Let me know if you want to gift Nurturing Creativity, how many gift codes you need, and we'll go from there.
Renee Tougas participates in affiliate marketing, including the Amazon Services LLC Associates Program. Whenever you buy something on Amazon from a link you clicked here, I get a (very) small percentage of that sale. See disclosure for further explanation.
You can subscribe to comments on this article using this form.
If you have already commented on this article, you do not need to do this, as you were automatically subscribed.