Why FIMBY is not a hair, makeup, fashion, or home decor blog
May 7, 2012
We went backpacking this weekend.
It was fabulous. Understand when I say fabulous I don't mean that every single moment was bliss. Backpacking is hard physical work. And when it rains (it did) it's muddy and wet. And it can be cold. And smelly. Your shoulders get sore, so do your feet. I could go on and on.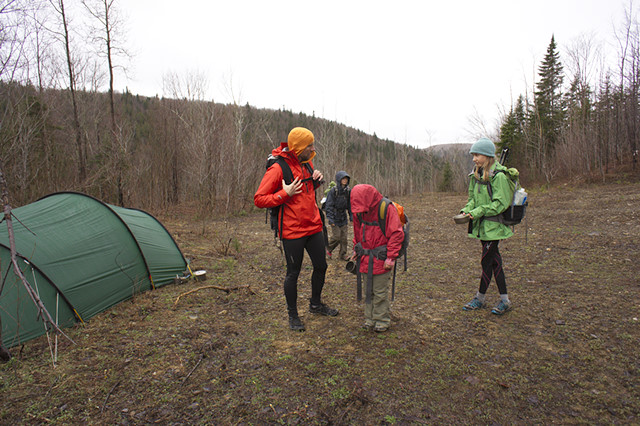 Backpacking is a part of who we are and we're getting better at it all the time. Better systems and routines, and best yet, lighter pack weights! Which is a good thing because in a couple summers we'll be on the trail for at least six months straight. Ahem.
I haven't always been a backpacker. I certainly didn't grow up doing this and I can't say I came to it very gracefully or without a fair amount of kicking and screaming (ok, crying). But getting out into the woods with my family for long stretches of time is now a part of who I am. For better or worse (I think better).
Which is one reason I think FIMBY will never be a blog about hair or makeup or fashion or home decor. Because if those things mattered to me at one time they matter less and less all the time. (I don't think makeup ever mattered to me, but home decor did matter and still does in a "I want a sweet, cozy, home" kind of way).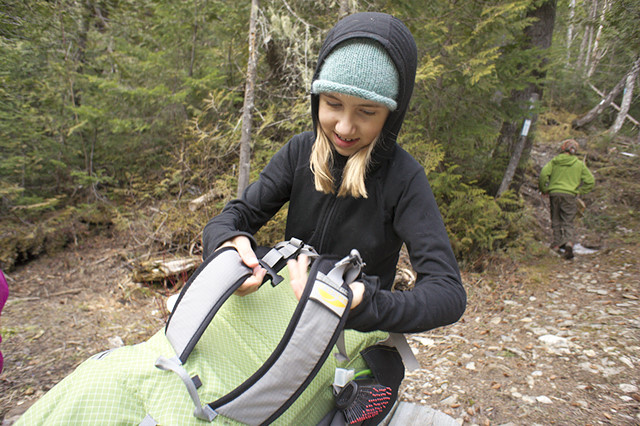 So let's take a few minutes to talk about that stuff.
Hair. Well, have you seen my hair? It's short. I don't "do" it. When it gets too long Damien cuts it with his clippers.
Makeup. My makeup routine is the same at home as it is in the woods. Wash face, apply lotion. Not much to write about.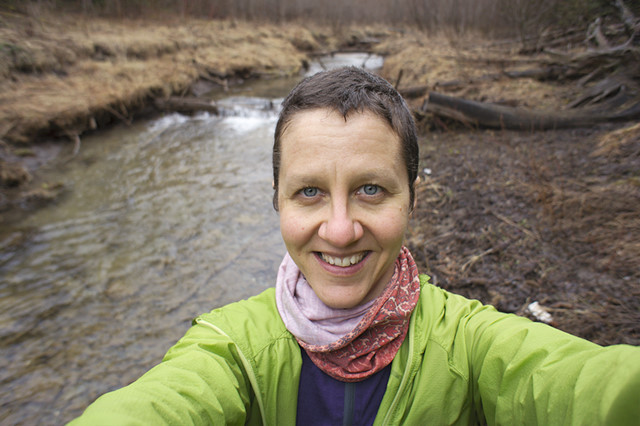 Fashion. The clothes I wear in the woods are the clothes I wear around the house, on "the town" and wherever else you need to appear dressed. Dressing up is putting on a denim mini skirt over my hiking tights. You won't see me writing about organizing these duds because there just isn't all that much to organize.
Home decor. I like sweet, easy, DIY decor ideas. But since becoming a renter and probably staying one for the next couple years home decorating just doesn't have the same appeal.
I can understand, at least I can speculate (I don't read any home decor blogs) why these blogs are popular but they are just not where I'm at right now. Home for me is honestly wherever my lovies are. Which can be a tent on the trail (I know I'm going to eat these words), a six month chalet rental, an apartment in Montréal for a month or maybe someday our dream yurt in the woods.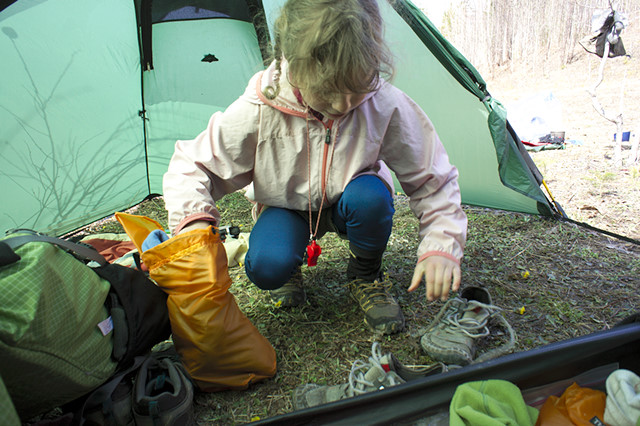 Why bother talking about all the things FIMBY is not? Because sometimes defining what you aren't helps you really hone in on what you are.
You already knew FIMBY wasn't a hair, makeup, fashion or home decor blog. But this weekend in the woods I got some real clarity on what exactly I need and want FIMBY to be moving forward.
FIMBY always has been and will continue to be a story blog. Or you could call it a memoirist blog.
This is my story to live and my story to tell and that's the stuff that energizes me. Living a good story. Writing a good story (still learning how to do this better).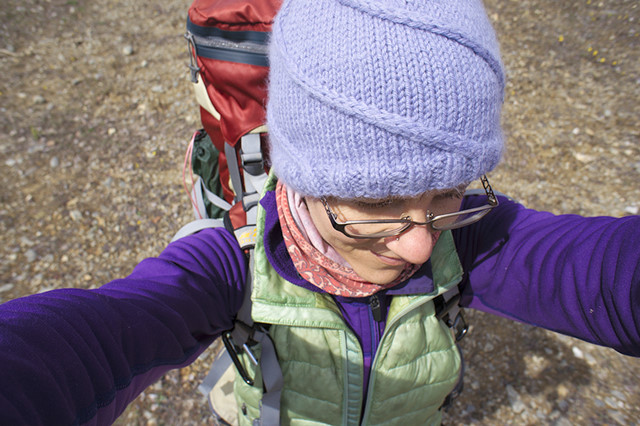 You know what also energizes me? Helping you live a good story.
No, I can't tell you where to find the best drugstore makeup deal. Or help you decorate your home on a dime. (In fact deals have never been my writing gig, though I am quite frugal.)
But what I can do is offer relationship-based services to help you live the life you want. And I can offer small, quality products that will equip you with tools, ideas and resources to live your own healthy, creative and adventurous life. Sharing stuff I'm learning in my own journey (through education, experience and whole lot of hard work) that will help you in yours.
FIMBY is my story space. As much as I love sharing the occasional soap recipe or details of our homeschool groove, this is not a how-to blog, unless I can share some story also.
I don't live a how-to life. I live a sometimes messy, nearly always beautiful, complicated yet simple, full of colorful characters and plenty of (inner) conflict life. To be sure, it's not a fairy tale, but it's definitely a story. And this is what I want to write at FIMBY. The story I live.
But I want to do more than that. I want to help you live your story. I want you to experience everyday creativity and health. I want you to homeschool in freedom and joy. I want to help you get outdoors with your family.
I want to nourish the ideas taking root in your head and heart. To encourage you with my experience (and sometimes inexperience). To teach skills for relationship and living. I want to share the beauty that is in my life, help you see the beauty in your own, and to build relationships.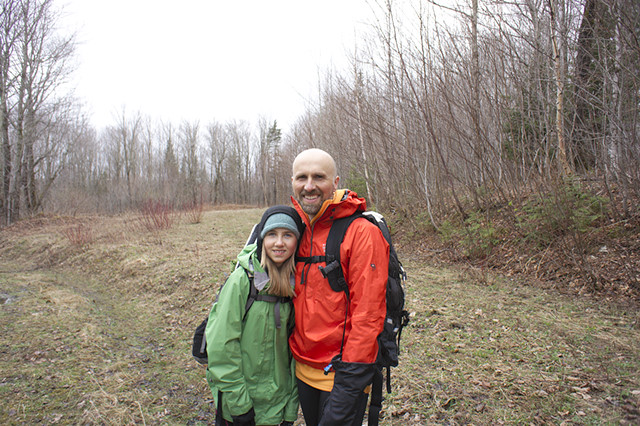 This is my personal mission behind my writing, behind FIMBY.
I want to help you create the life you want with the family you love. At first, I thought this was "my book". Everyone's writing books these days, so this must be the way, right?
But I don't really want to write a book. A real book that is. My first small e-book felt like a short project, which is how I work best. That I can do. One of those long book projects with publishing dates looming on the horizon, buckle down and write deadlines and all that solitary writing time just isn't my gig.
I'd rather write here at FIMBY about how I'm creating the life I want with the family I love. And then help you do the same with personalized services and inexpensive, but quality teaching products.
Does this change how I write at FIMBY? Not really. I will be doing some clean up and site maintenance over the coming months to reflect this vision.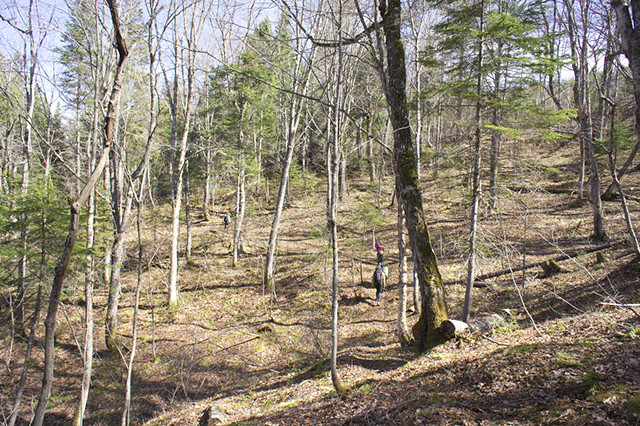 (I'm still actively seeking the support of advertisers whose products and services reflect FIMBY's message also.)
If anything, this gives me more license to go for broke as I tell our story. Because really, a good story is my favorite thing.
Redefining this vision for FIMBY gives some much needed direction to the host of ideas that rattle around in my brain vying for attention and writing time. It also guides the projects I take on elsewhere and the partnerships I work to create. 
I'm excited about this clarity and raring to go on some of the products I plan to launch in the coming months. Products I've been working on for months already but haven't done much with because of other commitments.
Products that are decidedly not makeup, hair, fashion or home decor related (in case you're wondering - smile) but that are very much planned with your needs in mind. Products in response to your questions here at FIMBY and services to help you create the life you want.
But first, I'll be doing some serious laundry from this weekend. 
Renee Tougas participates in affiliate marketing, including the Amazon Services LLC Associates Program. Whenever you buy something on Amazon from a link you clicked here, I get a (very) small percentage of that sale. See disclosure for further explanation.
You can subscribe to comments on this article using this form.
If you have already commented on this article, you do not need to do this, as you were automatically subscribed.