Finding Our Late Elementary & Transition Years Homeschool Groove
January 11, 2012
Today I'm posting at Simple Homeschool our day in the life, my recording a "typical" homeschool day in our home. In that post I describe the day from 9:00 am till 7:00 pm. My plan was to fill in the rest of the day here - the early morning hours specifically.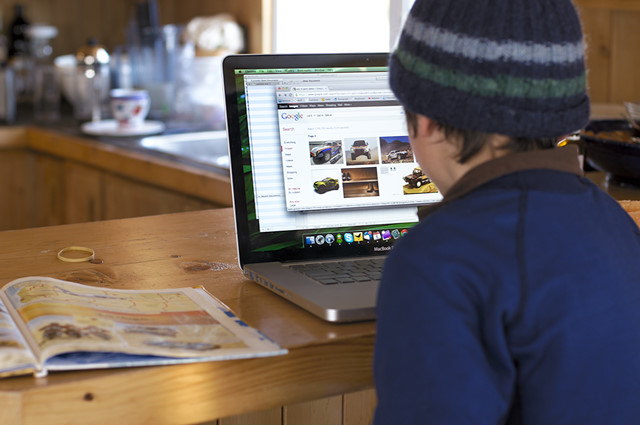 I don't know what happened. Instead of a nice little post I wrote a monster. Sometimes I just can't help myself.
I haven't talked about our homeschool routine and plans for a while and it all just came tumbling out. I really do love to talk homeschool. You'll have to see the end of this post (it's wicked long) for the early morning part that was to be the extent of this post.
Our Yearly Schedule
This month is the start of our winter school term. What do I mean by school term? To make record keeping easier and also because I like seasonal rhythms I divide the year into Winter, Spring/Summer and Fall "school terms".
This doesn't mean we are doing school stuff during this whole time. Fall is typically a great time to get down to business, our bodies and minds seem to like that after summer. As we near the end of fall though we're ready for a long break to celebrate Christmas.
January is a natural time of new beginnings so we pick up our morning school routine and stay pretty focused till we tire mid-winter and need a break. Then we try to get back at it (to varying degrees of success) till the awakening of the earth in spring.
Spring/Summer are bunched together because school is very on again, off again during these warmer months. There's spring gardening and the warming days that calls us back outdoors for long periods of time during the day. Spring is a great nature study time!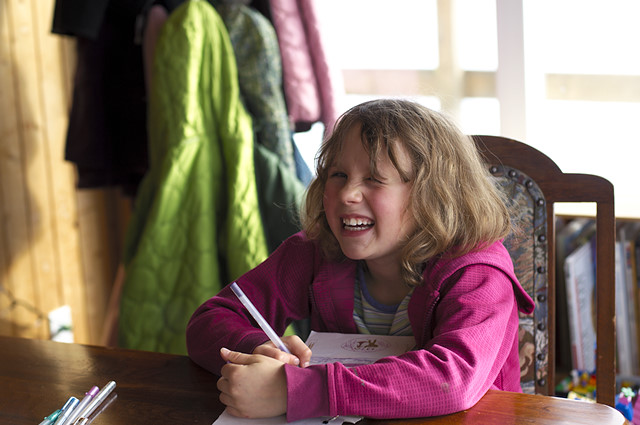 When we've had our fill, after about a month or so, we return to a revised morning school schedule. Then hot summer weather beckons and we mix it up again. School, beach, farm, backpacking. We roll with it.
Last summer, because we had taken a long break for moving and the kids were antsy for some routine (being bored, teary, irritable, uninspired, and not getting along very well are some good indicators that more structure is needed) we did a morning school routine throughout most of June and July.
August was a break for our trip out west while the kids enjoyed a couple weeks alone with their grandparents. September was back at it till we started to pack in October for our second move of the year.
November we moved (and were sick) and got settled in our current home. December was our usual month long holiday break. Time to craft, make gifts, enjoy the season. We love that time together.
Planning for The Season
January it was time to get back to our school groove. Thankfully we hadn't reached the bored, teary, irritable and uninspired stage yet! But we were getting close. Celine especially needing some "scholarly activities" to sink her teeth into.
I did a big evaluation and planning session last summer, after our move. Taking stock of where each of the kids were at in their learning, what they needed from me, resources I needed to buy etc.
Because our past winter and spring was so focused on moving (renovations, downsizing, packing, leaving the country) I didn't have much time to think about homeschooling during that time so my summer planning session was fairly intense. It took me a couple weeks and I kept reading, planning and tweaking throughout the summer.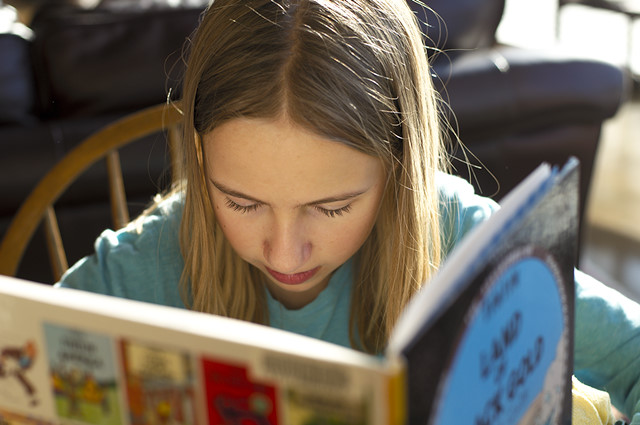 Another factor in the intensity of that summer planning session is that Celine is transitioning between childhood and young adulthood.
If you are familiar with Leadership Education: The Phases of Learning (one of my all time favorite homeschooling "manuals" and the model I most closely identify with to describe how we homeschool) Celine is in the Transition to Scholar phase. Having been solidly grounded in Core and Love of Learning the girl is ready to fly (and somedays not!) and my oh my it is an exciting and scary time for mama who is trying to figure this all out!
I scheduled the last few days of December to "wrap my brain around the homeschool plans for winter". It was time to revisit my planning from last summer. To evaluate what did and didn't work during our summer and fall schooling and to make plans for the coming winter months.
It never occurred to me to leave the house to make these plans. The kids are old enough and quite independent during the day that I can have uninterrupted work periods.
But I hadn't accounted for post-holiday mess. The boxes of Christmas decorations in the works of being packed up. The wet winter wear dripping on the floor. The empty fridge.
Distractions.
All of them. Especially in our small living space.
To quote Madeline L'Engle:
The sight of a meal's worth of dirty dishes, pots, and pans makes me want to run in the other direction. Every so often I need OUT; something will throw me into total disproportion, and I have to get away from the everybody - away from all these people I love most in the world - in order to regain a sense of proportion.
Oh yes, Madeline. I understand.
So on a very wintery morning in late December I packed up a rubbermaid storage bin with all our school books (not that many really), my school binder, my "what we're learning this week" masters and planning notes from last summer, fresh notepaper, my new fountain pen, pencils, and highlighters.
I also grabbed some cash for tea and lunch and drove into town to spend the morning at the coffee shop. The coffee shop that makes a mean panini sandwich for lunch also. Yum.
What the kids did at home with their dad during that time - I don't know. I just know my time, sans household distractions, was very productive.
I highly recommend this activity. I only recall having an out-of-house (sounds kind of like out of body) planning session one other time. I think I will make this the new norm, especially since Damien is home and there is really no reason why I can't leave the house for a few hours by myself.
Out of that wintery morning planning session came the following plans for each of our children.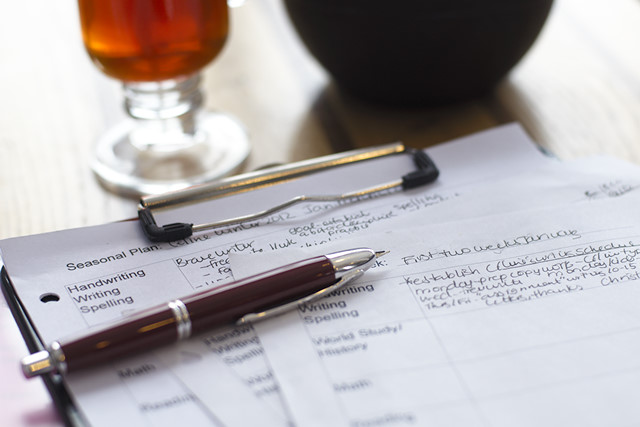 Our Winter Homeschool Plans:
Celine:
Writing - Establish a weekly writing discipline, done together with mom (this is not an assignment for Celine, these are writing projects done with me). Following general guidelines from The Writer's Jungle we are working towards a once a month writing project. Copywork once a week. Mad Libs with family.
World Study - The Greenleaf Guide to Famous Men of the Renaissance and Reformation and Famous Men Of The Renaissance & Reformation. (I bristle a bit at the Men part but perhaps we can do independent research on the women). The Greenleaf guide includes geography, vocabulary and discussion questions. These will be the base for a lot of Celine's self-directed work.  
Update: Greenleaf was too prescriptive for us. We went back to our usual routine of complete interest led world study, which means our geography, vocabulary and discussion were based on whatever Céline was reading and watching at the time.
I plan to supplement her history reading with titles from All Through the Ages. Just found this amazing book last summer. Highly recommend. Celine will read current events with a weekly check-in at Youngzine. Free online documentaries (the kids watch these once every couple weeks) will supplement the Greenleaf materials and be interest-led.
Math - Continuing with Math U See.
Reading - History related, interest-led from our family library and Kindle finds. Family read alouds (mom chosen classics and interest-led reads). Books from Honey for a Teen's Heart- another high recommend.
Bible - Audio Bible with family, scripture memory with mom (Spirit-led and Truth and Grace Memory Book, which includes a catechism). I still want to find a personal devotion book for Celine.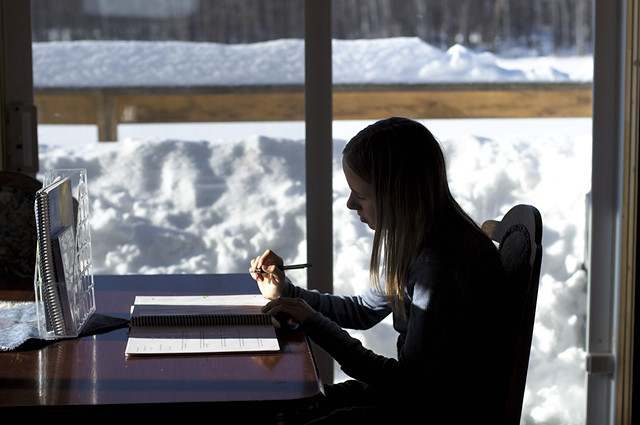 yes that's snow piled on our deck!
Science & Nature Study - The outdoors and interest-led. Free online documentaries. No formal science while we establish a writing and history study practice. Thinking we might start an honest to goodness science curriculum (our first ever) in the spring.
Physical Activity - Outdoors almost every day. Cross country skiing. Walking with mom. Hiking in warmer weather. Community dance this winter?
Computer Programming - Learn Python the Hard Way with dad.
Other - History includes studying art. Handicrafts and sewing will be interest-led. Considering an online craft course if she wants. Continuing to learn hymns with mom.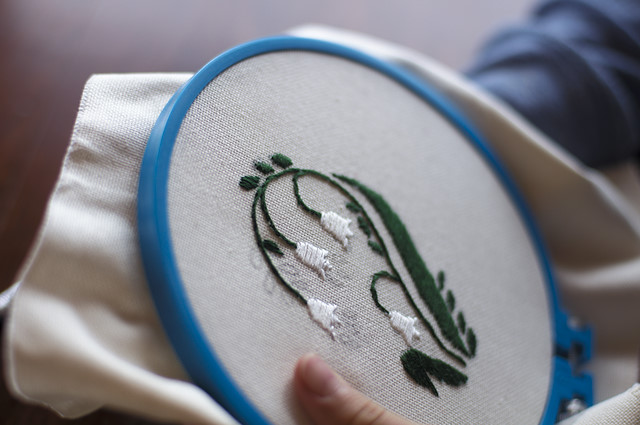 Laurent & Brienne:
Writing - All About Spelling and Getty Dubay handwriting practice. Copywork once a week. Narration, the kind where mom actually writes what the kids say, will be as the spirit moves us. Our kids are always telling us about what they're learning or interested in. I could never write that all down.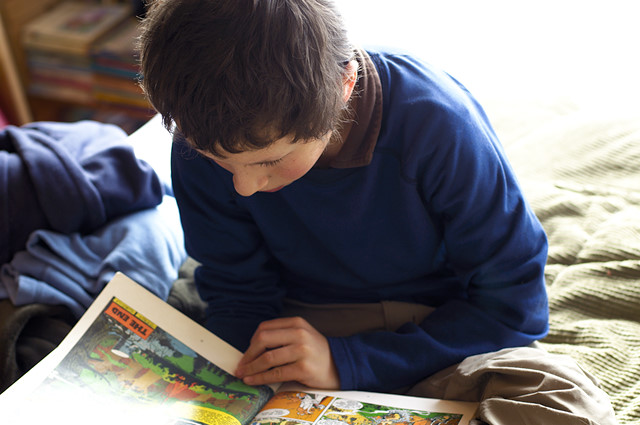 Everyday Writing is very much the focus with these two, haven't yet published my piece on Everyday Writing but it looks a lot like the Jot it Down & Partnership Writing stages (from The Writer's Jungle). The plan is to write together each week with the goal of completing one project each month. Independent writing - Brienne does this all the time. Family Mad Libs.
World Study - Finish The Story of the World, Volume One with activity book. Start The Story of the World, Volume Two. Additional interest-led reading and free online documentaries (the kids watch these once every couple weeks) will supplement Story of The World.
Math - Teaching Textbooks.
Reading & Stories - Both Brienne and Laurent read aloud to me every day. And I read aloud to all the kids before bed. Brienne's readers are pulled from our family library. Laurent is reading to me from the Stone Arch Classic Fiction Graphic Novels and Bob Wright's books published by High Noon Press. Sparkle Stories and other audio books from Audible.com fill in the gaps.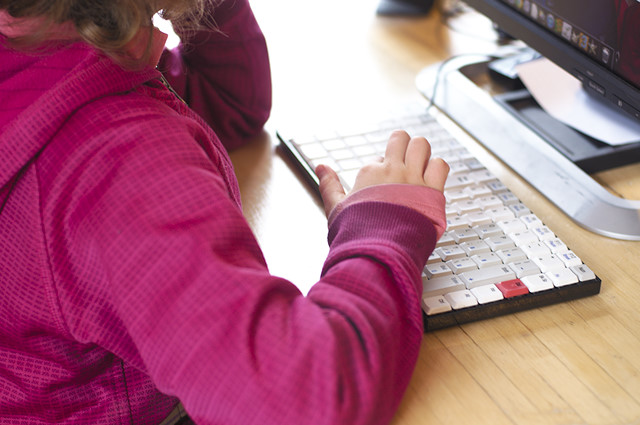 Bible - Conversations, discussion and reading focus on who Jesus is, as inspired by the teaching timeline laid out in Telling God's Story. Audio Bible with family, scripture memory with mom (Spirit-led and Truth and Grace Memory Book, which includes a catechism).
Science & Nature Study - The outdoors and interest-led. Free online documentaries.
Physical activity - Outdoors almost every day. Cross country skiing. Walking with mom. Hiking in warmer weather. Community dance this winter?
Other - Laurent's art is a daily practice and joy. Working on art commissions and his blog. Handicrafts for both are interest-led. Learning hymns with mom.
A few other resources I have on hand and use sporadically:
I have a few more resources I bought last summer to prepare for our move to a non-English speaking province. I haven't used them yet so haven't included them here.
What we started last summer and are continuing with this winter is the most focused we've been in our homeschool practice. I think that's just natural as the kids get older and given their particular needs.
Celine is ready and wanting more and Laurent needs extra attention with his reading and spelling (I didn't do spelling with Celine). And like I explained in this video post I don't have access to local English resources so I need to plan and have resources on hand, like Story of The World. When Celine was Brienne's age we simply used library books for our history study. 
Although it looks like a lot written out this way, we don't do every one of these elements every day. Some days there is a history focus, other days writing, etc.
Math happens everyday and the kids do it completely independent of me, which is why I switched to Teaching Textbooks for the younger two. You don't have to be a strong reader since the computer talks you through it.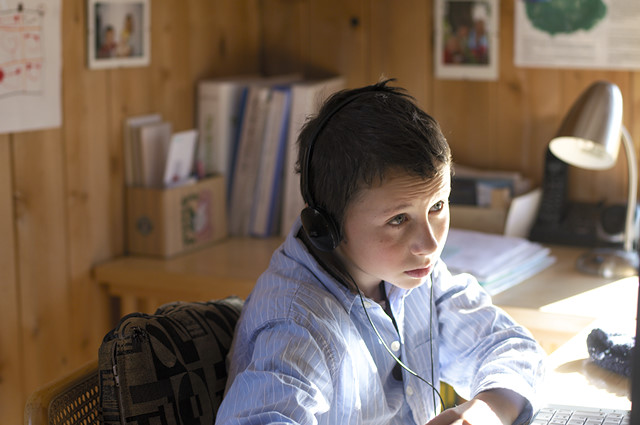 Also, Damien is taking over in certain areas of Celine's learning, specifically computer programming. This was part of our plan in bringing him home - for him to be available as our children need him more during their transition to scholar and scholar years.
Family Bible times happen all together at our midday and evening meal. Reading aloud happens in the evening.
Our Morning Routine:
My post at Simple Homeschool recorded the kids' active learning part of the day (minus our reading together at night). Here's the morning that got it all started.
6:10 I get up. Notice more snow on the ground (yay!). Get my morning glass of water and check my e-mail.
6:30 My internet access goes down (perhaps this is a sign?) so I start planning my daily to-do list instead.
6:45 I set aside my planning for the day and get out my inspirational reading. Funny how I love to read but my morning spiritual discipline feels just like that - a discipline.
7:20 Always a discipline to start, always so difficult to end. Time to make coffee and return to sketching out the day.
I review my notes from my winter term planning session to remind myself what I'm doing today. I know this will be a slow start for all of us so I'm trying to keep the plan doable. My homeschool goals for the day:
Meet with my 12 yr old to lay out her week (this is new).
Individual math practice (we never stopped this during our break).
Mad Libs all together.
Handwriting practice for my 9 & 10 yr old.
Revisit our scripture memory and choose a new verse.
Prepare tomorrow's copywork.
History reading and computer programming for my 12 yr old.
Evening read aloud time and reading practice for my 9 & 10 yr old (we never stopped this during our break).
That's planned "school" for the day. Tomorrow I'll resume history with the younger two and their spelling lessons. Later this week we'll have a freewrite session and write Christmas thank you notes.
Reality check: no thank you's have been done - we did other writing instead, and we didn't start a new Bible passage till the following week.
And so starts a new day and new season of homeschool for us. And so ends probably my longest post ever at FIMBY.
If you're still with me at this at this point you deserve a prize. No prizes but I will answer questions if you have any (smile).
Filed Under
Resource Library
You can subscribe to comments on this article using this form.
If you have already commented on this article, you do not need to do this, as you were automatically subscribed.