Doll Making ~ Your Questions Answered
January 14, 2013
Céline and I have collaborated to answer your doll making questions from this post.
I'm going to start off by saying I never taught Céline how to make dolls. I am not a doll maker. Years ago, I taught Céline how to sew basic stitches (her skill in that department surpasses my own). Because she loves sewing, art, and doll making, when I come across inspiring ideas and resources along those lines I share them with her. And of course I take her shopping for supplies. The rest, i.e.: the actual design and sewing, she figures out on her own. With the help mostly of the internet.
By the way, this is how homeschooling works - teach a few skills, teach your kids how to access the resources they need, inspire them once in awhile and let them do their own thing.
Your questions:
How did you get started?
Céline says: I don't remember how I started making dolls but I remember a little sewing project book. And I liked the cute projects in that book. (Editor's note: this was a Klutz book which has long since passed out of our possession.)
The first nice doll I made was Isabella. I used a library book pattern for that.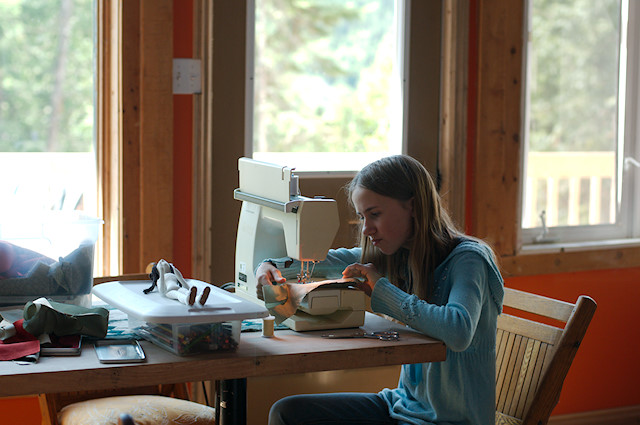 Renee says: Céline has been hand stitching since she was 5 or 6 years old, maybe younger. All of our kids started hand stitching in the early elementary years. I have been sewing for years and our home has always had sewing materials handy.
What tools and supplies are needed?
Céline says: Needles, thread, fabric, stuffing, buttons, beads, yarn, sharpies and colored markers, pencils for pattern drawing, colored pencils for face markings. A computer. (Editor's note: I think the computer is optional but Céline uses her computer for nearly all research these days and can't imagine life without it. Neither can I.)
I also like having embroidery floss of different colors. This can be used for features and hair. One of my favorite sites for learning embroidery is Mary Corbett's Needle N' Thread.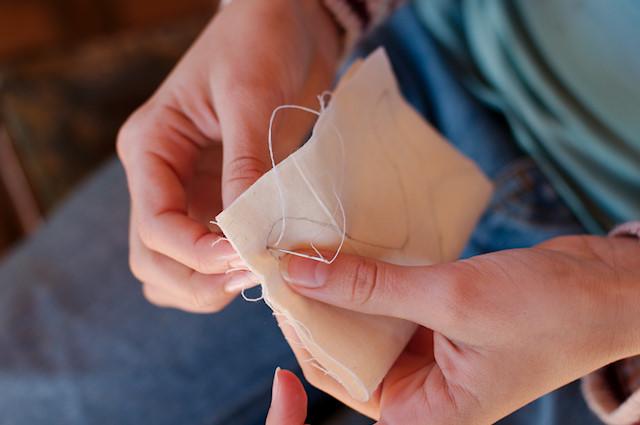 What basics would be needed in a sewing kit, not only for doll making, but any sewing projects (even quilting).
Renee says: In terms of general crafting I answered this question in my craft supplies post. None of us are quilters, I can't speak to that.
We'd also be interested in sites for purchasing the body fabric, hair, etc.
Renee says: We just use our local fabric stores. We've never purchased doll supplies online, except for beads. Years ago when we lived in Maine we bought our wool rovings from a local farm.
Céline says: I use plain muslin for most of my dolls. My most recent doll, Rina, uses a stretchy knit (see Cloth Doll Making for the pattern). Felt is a good fabric for basic sewing and getting started but it pills, which is not nice. It also thins out if stuffed too tight and is hard to draw on.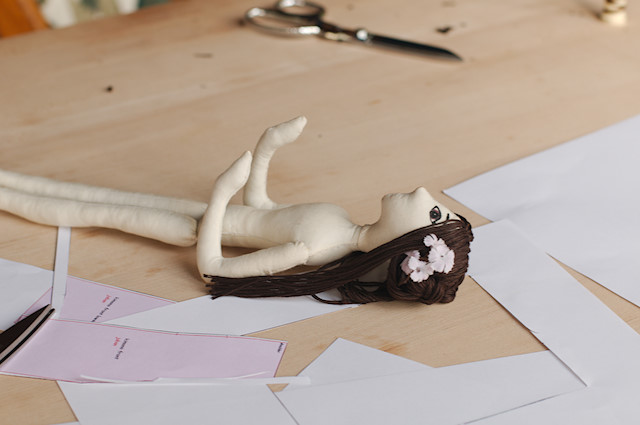 What books and websites do you use?
Céline says: Not very many books these days. I have the book Crafting Cloth Dolls
. I've never used any of the patterns, as is, but I do mix and match some of the patterns to make the dolls I want. Mostly though I use this book for inspiration. We don't have any other doll making books. (Editor's note: Crafting Cloth Dolls is not a beginners doll making book nor a toy doll book. It's an artsy doll making book.)
I basically use Google search for whatever I'm looking for. Some search terms I use are 'old fashioned doll' and 'free doll patterns'.One website I really like these days is Cloth Doll Making by Runo.
Renee says: Back when we had access to a good library we used to borrow a lot of craft books and Céline learned a lot of doll making techniques from these. I don't remember the titles of most of these but I do remember Easy to Make Cloth Dolls and All the Trimmings
. I'm pretty sure this is the book I used to find the pattern for one of Laurent's dolls.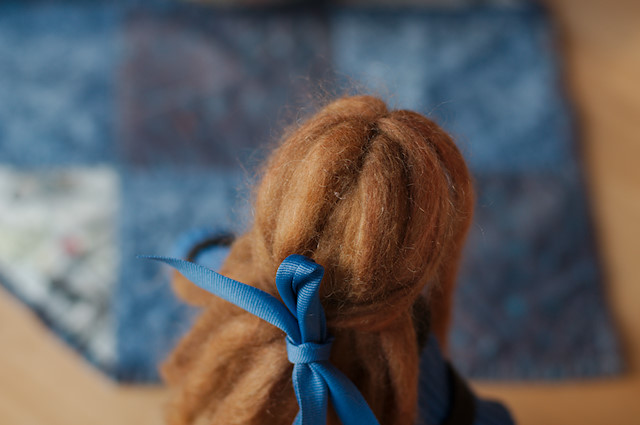 Any tips (or step by step pictures!) about doing doll-hair would be appreciated.
Céline says: If you are just starting out chunky yarn is easier to use than embroidery floss. It covers the head quicker. Attach some of the underthreads to the head, either with stitching or hot glue. Make sure you have enough threads to make a full head of hair. My favorite hair materials are embroidery floss, yarn, and wool rovings.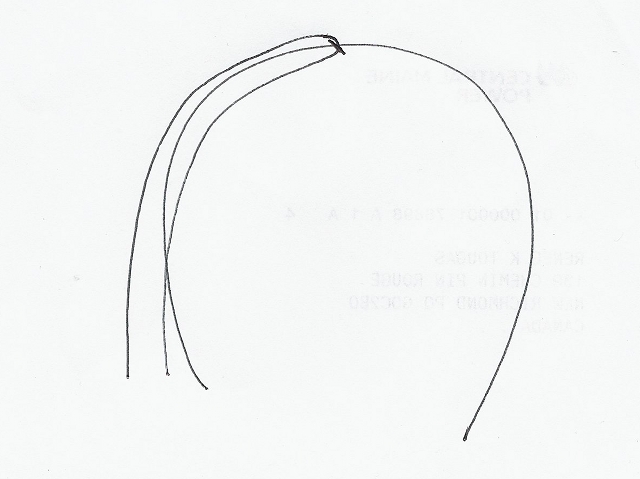 Here's a tip: take your yarn or thread and double it over. Make sure that either side is the length you want on the hair. Use a small stitch to attach the midpoint to the head and then fold the hair onto the same side of the head.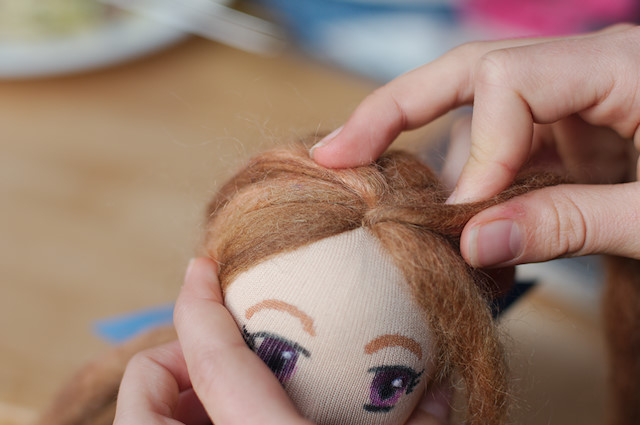 It looks like Céline's dolls have drawn-on faces, are these with fabric markers, or are they embroidered and so tiny I can't tell?
Céline says: I use ink pens and markers for features, and colored pencils for blush. When I make felt dolls I use embroidery floss and felt for the facial features. Eye catchlights are either white fabric or felt. For example, Rina's eyes have a little piece of white felt glued on. You could also embroider the catchlights with white embroidery floss.
Practice drawing eyes and other features on a scrap piece of fabric.
I am also interested in how Céline designs the faces - for the inexperienced there seem to be millimetres between lovely facial expression like the ones on Céline's dolls and scary facial expressions.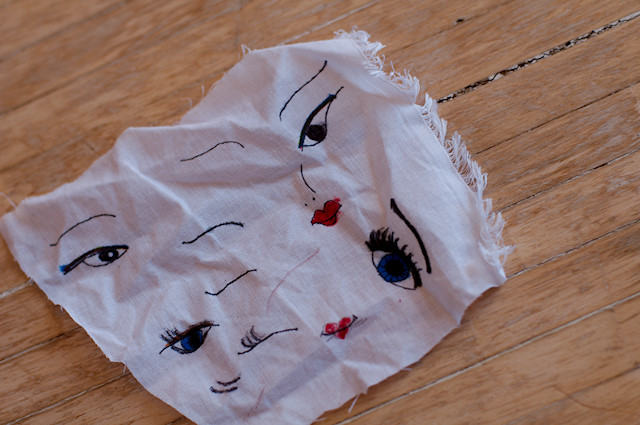 Céline says: For a long time I didn't do faces at all. I recommend you try it out on paper first.  And then test your designs on the fabric you are using for the doll. Also, for my last doll I spent hours watching videos on how to draw manga, and manga eyes specifically.
Renee says: Practice makes perfect. Céline was very hesitant for years about drawing faces on her dolls and slowly she has become more experienced.
The privilege of being a homeschooler is that when Céline makes a doll she can immerse herself in that project and spend many hours on it. She has the freedom to do that. Over the years, all that time adds up to lots of experience. The more you practice the better you get.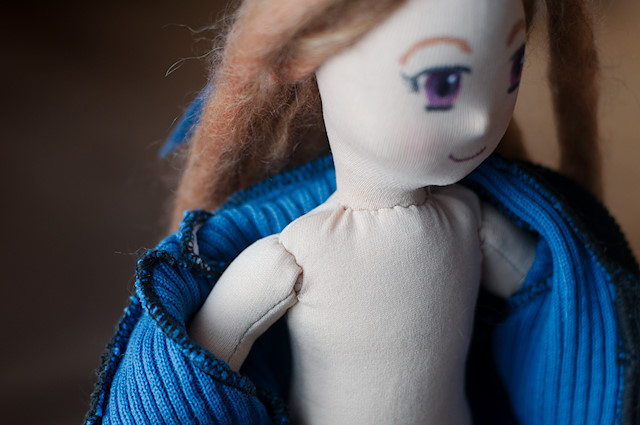 I've only attempted doll making a few times, because I find attaching the limbs to be very frustrating. They never feel sturdy enough for actual play. Any tips on that, and hair would be greatly appreciated.
Céline says: If you're just new at doll making then they probably won't be very great at first. That's just the way it is. With anything. And when (or if) the limbs fall off just sew them on better than you did before. I've had to sew limbs back on. (Editor's note: she speaks it straight, just like her mama.)
Renee says: Céline doesn't "play" with her newest doll creations very much. They are more pieces of art. But like she says, with her earlier dolls she simply re-attached limbs when they came off.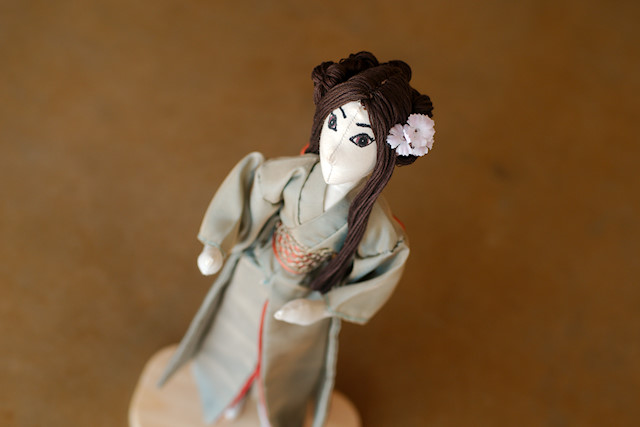 More doll posts at FIMBY:
You might also like Rachel's posts, she often writes about her children's crafts, sewing and doll making.
From time to time Céline accepts commissions. If you are interested in purchasing a one-of-a-kind handmade doll from Céline just send us a contact message and we'll let you know if she's accepting commissions right now.
Filed Under
Resource Library
You can subscribe to comments on this article using this form.
If you have already commented on this article, you do not need to do this, as you were automatically subscribed.