Deciding What to Teach
September 15, 2010
Several months ago, a reader asked me "How do you decide what to teach your kids?"
Today I answer that question over at Simple Homeschool.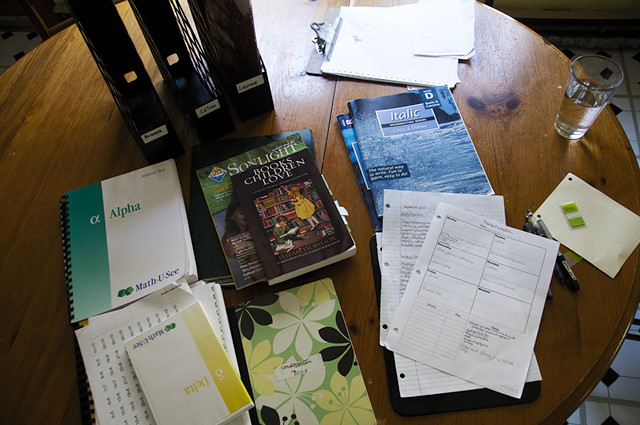 This was a hard question to answer. Some people want defined and fixed parameters about what you need to teach children to give them a "good" home education. I am not one of those people. Which you probably already know. 
I have never read any "what your child should learn in grade 1" type homeschooling guide books. How do those people know what my child needs to know when they are six, nine or seventeen? They don't know our family, our circumstances or more importantly, the unique person that is my child. What if my child has no interest in learning the "things" they recommend teaching? What if I have no interest in it?
So, you won't find any set "this is what you should teach your child" message coming from me. But we have used the guidelines I laid out at Simple Homeschool in determining what to teach our children. 
I feel this approach to education brings both a lot of freedom and responsibility. As parents it requires us to think about our family's goals and be intentional in living them. It demands that I come to terms with who I am and acknowledge what inspires me. And it behooves (I love using that word) me to intimately know these children God has entrusted to us. To prayerfully consider their purpose and their gifts and do my best to equip them for their future. 
On a related note I have found this book, Fundamentals of Home-Schooling: Notes on Successful Family Living, to be helpful on our homeschooling journey. It does not answer the question "what should I teach my child?" but gives lots and lots of practical tips and inspiration for family based, interest-led learning. Currently I am mining the Exploring Writing section for ideas I can use with Celine.
I plan to write a few homeschooling related posts in the coming months and of course my regular monthly posts at Simple Homeschool. Are there any questions you'd like me to answer?
Renee Tougas participates in affiliate marketing, including the Amazon Services LLC Associates Program. Whenever you buy something on Amazon from a link you clicked here, I get a (very) small percentage of that sale. See disclosure for further explanation.
You can subscribe to comments on this article using this form.
If you have already commented on this article, you do not need to do this, as you were automatically subscribed.