How to Freeze Tomatoes ~ or Preserving made Easy
September 13, 2010
This post may just be a thinly veiled excuse for posting more tomato photos. So be it.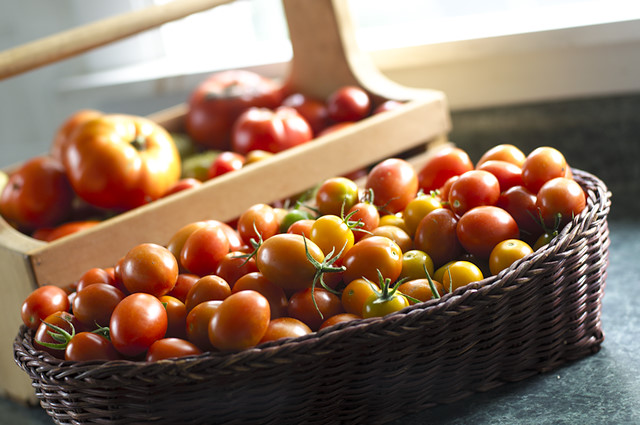 But I do actually have something of value to share with you all, my super easy way to preserve tomatoes.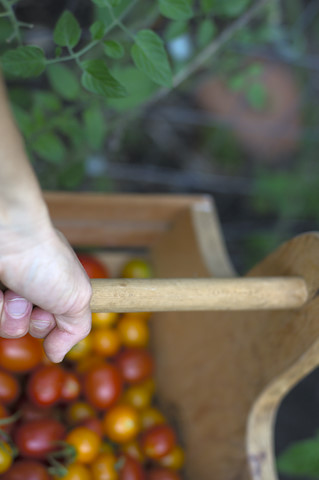 Over the past week and a half 35 lbs (easily) of organic garden and farm share tomatoes have landed themselves on my kitchen counter. This, inspite of my battle with early blight. Tomatoes have been appearing in almost every supper - pasta with roasted tomatoes, green bean tomato curry, beans and tomatoes, roasted tomato soup etc.. but even so there is no way to eat our way through this bounty. So into the freezer they go.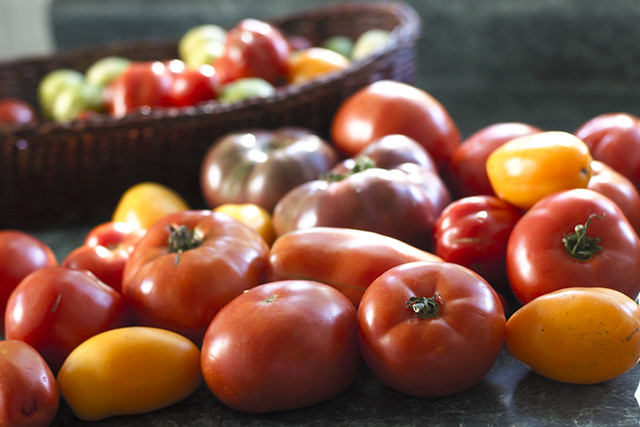 How to Freeze Tomatoes
Choose large, ripe and disease-free specimens.
Wash tomatoes and break off stems if possible. If you want you can cut out the stem and remove the woodiest part of the tomato but you don't want to get too messy, keep it clean.
Lay tomatoes in a single layer in the freezer. On top of other bags of frozen food will do just fine.
Freeze until solid or until you remember them.
Transfer to ziploc bags and keep stored in freezer.
Alternately you can leave them in the freezer this way for a couple months loose as long as they don't get too freezer "burned".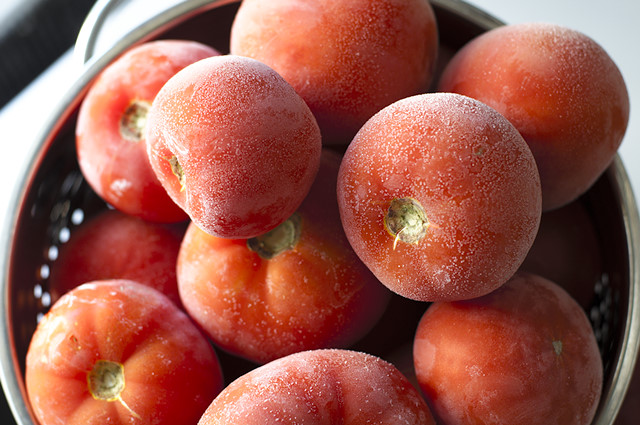 To use frozen tomatoes remove from freezer and let thaw in a bowl. Alternately, run hot water over them to remove the skin, if desired (we don't). Once they are thawed a little you can cut them up, this is actually easier to do if they are still a bit frozen, and add them to your soups & stews.
We use tomatoes this way all winter long (I buy boxes of fresh Maine greenhouse grown and freeze mid-winter also) instead of canned tomatoes due to the BPA issue. I can't say for sure how long they will last in your freezer but definitely a couple months.
This method of food preservation is so easy I can't believe more people don't do it. I first learned this trick a couple years ago from... I don't remember. At first I was doubtful. Stick 'em straight in the freezer? No blanching, no fuss, no mess? Sounded too good to be true.

I'm going to be carrying this mental photo into the cool (garden tomato-less) months ahead
How do you preserve your tomatoes?
Related Posts:
You can subscribe to comments on this article using this form.
If you have already commented on this article, you do not need to do this, as you were automatically subscribed.