Creating An Urban Oasis
May 18, 2011
This is the fifth and final post in a series of home renovation posts, a tour of the changes we've made inside our house since moving here six years ago. Here are the first four posts:
Now it's time to show you the yard.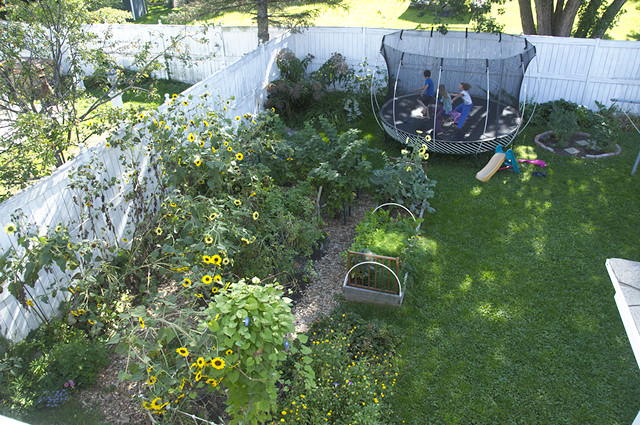 Our backyard last year
Whereas Damien did most of the renovations inside, with help at times from my Dad, I have been largely responsible for the transformation of our yard and garden space. I designed and did most of the work myself with heavy lifting help from Damien.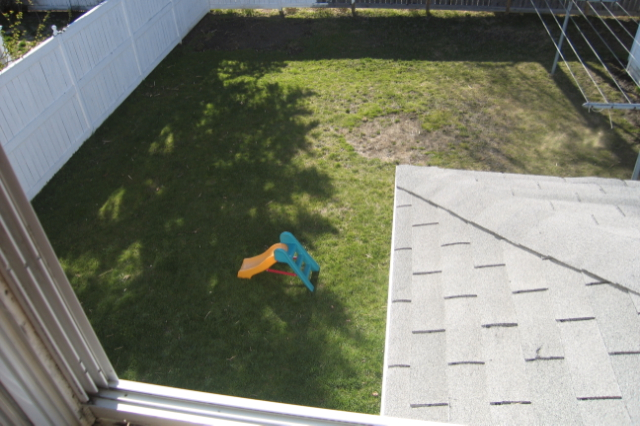 The backyard 2006, before we re-seeded the lawn
Gardening, and creating beautiful outdoor spaces, is one of my interests and definitely on the list of "things that make me happy".
When we moved here there was no beauty to speak of in the backyard, except for the lilac bush. But there was a bit of space. I can work with space.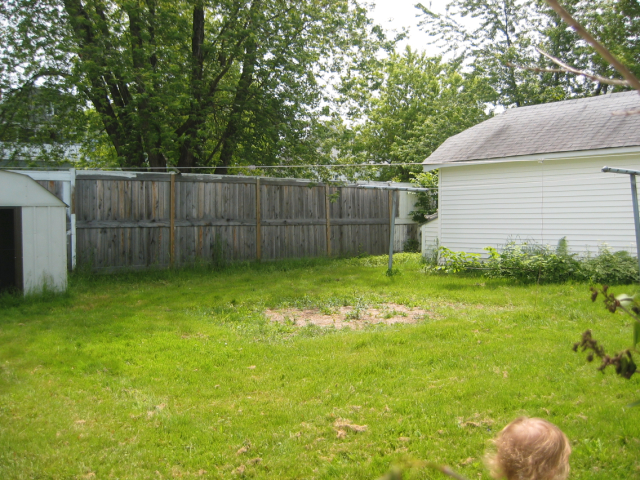 June 2005
The second summer we lived here we Damien graded the entire backyard and re-seeded the lawn. That was a huge undertaking and probably not worth the effort. Our soil has a lot of clay and with kids tramping back there all the time, the grass has slowly been displaced by the much hardier and clay-tolerant species of clover, plantain and other weedy lawn varieties. 
No matter, there isn't much "lawn" back there anymore anyway because over the years I've turned a lot of the backyard into gardens. Leaving just enough green space to put up a trampoline and a little bit for running around. 
While we're on the topic of trampolines... this is where I give my heartiest product endorsement ever (no, I'm not an affiliate).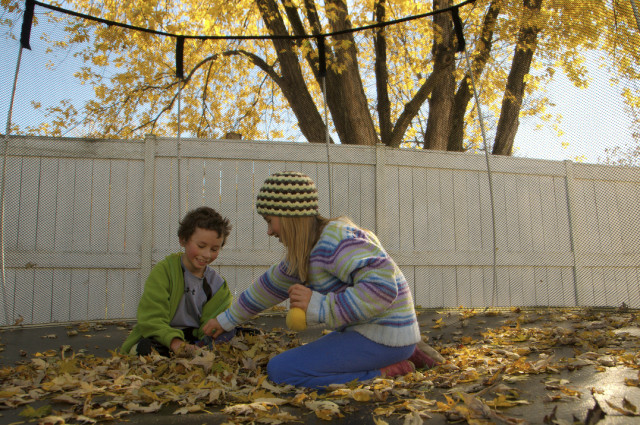 A couple years after buying our house we bought a Springfree Trampoline. Damien did lots of research and concluded, at the time, this was the safest trampoline on the market. 
I can't even begin to estimate how many hours our kids have spent on that trampoline. It is, by far, one of the best investments we've made for creating an outdoor play space for children in the city (and no one has broken anything while jumping on it).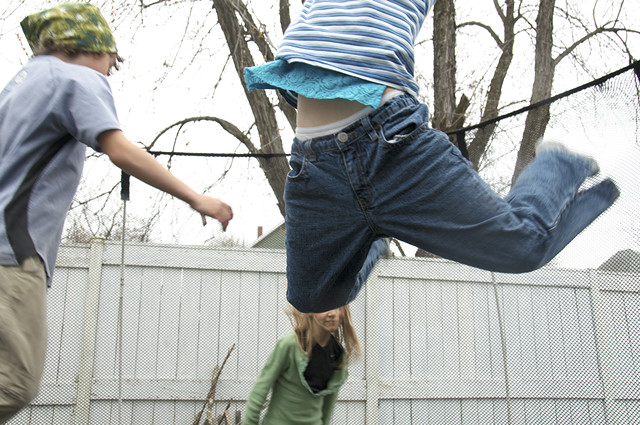 Back to the gardens...
The house came with a few perennials (peonies & lilies) and a couple deciduous shrubs in front. I added significantly to those existing "gardens" over the years and spent a lot of time researching how to build organic perennial beds. I was successful at creating gardens where there was always something pretty in bloom from May through November.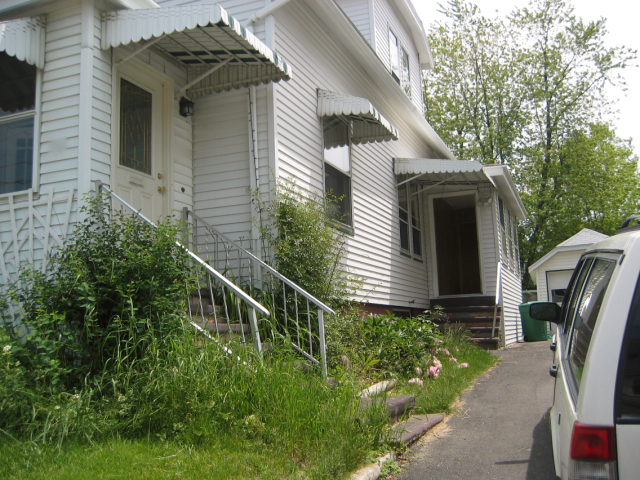 Front door when we bought the house June 2005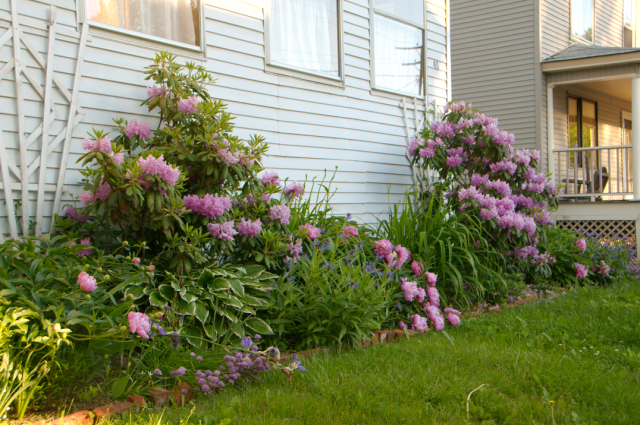 June 2009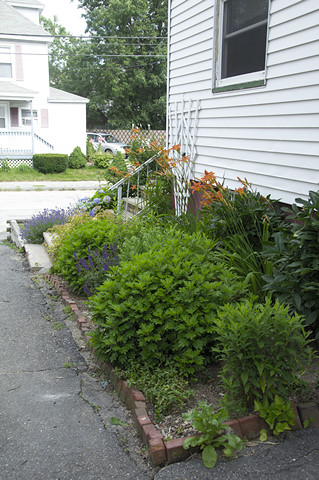 perennial bed along driveway 2010
One of the sad things about leaving this house is saying goodbye to all the plants I have lovingly nurtured over the years and the gardens I have built. I can see already there will be a bumper crop of strawberries this year and even more raspberries than last year.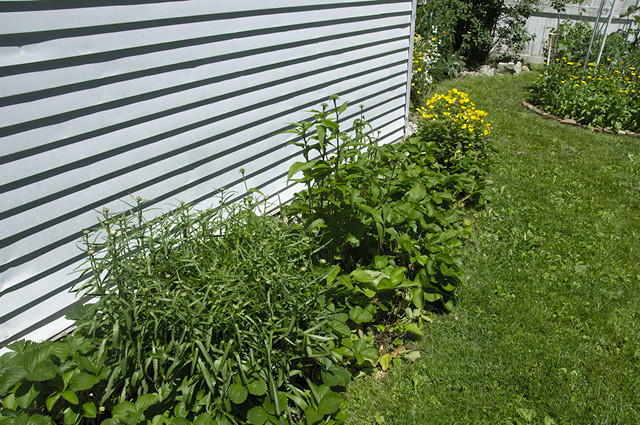 strawberry and perennial bed last summer
My old neighbor told me just this week that I brought "a bit of country to the city" with my gardens. That is true. Late last summer I especially took notice of the butterflies and birds that came to visit. It was a privilege to provide a bit of habitat in the city for these creatures.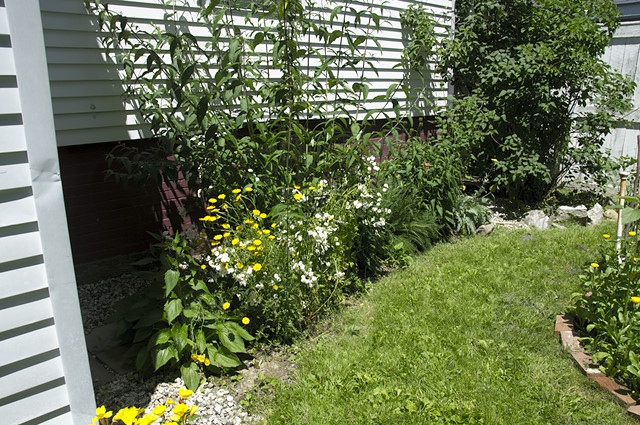 butterfly garden 2010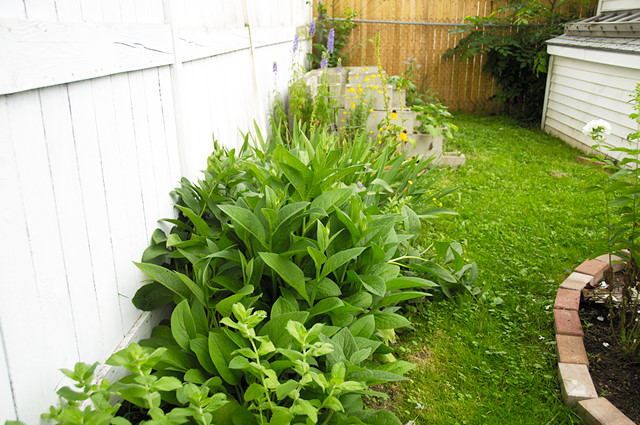 comfrey and compost corner
I'm going to miss my gardens. This coming life season (the next couple years) will not include a lot of gardening. But I have no doubt that someday I'll return to my "roots" and create a beautiful yard again. 
~~~
Moving Update: We leave Maine in 2 sleeps. I am exhausted and worn out beyond belief from this last week and the months leading up to it. This move has been like giving birth, only more difficult. I am just faintly, ever so faintly, starting to see the light at the end of this tunnel. 
PS. We're moving the trampoline with us and it's one of the last things to go in the trailer because we'll be setting it up at my parents for the summer. The backyard looks so lonely without it. 
Filed Under
Resource Library
You can subscribe to comments on this article using this form.
If you have already commented on this article, you do not need to do this, as you were automatically subscribed.