Cream of Broccoli Potato Soup and Broth Powder Recipe
May 19, 2010
This cream of broccoli potato soup is my most requested recipe. It's often served to guests, is my favorite potluck contribution and is my go-to meal when I prepare food for a family in need, ie: the arrival of a new baby.
Everyone who has eaten it likes it, which is saying something since it's absolutely vegan, very healthy, relatively easy to make, cheap to prepare and tasty too.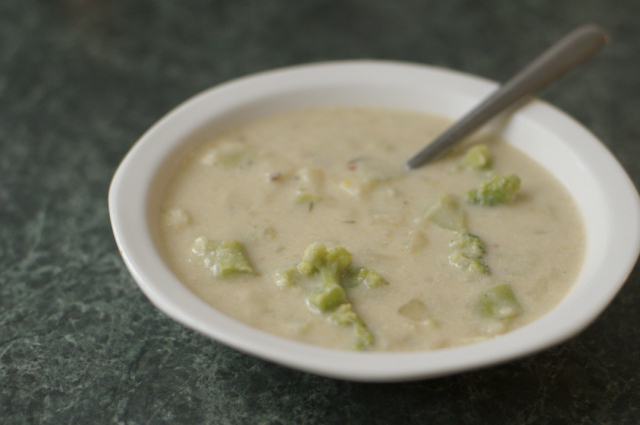 I am a "take what you've got, put it in the pot" soup cooker. So writing down this recipe has been a real trial for me. I prepare it different each time but there are some basic guidelines I follow each time.
Also, I own a pressure cooker, which I use every day for cooking beans, soups, stews etc... Most kitchens don't have one of these great tools but I highly recommend it (and a powerful blender). Susan V. from FatFree Vegan Kitchen writes about her pressure cooker (the same model as the one I own) here and here. Having said that you absolutely can use a regular pot to cook this soup but it will take longer and might require more liquid. 
For these reasons - no exact recipe and using a pressure cooker-  I can't guarantee your results. Oh well. I never said this was a food blog.
Broth Powder Recipe
Firstly, we don't eat chicken 'round these parts (in my vegan kitchen that is). No chicken, no chicken broth.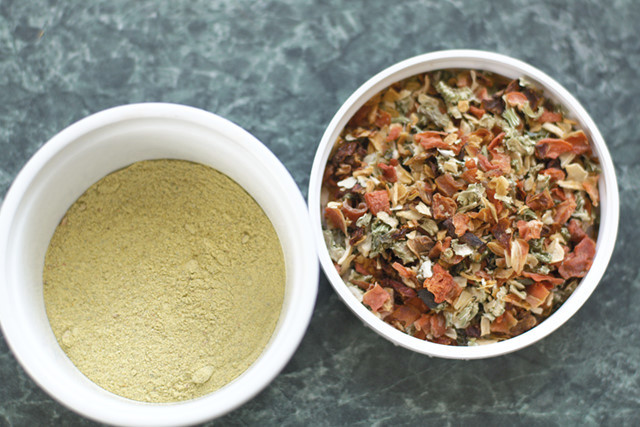 Instead I make my own powdered vegetable broth with ingredients I buy in bulk. I use this broth mix to make all my soups so I will share the ingredients here.
You can substitute you own version in the soup recipe below but please note I add no salt to mine so you might have to make adjustments if your broth mix is high in sodium.
Ingredients:
1 part dehydrated vegetable flakes (mine look like this but I buy them in bulk from our buying club)
3 parts nutritional yeast
1/2 part onion powder
1/4 part garlic powder
1/4 part italian seasoning
1/2 part dried parsley
Directions:
Put all ingredients in a blender and pulverize to a fine powder. Store in airtight container.
2 tsp - 1 tbsp of broth powder mixed with 1 cup of water makes a flavorful broth. Add salt to your own tastes.
Notes:
When I make this I make lots, about 4 cups worth (1 cup of dehydrated vegetable flakes). I use this broth powder mixed with water whenever broth is called for in a recipe. Easy, cheap, healthy and tasty.
Cream of Broccoli Potato Soup
The cool thing about this soup recipe is how versatile it is. I have added many odd and interesting vegetables to this soup. Parsnips, turnips and rutabagas cooked up with the potatoes (you have to give those veggies more time than potatoes to cook). Cabbage, kale or cauliflower added with or instead of the broccoli.
If I don't have fresh broccoli I use frozen and in fact will chose this some days for ease of preparation - no chopping required. This is also a good soup to use up less-than-lovely and downright aged potatoes. 
The concentration of green/cruciferous vegetable and all whole food ingredients makes this a very nutritious and filling soup.
Here's the general directions.
1. Saute onions.
Two for a large pot, one for a small. Garlic optional, though I usually don't put it in this soup.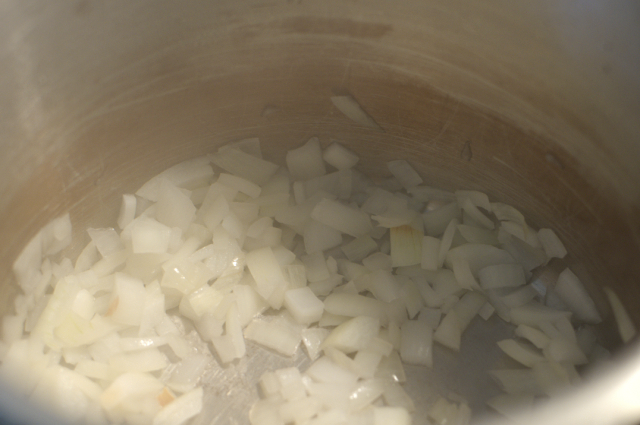 2. Add chopped potatoes.
For a family sized pot of soup that will feed one supper with leftovers I use 14 or so medium sized potatoes.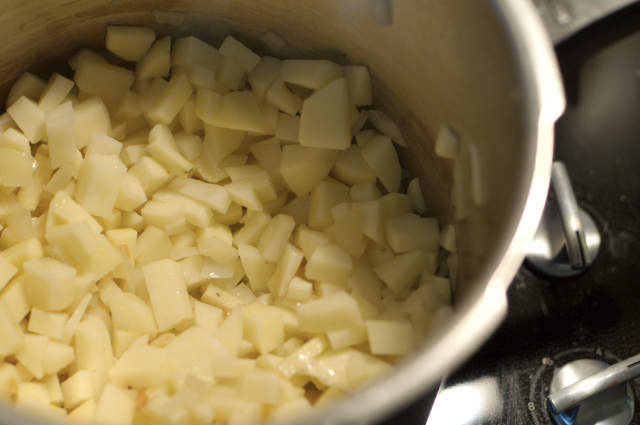 3. Cover potatoes with water (1 inch or so above potatoes). Add broth powder and seasonings. 
generous dollop (2 tbsp?) of miso paste Since reading Kika's comment below and the Wild Fermentation I reserve this for the end
1/8 - 1/4 cup broth powder (see recipe above)
dill, thyme, parsley - whatever else I might be in the mood for
generous squirt of Bragg Aminos, good quality soy sauce or sea salt to taste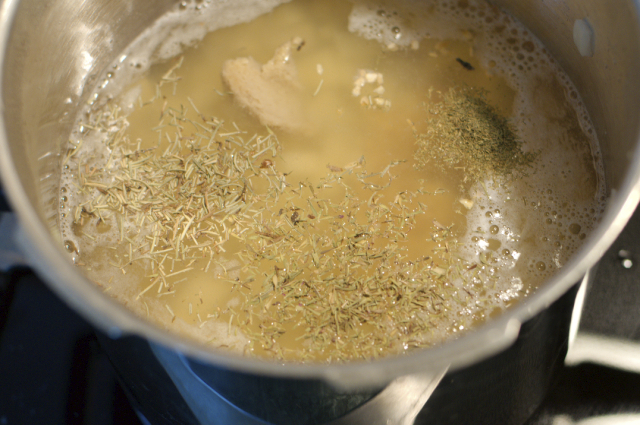 4. Cook the potatoes, onions and seasonings.
This is where I use my pressure cooker and it takes 5 minutes at low pressure to cook the potatoes.
5. Add chopped broccoli (or cauliflower, kale or other great vegetable) and simmer long enough to cook vegetable.
Time needed will vary depending on vegetable you use and if it's frozen to begin with.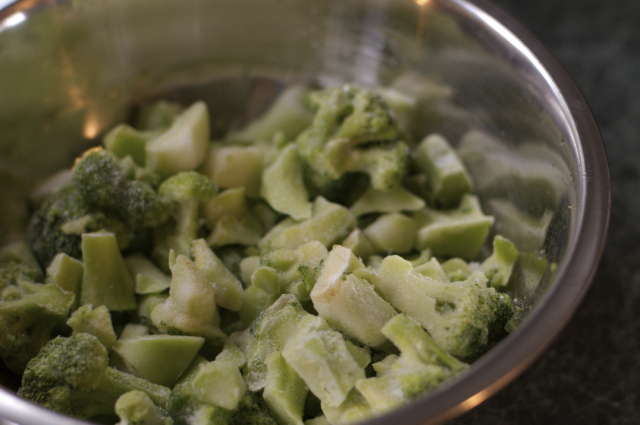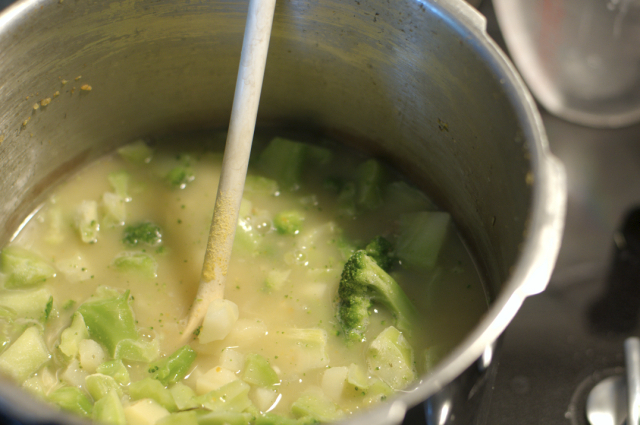 6. Blend cashews with some of soup broth.
Remove 1 - 2 cups of broth from the pot, pour into blender.
To the blender add 1 cup raw cashews for a large pot of soup, less for a smaller pot of soup.
Add a generous dollop or two of miso. Blend till really smooth.
This is your "cream". Pour back into the pot.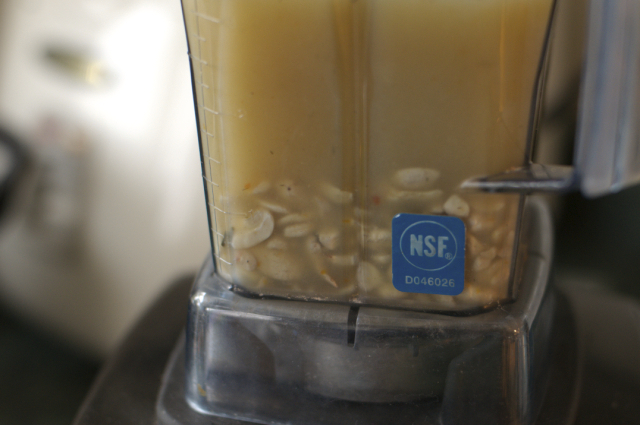 7. Mash potatoes and broccoli to your liking.
Using a potato masher, mash the ingredients a bit to make sure the pieces are bite sized.
Depending on your family's tastes you might want to blend the soup completely but you may need more water and seasoning in step 3 if you anticipate doing that.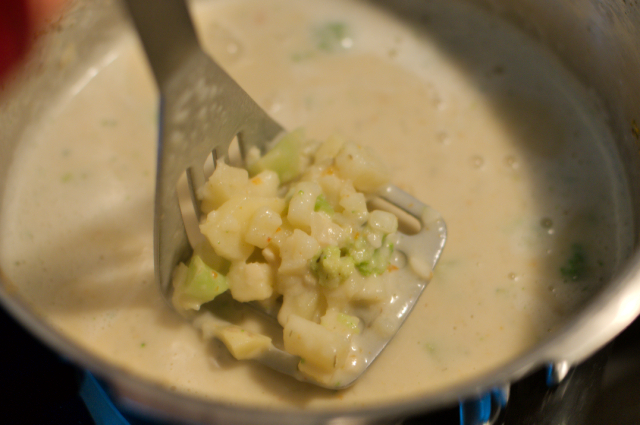 8. Serve soup to loved ones - family, friends and neighbors. 
Tastes better the next day.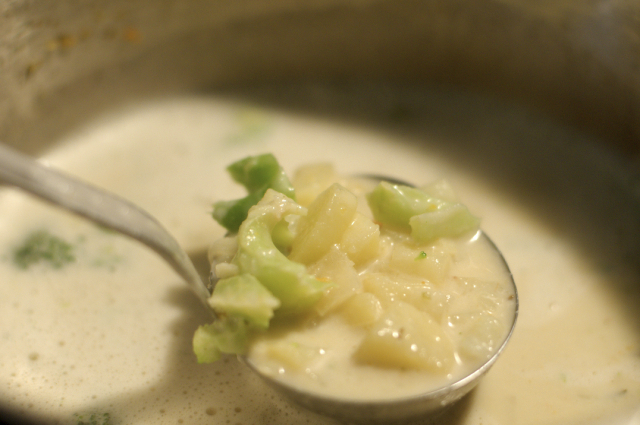 Post Script: I made this soup tonight (it was one of our favorite soups) and didn't realize till step 6 that I didn't have any cashews. Whoops.
Instead I added a teensy bit of soymilk (all I had in the fridge) and mashed up the cauliflower and potatoes just a wee bit to thicken the broth. My family all loved it this way and I may choose to make it without the rich cashews from time to time. 
Renee Tougas participates in affiliate marketing, including the Amazon Services LLC Associates Program. Whenever you buy something on Amazon from a link you clicked here, I get a (very) small percentage of that sale. See disclosure for further explanation.
Filed Under
Resource Library
You can subscribe to comments on this article using this form.
If you have already commented on this article, you do not need to do this, as you were automatically subscribed.