Strangers in Our Front Yard
May 17, 2010
A funny thing happened to me while I was taking the bus to meet my mom for our girl's weekend. I met a couple traveling on the same bus and after 5 minutes of knowing them invited the two (perfect strangers) to come stay at our home.
They showed up at our house this past weekend after exchanging a few brief e-mails last week.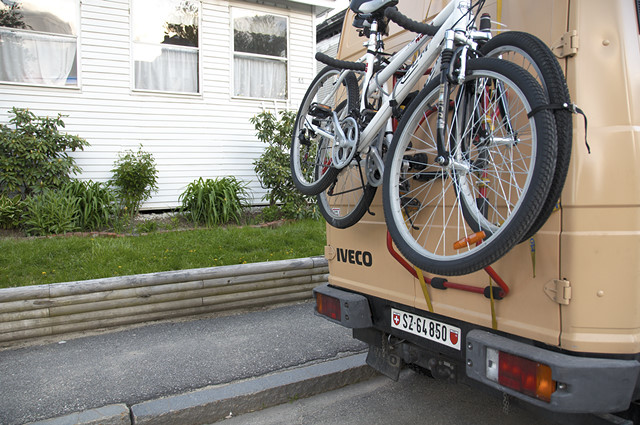 Before going into the story of this meet up I'd like to say (after spending an intense 36 hours with these world travelers) that hosting strangers who in a few short hours become friends is one of life's greatest privileges. If you ever get the opportunity to do so, you should. In a heartbeat.
The story of this serendipitous weekend goes like this:
Three weeks ago I took the bus to meet my mom in New Brunswick. While buying a bus ticket at the Bangor, ME bus terminal I noticed a youngish couple (our ages - for whatever that's worth) carrying hefty backpacks. I thought to myself "these people are going somewhere interesting, I'd like to meet them". So I did.
I introduced myself and commented on the packs, striking up a conversation about who they are and where they were traveling. After a short talk we boarded the bus and went to our separate areas of the bus. My goal after all was to have a quiet, uninterrupted bus ride  - to read, write and think. But I did decide that if the opportunity arose to talk to them at the next stop I would invite them to come visit us.
At the next stop opportunity (fate or the Holy Spirit?) knocked and without so much as even knowing their names I invited them to come to our home. With that invitation out of the way I then got their story - who they were and where they were going.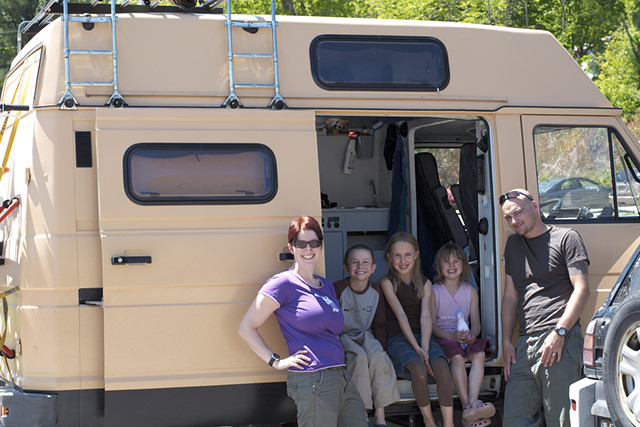 They are Marco & Nicole, from Switzerland, who rode the bus from New York to Halifax, NS to pick up their Iveco (pronounced Iweko if speaking German) traveling truck which came across the ocean on a ship. From Halifax they are traveling around North and South America for the next 2 to 3 years.
Um... yep, these are definitely people I wanted to come visit us. I just knew they had a good vibe when I spotted them.
Nicole and Marco arrived at our house this past Saturday. We fed them a bit of supper and fruit smoothies. We talked, talked and talked. Sunday we took them hiking with us, these people live in the Alps for goodness sake! We talked some more. After almost 7 miles of hiking in the Maine mountains we took them to our favorite Thai restaurant (they were in Thailand earlier this year, sigh...).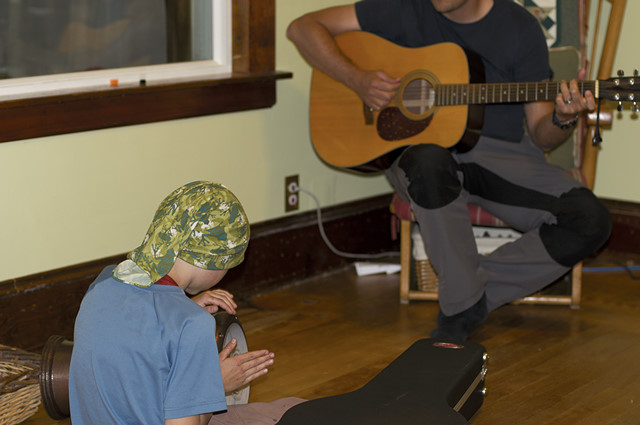 After supper we went for ice cream, the boys jammed a bit and then we had a virtual tour of Switzerland when they showed us the photos on their computer of their beloved homeland. You probably already know this but Switzerland is one absolutely beautiful country. And the mountains, oh the mountains (swoon).
This morning, after taking them to a real bakery where they could find decent bread, we sent them on their way. But only after invites many times over that we should come stay with them when we visit Switzerland. Fancy that. We do plan to go to Europe with our children when they are teenagers and by that time Nicole and Marco will be back home and maybe starting a family of their own. It would be wonderful to meet again.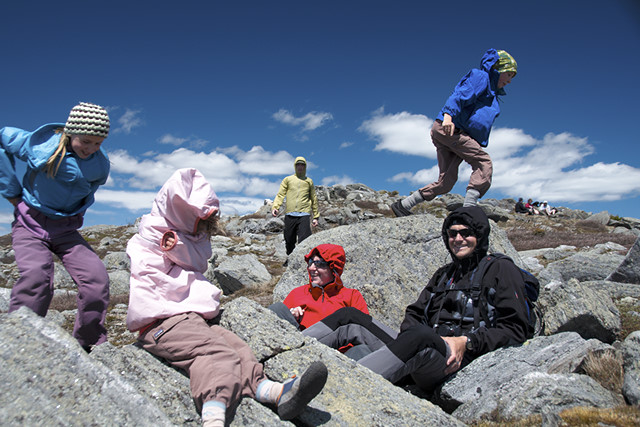 Meeting and hosting travelers from different place is such an enriching life experience. We look for opportunities whenever possible to do so. And sometimes opportunities like this fall into our laps - if we keep our eye, ears and hearts open to the possibilities.
Related Hospitality & Travel Posts:
Filed Under
Resource Library
You can subscribe to comments on this article using this form.
If you have already commented on this article, you do not need to do this, as you were automatically subscribed.