ChicoBag Giveaway
September 30, 2011
This summer when we went to Outdoor Retailer I was pleasantly surprised to come across a few companies with "green" home related products. I'm not a big gear junkie and most of Outdoor Retailer is all about gear.
Gear for water sports. Gear for hunting. Gear for hiking. Gear for walking. Gear for dogs. Gear for gear. I'm telling you - gear overload. 
So coming across the ChicoBag booth was a nice break.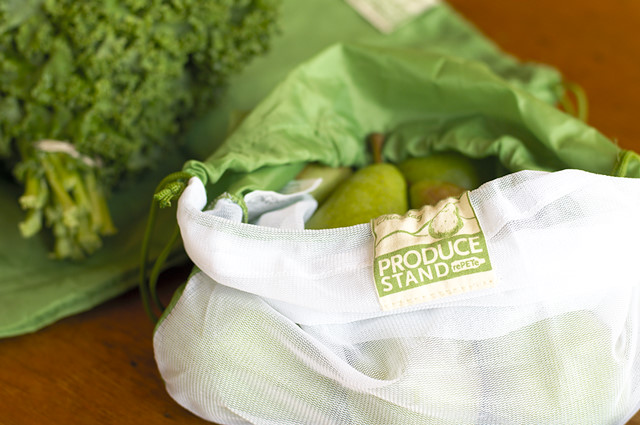 ChicoBag is (surprise, surprise) a bag company. I think I could never get tired of bags. I love them and am always tempted to add new ones to my stash but I really try to limit myself to the few I need - an all purpose out-of-the-house tote, a backpack, and a large beach bag.
I don't do "purse". We won't even talk about how many hand bags, make up bags, and sparkly bags Brienne owns.
My current all purpose bag is handmade locally here in Nova Scotia. I bought it to replace my out-of-the-house tote stolen from our car last month.
I also have a whole slew of large and sturdy shopping bags that permanently reside in the back of our car. You know the kind - promo bags that companies give away for advertising purposes. Or that you can buy cheap in the grocery store. I'm a walking advertisement for the oddest assortment of companies and products every time I grocery shop. My cart laden with such an odd mix of reusable bags.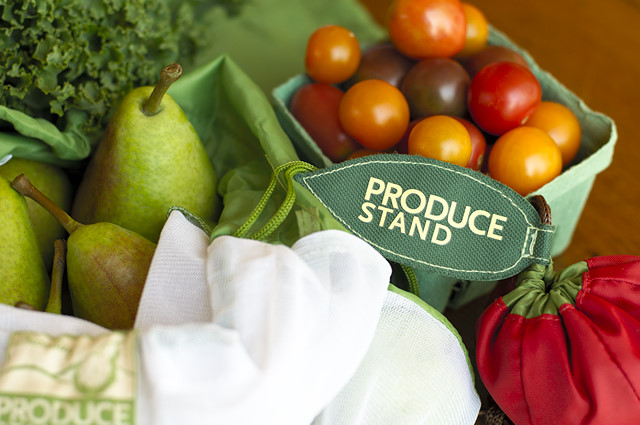 The one type of bag that I have been lacking and am now adding to my bag stash is reusable produce and bulk food bags. 
These again are an odd assortment of hand sewn numbers (very few of those, who has time to sew with all this writing), store bought, and re-purposed bags. I have been building up my supply so I never need touch plastic grocery bags again. I gotta say, keeping lettuce fresh in a cloth bag is a tricky one. 
With this in mind I was very delighted when I was given a ChicoBag Produce Stand Starter Kit for review and giveaway.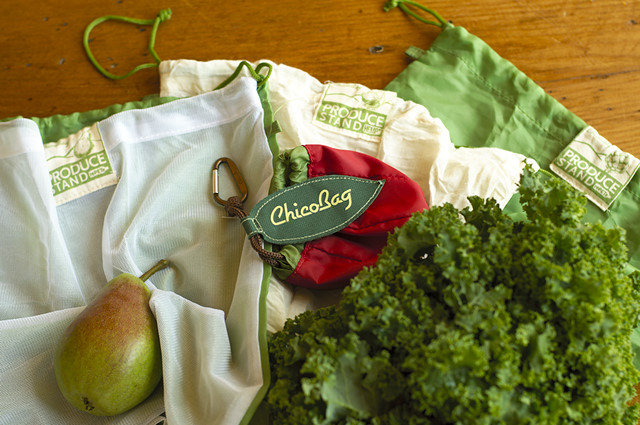 ChicoBag makes some really cool bags. All of them fold neatly into little pouches. That would sure clean up the back of my car.
The company works to reduce pollution, belongs to a fair labor association, and participates in other people and earth friendly initiatives. 
I personally love the look of their Vita rePETe Bag (I wasn't lucky enough to score one of those).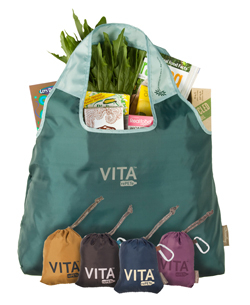 That is the kind of grocery bag I would love to use. How cute, space efficient, and put-together is that? 
The rePETe label is very cool. It's a trademarked designation that helps consumers know which ChicoBags contain recycled content and how much. 
If recycled plastic isn't your gig they also have a natural fiber Hemp-Cotton blend bag.
The ChicoBag Produce Stand Starter Kit (try to say that fast five times) features three bags - one mesh rePETe, a regular rePETe and one hemp-cotton blend bag.
These are big bags and I'm impressed with their size. They are big enough to easily fit a large, leafy head of kale or multiple heads of lettuce (still working on how to keep them fresh in the fridge).
The bags have labels that recommend what veggies will keep best in what bags.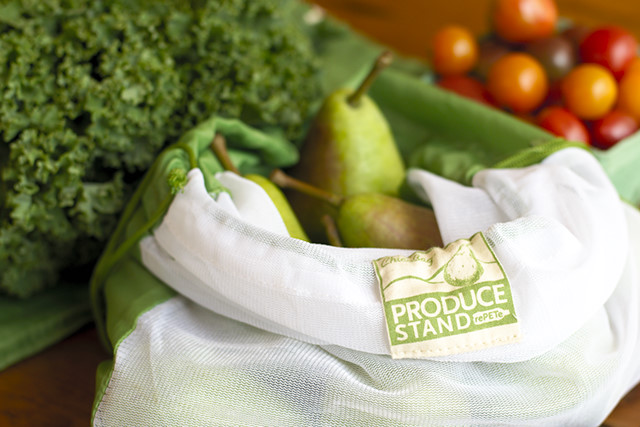 ChicoBags all come with a little pouch to store the bag. In the starter kit it's a tomato red drawstring pouch with an attached carabiner. I don't use the little red pouch, it's cutsey but not terrible useful to me. I just shove all my mis-matched produce bags together in one larger cloth bag.
ChicoBags is giving away one Produce Stand Starter Kit to a lucky FIMBY reader. 
To enter the giveaway leave your name and tell us what you use for produce bags. Comments closed Wednesday night, October 5th. Out of 71 unique commenters (a couple of you left replies to other people) commenter 29 was chosen using Random.Org. Congratulations Megan!
Extra points (not really) go those commenters who can answer the question, How do you keep your lettuce and tender leafy greens (ex: herbs) fresh without using plastic?
Renee Tougas participates in affiliate marketing, including the Amazon Services LLC Associates Program. Whenever you buy something on Amazon from a link you clicked here, I get a (very) small percentage of that sale. See disclosure for further explanation.
You can subscribe to comments on this article using this form.
If you have already commented on this article, you do not need to do this, as you were automatically subscribed.