Beeswax Candles
November 27, 2008
This post was originally published many years ago, and as you will read below I really enjoyed making them with my then little kids. However, they didn't burn well and I never attempted to make taper candles again.
A few years after this first foray into candle dipping I bought a mold for votives and tried the melt and pour method of beeswax candle making. Again, it wasn't the most successful candle making endeavor.
It wasn't until fall 2015 that I attempted candle making again, and was successful in producing a good burning candle. Yay!
The key to this success? Two things:
the right wick to candle width ratio
using a beeswax/palm oil mix vs. just beeswax.
The recipe I follow is not available online. It's part of a private e-course and is copyrighted, so I'm not able to share it here. However, this recipe is very similar to the one I follow.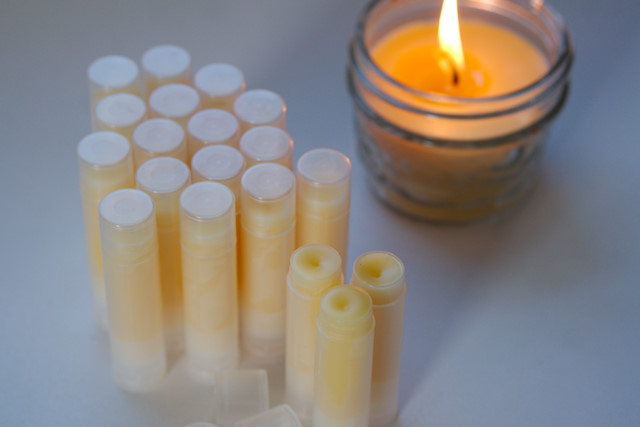 my most recipe candles, photographed with my homemade lip balm
---
When I set out to do this project my simple goal was to make our advent celebration candles and do a meaningful activity with the kids. It was so thoroughly enjoyable and yielded such lovely results it may become a new holiday tradition.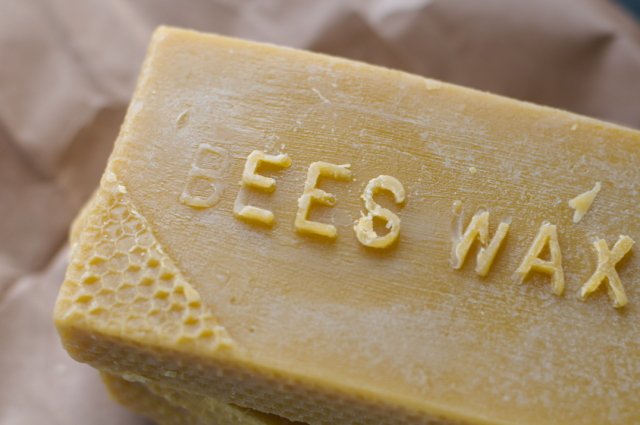 Basic Instructions
I found the instructions on this sweet crafty blog. Because I didn't have a large can we used a large mason jar and switched to a narrower jar near the end of the process to keep the wax level high enough. I also started with looped candles, as you can see in the photos, but ended up cutting the ends and switching to single dips.
We cooled our candles laying down (not hanging) with no adverse effects. I started with 2 lbs of beeswax (I got it for a steal at the fair for $8.00) and had 6 oz or so left when we were done. We made 18 candles, 4.5 - 5 inches tall.
We also made a huge mess. I suggest using lots of newspaper (we didn't) and budgeting ample time for scrubbing pots.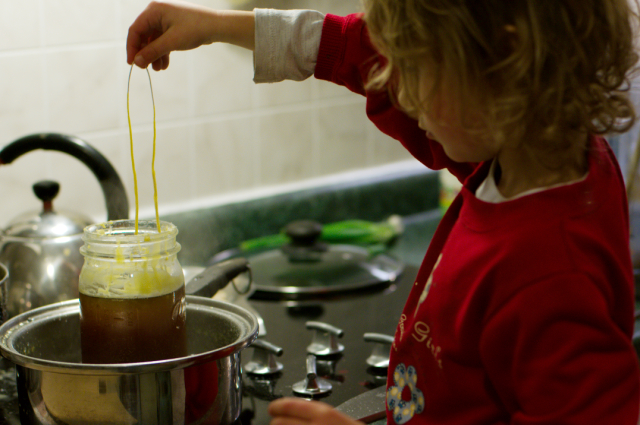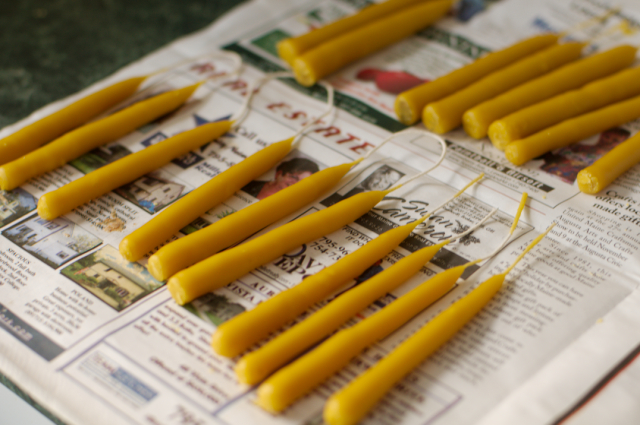 Beeswax is the Best
I really enjoyed making these and beeswax has so many great properties.
Anyone can do this, you do not have to be "crafty". Can you heat water on the stove? You can do this.
Burning beeswax candles cleans the air.
Homemade beeswax candles are gorgeous. The freshly dipped and still warm candles "are divine to the touch" (Celine's phrase) and are intoxicating to smell. Seriously, you will feel happier, healthier and calmer just sniffing these babies.
This is a child-friendly craft that yields a beautiful result. It requires no hot glue, plastic do-dads, sparkles or any other fossil fuel derived craft supply. (I can't verify that no bees were harmed in the procurement of the wax so these aren't certifiably animal friendly).
Should the power ever go out or you choose to turn off the electricity for a day, you've made something that is useful, not just pretty and decorative. Candle making is a practical art, like soapmaking, and produces something that will not clutter your home.
Little fingers can hold and dip quite well and the wax, though warm and melted, does not burn (the boiling water though - watch out), making this an all-family activity.
Beeswax, at least where I live, is locally produced. These candles are truly Made in Maine.
The candles take several hours to make. I see this as a bonus, lots to time to talk with my children and learn together.
It's amazing how much science, math, poetry, history comes up while you are dipping.
These would be a wonderful gift to give or receive.
A few hours of "work", a small financial investment and some major clean up (it's wax after all) produces a lot of candles. How well they burn remains to be seen. See update below.
I could go on and on about how much I loved doing this but you'd get bored. The short of it is these were lovely to make and they will be lovely to use in our advent wreath, for lighting up the winter evenings or maybe to give a few as gifts.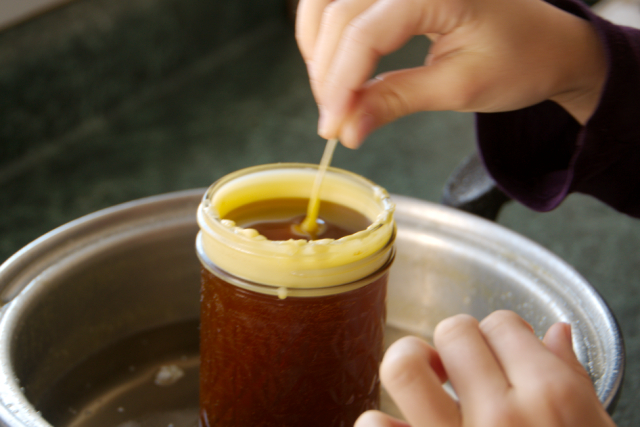 I took the pan off the stove for this shot since the light was better by the window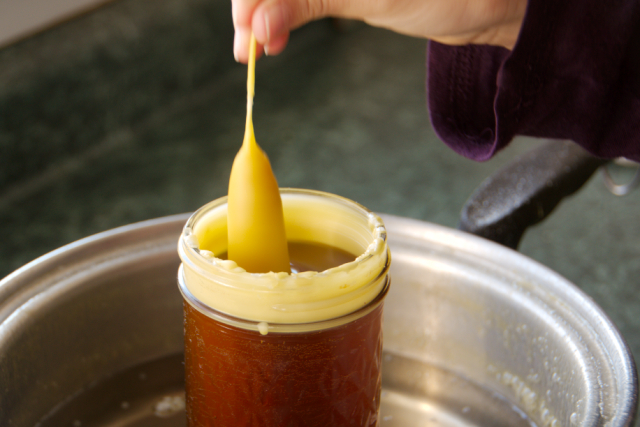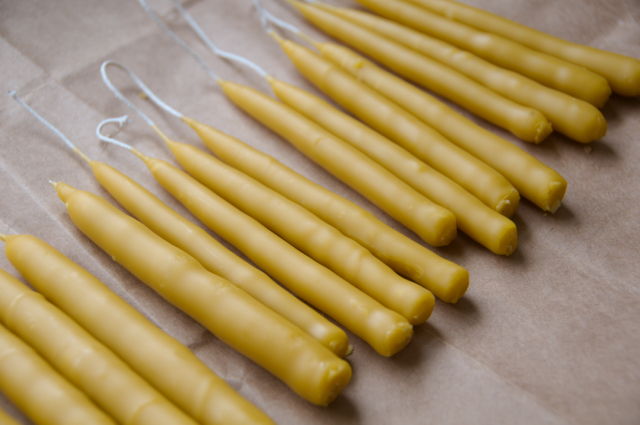 Update
I'm disappointed to report that these beautiful-to-look-at candles don't burn very well. Let me correct that, they burn too well.
The wax closest to the wick burns faster than the outer wax which creates a crater that snuffs out the burning wick unless you tip the candle and drain it down the side (making a huge big drippy mess). I think I needed to use a thicker and slower burning wick. Any other ideas?? They still look beautiful when they burn, in a messy, drippy sort of way. I'm don't even want to show you what these candles have done to our advent wreath holder.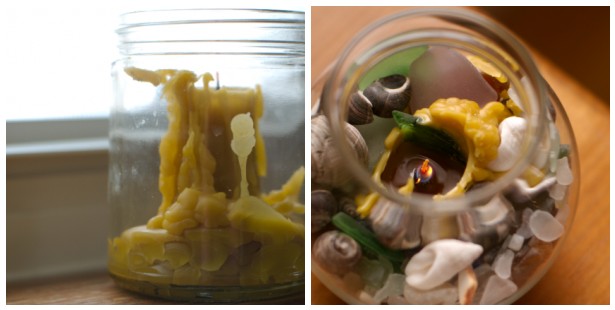 This post featured at The Crafty Crow
Filed Under
Resource Library
You can subscribe to comments on this article using this form.
If you have already commented on this article, you do not need to do this, as you were automatically subscribed.