Baked Apples
September 27, 2008
 I'm somewhat ashamed to admit I haven't taken the kids apple picking yet. In my defense the month has been full with family visiting, figuring out a fall routine that helps everyone meet their goals and celebrating all things Maine at Common Ground.
I'm also not motivated to pick when a bushel bag of already picked utility grade apples (slightly less than perfect) from the farm is $14. Now that is one seriously sweet deal! We bought our first bag this week and this morning we started our fall & winter seasonal Saturday breakfast of baked apples and cashew cream sauce. Yum.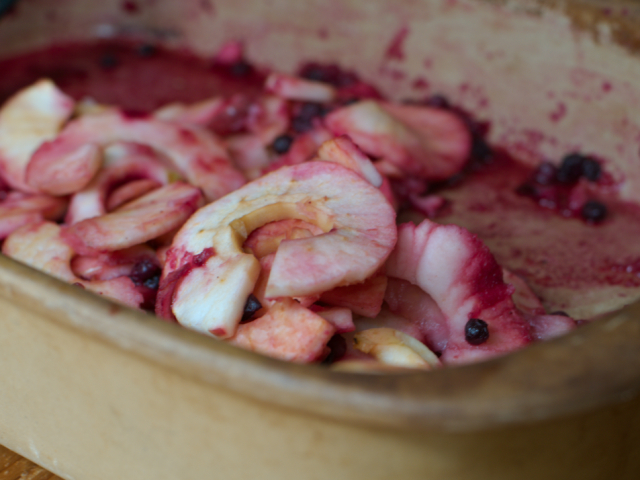 Baked Apples
Ingredients:
Directions:
Pre-heat oven to 350F.
Combine all ingredients in large casserole dish.
Bake for 45 min - 1 hour. Less time for firmer apples, more time for mushy apples.
Serve with sauce. Sprinkle with cinnamon and cocoa powder (optional).
Cashew Cream Sauce
Ingredients:
1 cup raw cashews
1 cup dates or raisins (we prefer raisins)
1 1/2 cups unsweetened soymilk
2 tsp vanilla extract
Directions:
Blend all sauce ingredients in heavy duty blender like Vita-Mix till smooth. If you have a regular blender, cover and pre-soak the cashews in water overnight or 4-6 hours. Drain water and use as recipe calls for, with maybe a little less soymilk. Enjoy and embrace fall!
Serves 5-6
You can subscribe to comments on this article using this form.
If you have already commented on this article, you do not need to do this, as you were automatically subscribed.