American Girl Dolls, A Making Season & More
November 13, 2013
It's that time of year. Sometime around mid-October, the costume making buzz hits and till the wrapping of the Christmas gifts there is a lot of "making" going on.
February and March are also good crafting times of year, our hands anxious for something to do as we wait for spring. And now that I think about it, July and August are crafting seasons also when our bodies want a break from the sun.
Ok, so it turns out there's a lot of making all year round but this time of year seems especially so.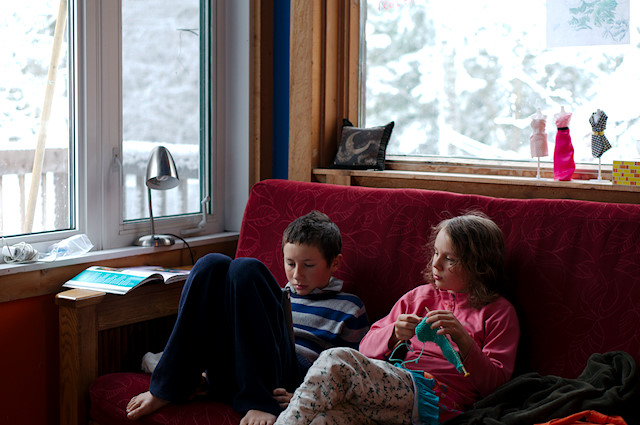 Halloween, Brienne's birthday, my birthday and Christmas. A season of sewing, crafting, soaping, drawing, etc... for the express purpose of gifting and giving.
It's a good time of year. I'll probably feature some of that crafty-goodness in the coming month, since it's always so fun to share our creations.
People arrive at FIMBY for all sorts of reasons. And one reason they come is to learn how to make boots for an American Girl doll. Celine wrote this tutorial years ago after designing an easy boot pattern for her own American Girl doll.
(Update: Unfortunately, when I updated my blog in 2017 from FIMBY to Renee Tougas, I lost Celine's post on how to sew boots for an American Girl Doll. This is a bummer, as it was a popular post and useful for many people. My apologies.)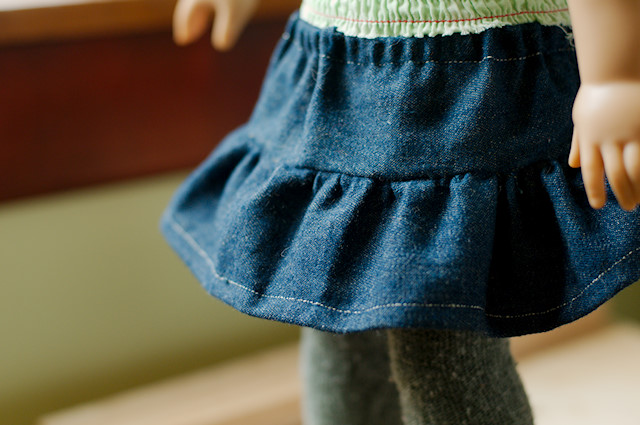 Four years later, Celine's American Girl doll is mostly quiet, a beloved relic from another time in Celine's life. But Celine's interest in sewing is still alive and well. Sewing is just what Celine does. One of her many interests.
Right now she is sewing a gift for her sister's birthday later this month (hint: a Canadian sewn outfit for an American girl's American Girl doll). You'd have to know Brienne was born in Maine and is American (and Canadian) to figure that one out.
One Christmas I even got in on the action and followed a pattern to sew a jacket for Celine's doll. It matched Celine's own purple fleece jacket, which Damien had sewn for her the winter before.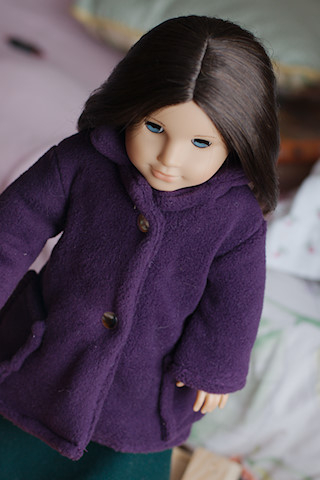 Celine asked for a change to her school schedule this month, leading up to Brienne's birthday, so she can spend more hours sewing. Mama heart melt, on all levels.
Celine is actually in charge of her own schedule and she doesn't have to ask permission for what to study, she just has to keep us in the loop. I guess asking for more sewing time was a way of keeping me in the loop.
Brienne is sewing also, a skirt for herself, her big project this season. She conceived it. She designed it. And it is as pink as the photo suggests. It is all Brienne. She's hoping to be done by her birthday, in twelve sleeps (but who's counting?)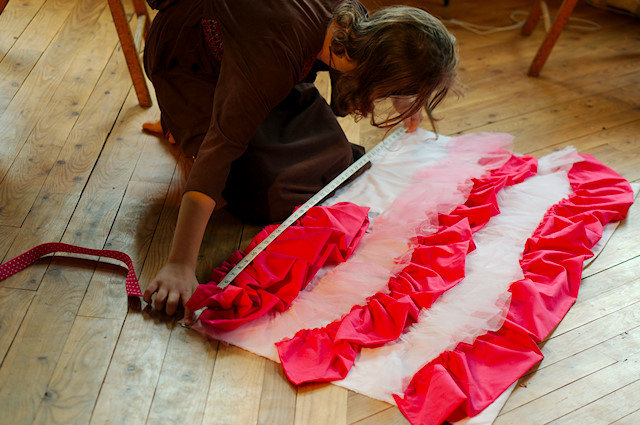 I've been cleaning up the archives a bit this week. I love that this blog is a record of our family life and when I clean things up it feels like tidying and organizing a memory album of our life.
I have two main pages of resources I want to point out to you with regards to sewing, crafting, and making for kids (and adults).
As you are getting ready for the holidays you may want to check out these pages for some simple gift or craft ideas for your family.
Also, if dolls are big in your house (they are at our house!) you might appreciate:
Renee Tougas participates in affiliate marketing, including the Amazon Services LLC Associates Program. Whenever you buy something on Amazon from a link you clicked here, I get a (very) small percentage of that sale. See disclosure for further explanation.
You can subscribe to comments on this article using this form.
If you have already commented on this article, you do not need to do this, as you were automatically subscribed.