A sudsy co-operative dream
September 11, 2009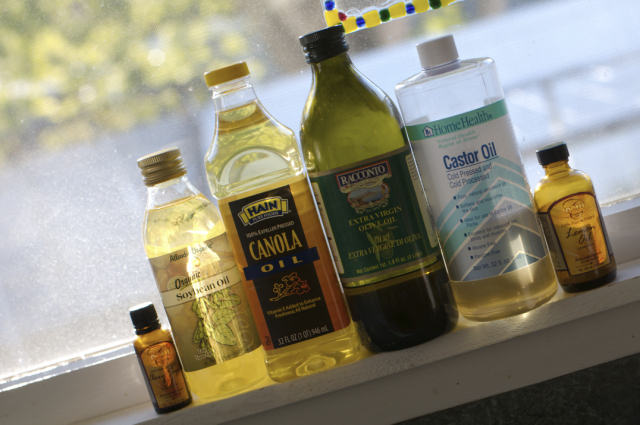 A funny thing happened today when I was cleaning up from this week's soap making. Instead of throwing out the plastic that I use to line my wooden soap molds (for the longest time I re-used cardboard boxes until Damien built me molds when I decided to standardize my soap sizes) I thought to throw it in a sink of water and use the small bits of soap stuck to it for washing dishes.
Why didn't I think of this sooner?
I guess I thought that cold process soap might not provide a sudsy enough "washing experience" for my dishes. I was wrong. Having discovered that I can use my handmade soap for washing dishes I won't be buying Sal Suds anymore.
The only soap I actually buy these days is Dr. Bronner's Castille Soap - for toilets, counters, tub scrubs, etc and Dr. Bronner's Sal Suds to add to my homemade laundry soap and dilute for dish soap. With my new discovery I've decided I can drop Sal Suds which I always felt a little odd about because it contains (coconut derived - you know the story) SLS. Instead I plan to have a bar of my homemade lemon soap at the sink (keeping it from getting all goopy will be the biggest challenge) and scrape off a bit each time with a rough cloth and rub that cloth back and forth in the water, like old fashioned clothes washing, to suds up the water. If it works anything like today's dish washing experience I will be a happy camper.
This makes me very happy on a couple accounts:
I've just eliminated one more item from our monthly shopping list, replacing it with something I've made.
Soap making is a very enjoyable "sustainability handicraft" for me and it's production has positive environmental and financial benefits all while looking beautiful and smelling lovely! Almost too good to be true.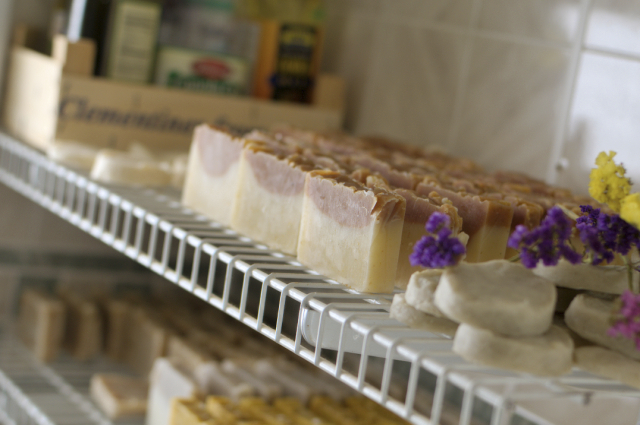 Top shelf: oils, newest (unnamed) soap, tea tree shaving soap
Bottom shelf: lemon, garden mint, orange blossom special
I wish the path to sustainability was as rewarding in other areas of my life. And some paths, like the grow my own food path, I've almost given up entirely during this season of life.
So while I was washing dishes I had a brain wave. What if I could be a part of an artisan/farmer/crafter/gardener/(insert your trade here) cooperative? A gathering of individuals and households (who don't necessarily live communally - we tried that once and that is way beyond my ability at this point) who swap and barter their goods to help us all move to more sustainable living.
Realistically we can't all pursue the back to the land lifestyle. But maybe we could all swap, trade and barter the elements of our lives that are sustainable so that we don't all have to re-invent the wheel and work incredibly hard doing so.
This is what I'm thinking... I would like to grow more of my own food but with hiking, homeschooling and other summer priorities I can't. Or I should say, I'm choosing not to. So wouldn't it be cool if I could belong to a cooperative where I traded my soap making skills and products with other people who traded their garden produce and other items we need?
It's a dream folks and in small ways I am already moving forward in this. And dreams sometimes do come true. Five years ago when my children were much younger and all I could manage was nursing, laundry, naps & supper I dreamed of starting a buying club. At the time I didn't see how it was possible. Today I belong to two, one I run independently and the newest one that sells exclusively Maine products I am a founding member of.
So I'm putting this idea out there to the world at large. I'm speaking it so fate, providence or a local person with strong organizational skills and a bumper crop of cabbage will help move this idea along.
What about you? What are your sustainability dreams and how are you moving forward in that direction? Let's learn from each other.
By the way, this is not a post about beating yourself up because you don't bake your own bread, make soap, grow all your food and use a composting toilet. It's about exploring ways to share what we know and do so that other's don't have to know and do it all over again.
You can subscribe to comments on this article using this form.
If you have already commented on this article, you do not need to do this, as you were automatically subscribed.