A comments test soap giveaway
February 12, 2014
Last month we experienced a problem with our anti-spam plug-in on the blog. It was rejecting legitimate comments as spam and then letting in a flood of real spam. Damien researched and installed a different plug-in that seems to be doing a good job, except that I keep getting e-mails from readers who say they can't comment.
So I'd like to do a comments test, to see exactly how many people who attempt to comment are not allowed. But I need your help. And because I'm asking for your help I'd like there to be something in it for you.
Time for a giveaway!
I'm giving away three bars of soap. These are from batches I prepared with friends in December.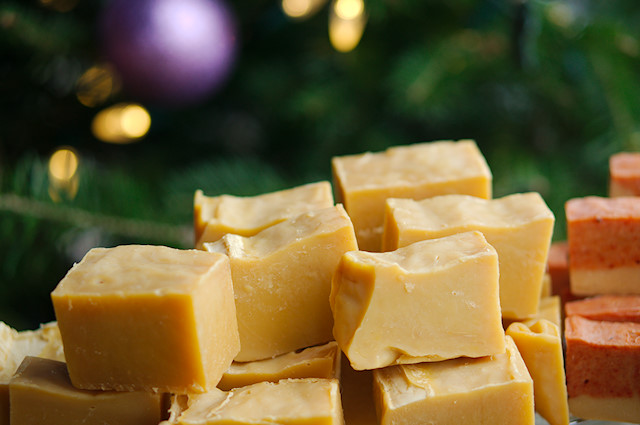 They are beautiful bars of soap - Holiday Spice, Floral, and Mandarin Orange. Mandarin Orange was my contribution to the soap day and it's my least favorite of them all.
The Floral bar, which isn't a name really but a description of the smell, is one of the most lovely fragranced soaps I've been a part of making. It's my friend's recipe and it features rosewood, lavender, geranium and bergamot essential oils. It's amazing.
Holiday Spice is based on this recipe here, with a few modifications (as always happens with makin' soap).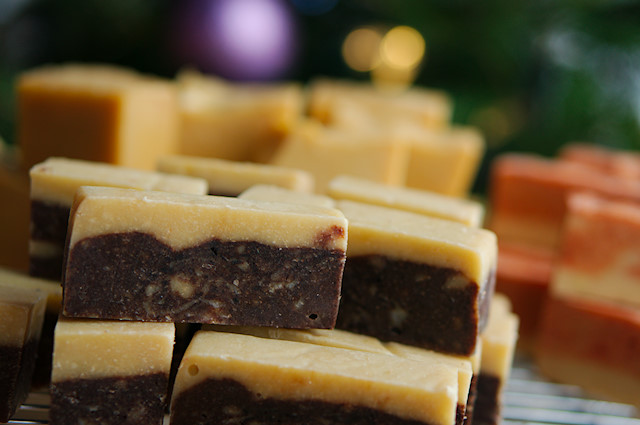 Wanna get these goodies for yourself? Well, here's how you can help me.
Just leave a comment. It could be soap related, or life related, or simply, "hi I want the soap".
And then, if your comment doesn't work please send me an e-mail through my contact page. Your e-mail doesn't need to be complicated. I can be simple like, "I can't comment on the post but I want the soap", or whatever. If you get any specific error messages if you could please let us know also.
I really appreciate your help with this. By entering your name in the giveaway (and having your comment either accepted or rejected) we may be able to better troubleshoot why some people are still unable to comment, which is very bothersome to me.
Also, I have a question about blog commenting in general, if you don't mind. Commenting at FIMBY seems to be waning in general. I'm trying to figure out if this is a technical problem, comments being rejected as spam, or simply an engagement issue.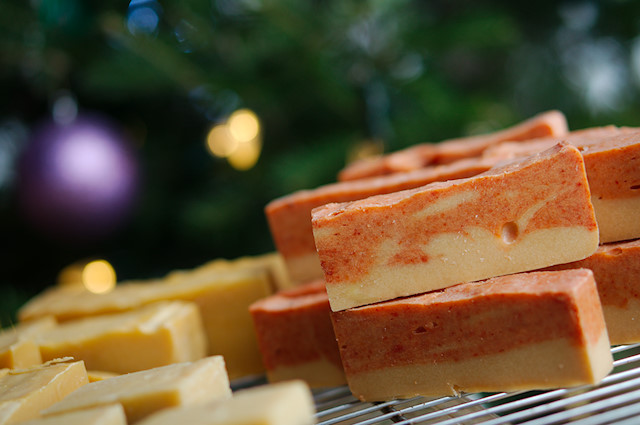 Since starting FIMBY Facebook (which I love as a place to microblog, share links, favorite resources, quick ideas, and photos) I've noticed decreased engagement in comments on the blog.
Now, maybe it's just coincidental, or maybe it's a shift in where I connect with people. I actually connect with people through comments, build relationship with them. Which is why I love them so much.
Comments often lead to private e-mails and that sometimes leads to Skype. (I regularly Skype or phone friends I've met through FIMBY, separate from my homeschool coaching.) The best, for this loves-to-meet-new-people extrovert, is when I meet people in person because of relationships formed through online writing.
There's quite a bit of conversation that goes on at FIMBY Facebook. Which is totally great. I held back for years having a blog presence at Facebook because I couldn't see how it would fit into my blogging, writing, and online connecting rhythms. I wish I hadn't waited so long. I love it.
I love chatting with you there and so maybe that's where most of the commenting action has shifted?
Change is inevitable. Changes to blogging. Changes in the way people engage with writing. Changes to social media, etc.
I just want to make sure that if you're trying to engage here you're able to. Because I value your input. And I want to have discussion and get to know you also.
As for the giveaway, you know how these work. Leave a comment, or send an e-mail if your comment doesn't work. In one week's timeSunday, February 16th I'll randomly draw a name from the comments or e-mails and send soap to the winner. Facebook comments don't count :) The idea is to test commenting on the blog!
Renee Tougas participates in affiliate marketing, including the Amazon Services LLC Associates Program. Whenever you buy something on Amazon from a link you clicked here, I get a (very) small percentage of that sale. See disclosure for further explanation.
You can subscribe to comments on this article using this form.
If you have already commented on this article, you do not need to do this, as you were automatically subscribed.