A beginners guide to beginning Zentangle
December 26, 2015
Happy Boxing Day!
Some friends have asked me about the time commitment required for the Hibernate retreat.
It requires none, and there is no guilt or pressure to prioritize or participate in the content. It's completely self-paced.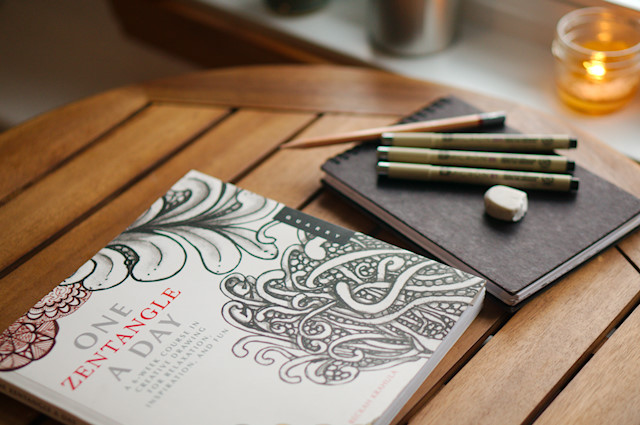 My approach to last year's retreat was to read, experience, and connect with others around the ideas as much as I could. And some ideas I put off for later in the winter or another season altogether.
Meditative drawing is one of those ideas.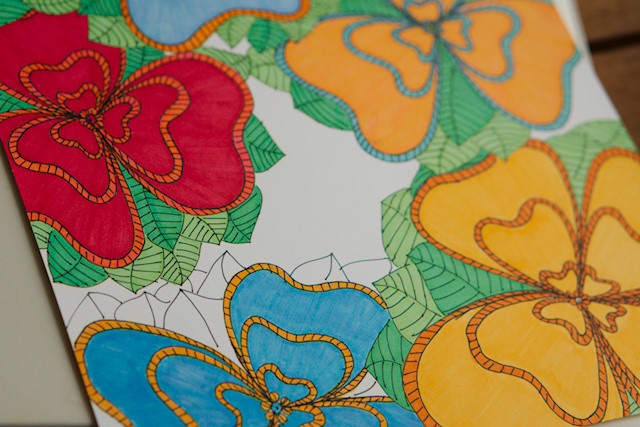 I'd seen this idea floating around and had noticed books at the library. Heather taught a couple meditative flower drawing patterns in Hibernate and I KNEW I wanted to learn more.
I started researching meditative drawing and came across Zentangle. I was hooked, and overwhelmed. I wanted to learn but wasn't sure where to start.
So I reserved all the Zentangle books in the New Brunswick library system, that's the library we used when we lived on the Peninsula, and perused each one to decide which one I wanted to buy.
I settled on One Zentangle A Day and have since discovered a few more resources which I review near the bottom of this post.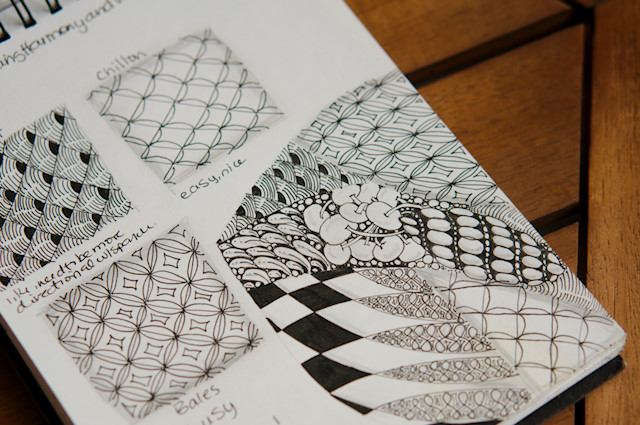 I started doodling the beginning of June. I had no idea what I was doing. I have never considered myself an artist, and I've always said, "I can't draw". I'm sure some of you can relate to this.
There are still many things I am unable to draw, that I haven't even tried drawing, faces for example. But what I have learned is that I can draw, with practice. And what is so wonderful about Zentangle and other abstract drawing is that it's not supposed to look like anything you can recognize and so you can't draw it wrong (but you sure can draw it wonky, as I have experienced!)
It feels so good to be joining the artists in my family. All of my family draws. Damien has a hidden talent that only those closest to him (that would be his family) know about and my kids have been drawing since they were toddlers and have never stopped. Their artwork features regularly on the blog because I think it is beautiful and I love it.
But now, I am drawing too. And there is something so satisfying to me about getting shading advice from my son, who's drawing experience vastly outweighs mine.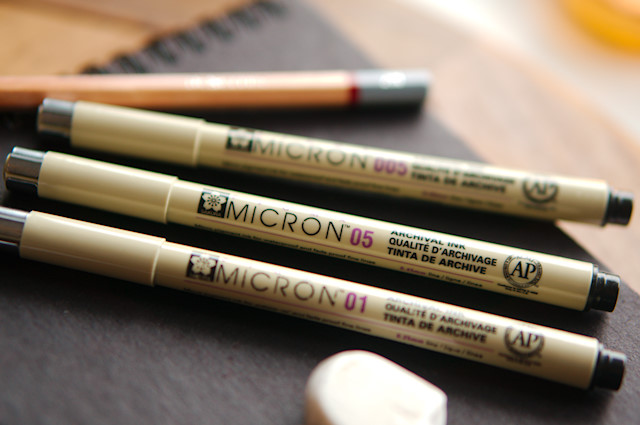 Fear not, you don't need a resident artist for tutorials, learning to Zentangle doesn't require you to know about shading, or anything else other than connecting points with curved or straight lines.
Zentangle is a pattern-based, abstract drawing technique. And if you want to get really picky about it, it's done on square pieces of special paper called "tiles". I don't use square pieces of special paper. I use a high-quality, blank spiral-bound journal I inherited from Damien who used the first few pages for some doodling of his own.
What I love about Zentangle:
No expectations. What I draw on the page doesn't have to look like anything in real life. Phew.

Relaxing. I have to admit I'm sometimes a bit jittery about making mistakes but that's also why I keep doing it. To learn that each mistake I make is not that big of a deal.

Open-ended. I don't naturally thrive in open-ended scenarios but Zentangle is "going with the flow" in your drawing. You have to let go of preconceived notions of what you think your art should or will look like and let it unfold. I create a Zentangle drawing, pattern by pattern, without a plan. This open-endedness helps me see and experience for myself, the beauty in not knowing, not planning, not controlling.

Accessible and space-small. The tools are simple, the supplies easily accessible and doesn't require a special studio or equipment.

Guidelines, but it's also very creative. "Official" Zentangle drawing uses certain pre-determined patterns. As you learn to Zentangle, you learn how to draw the individual patterns and combine them with other patterns. I don't know who makes these up or how new tangles are added to the "official" mix. I guess this is what makes it Zentangle specifically vs. abstract doodling. But even though you're following a pattern, called a tangle, how you draw that is very subjective and then there are tangelations (mixing it up). And how you pair and layer patterns next to each creates a new piece of art every time.

Therapeutic. I've been doing a lot of things this summer and fall to face anxiety head-on. CBT, mindfulness, meditation, supplements, and drawing. I don't know how significant a role the drawing plays but it helps because it is a type of mindfulness and the fact that I can't do it perfectly is very good for me mentally. A lot of resources profess the therapeutic benefits of Zentangle. I can't disagree with them but mostly I just think it's really enjoyable (so, I guess yes, it's therapeutic).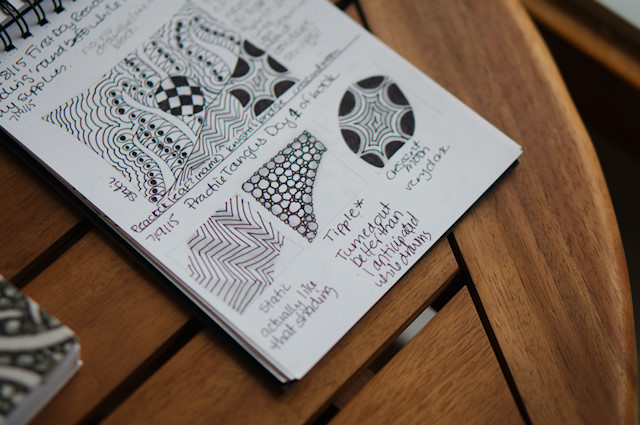 In trying my hand at Zentangle I completely adopted the posture of a learner, a student. I knew virtually nothing, other than what I learned in Hibernate, about meditative drawing and I have made some ridiculous drawings in my practice. It's supposed to be a "zen" experience but sometimes it's a snort laughter experience as my lines go places I didn't intend.
But I've also drawn tangles I'm really pleased with and I can flip through my journal and see the progression of my skill. This is very rewarding. I'm a learner, I'm not experienced, and it's good to be in that position.
Ever since I started posting photos of my tangles on Instagram I've been asked how I learned and what books I recommend.
Like I mentioned above, I chose One Zentangle A Day because it was my favorite book from what I could borrow and preview from the library collection.
What is Zentangle?
First, I need to define my terms. According to One Zentangle A Day, Zentangle is:
a miniature abstract work of art. It is created from a collection of patterns not meant to represent anything. It is created on a 3 1/2 x 3 1/2 inch piece of art paper called a "tile". This size allows for a work of art that can be completed in a relatively short time.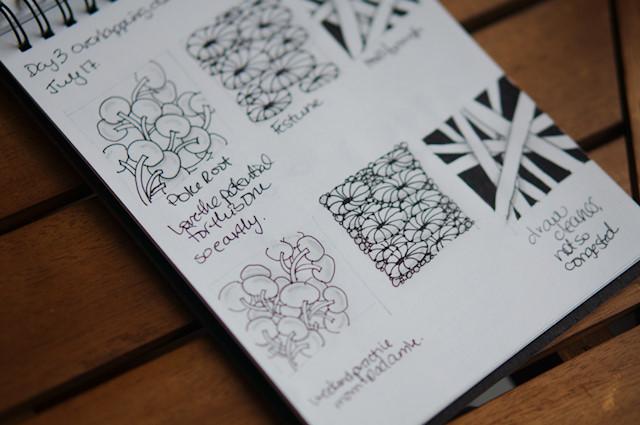 I'm not so technical about my Zentangle definitions. I draw tangles in a sketchbook and I call it Zentangle. The more precise term for what I draw is Zentangle-inspired art, or art following the Zentangle Method. All those words seem so fussy, and I'm not into fussy. I just call my drawings Zentangle.
This post may bother the Zentangle purists but I'm calling any drawing created with tangles (the abstract drawing patterns) a Zentangle. Technically, a Zentangle is a 3 1/2 x 3 1/2 tile.
What I like about One Zentangle A Day is that it teaches a step-by-step progression of how to draw individual tangles but it teaches you to create multi-patterned Zentangles from day one.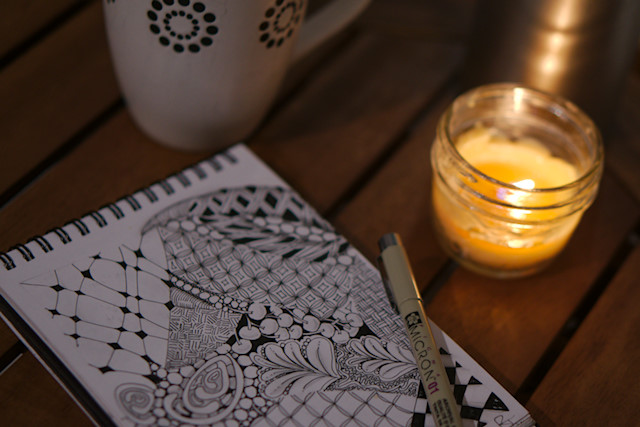 Supplies
OZAD gives an extensive supply list for creating Zentangle art. If you want to do everything the book teaches you'll need these supplies but it's overkill for getting started.
All you need is quality paper, a couple pens, and a pencil. If you want to do black tiles you need white pastel pencils, white gel pens, black tiles. But to start, you don't need any of that.
The huge supply list at the beginning of OZAD is a drawback of the book because it can easily overwhelm a newbie. But it's a good list if you intend to get serious with Zentangle.
I'm still in the newbie basic stage and use very simple supplies.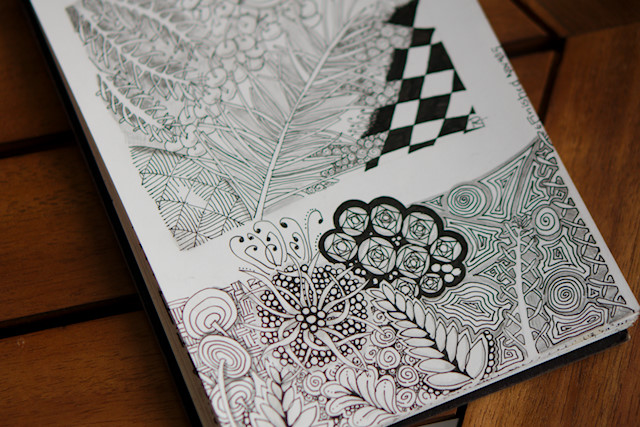 Lessons
The drawing lessons in OZAD are given out over 42 days of instruction. The premise, like the book title suggests, is that you can do one zentangle lesson each day.
For someone like myself with no drawing experience this is a laughable proposition. I started the book's lesson on July 9th (my first tangle is dated) and I have tangled most week days since then and I'm now on Lesson 22, just over halfway through the book. I'm averaging about one lesson every week.
OZAD is very in-depth but not too in-depth for a beginner. Lessons from the halfway point involve color instruction - using watercolors, gouche, colored pencils, and markers to color tiles. I'm just not ready for that yet, so I'm holding off on that for now and continuing with the blank and white tangle patterns taught in the second half of the book.
After these color lessons, the last 14 lessons (days) are quite artsy and in my opinion, advanced. Whereas the first section of the book I followed fairly closely, this part I will pick-and-choose from as it features mostly Zentangle inspiration vs. teaching how to draw tangles.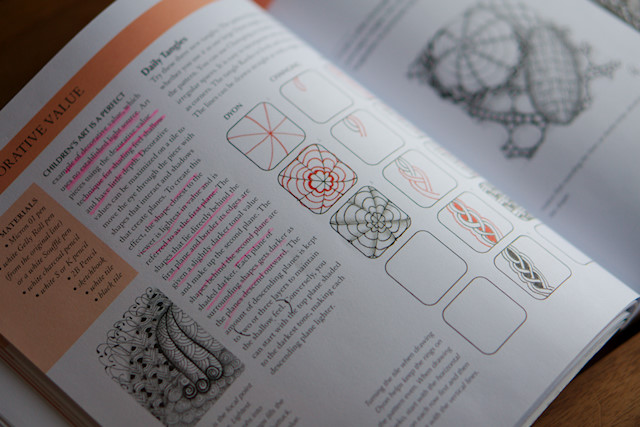 All together this book teaches how to draw 70 tangles.
More Resources
Joy of Zentangle teaches tangles with less emphasis on the meditative aspects of Zentangle. More drawing, less zen. I only recently discovered it at a local DeSerres, the library didn't have it in my original search.
I like this book and will be adding it to my personal library soon.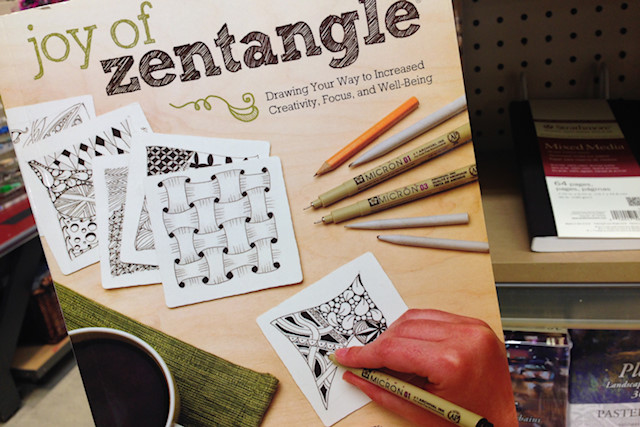 I recommend this book for the variety of tangles it teaches and its shading instruction, something I find quite difficult to learn and is not taught very well in OZAD. I've sought Laurent's advice in this regard, but not everyone has a Laurent in-house.
I haven't adequately previewed any other beginner Zentangle books to provide any more solid recommendations. There is a series of twelve Zentangle art books published by Design Originals that teaches a lot of Zentangle art.
The first in the series, Zentangle Basics is a workbook style publication, with lots of blank space for practice. I've come across other workbook style Zentangle "manuals" that provide more blank space than instruction. I prefer sketching in a notebook/sketchbook and I chose OZAD since I wanted an instruction book primarily.
I've also found a few Zentangle books that provide a lot of artistic inspiration with less focus on instruction, not so great for beginner.
When you start looking for Zentangle books you'll invariably come across a lot of meditative art coloring books. These seem to be wildly popular but I haven't gotten into the experience myself. I LOVE color; bright colors, contrasting colors, and someday I want to color my Zentangle drawings with watercolors, markers, and colored pencils. But coloring in pre-drawn lines just doesn't hold the same appeal for me. My preference is definitely drawing.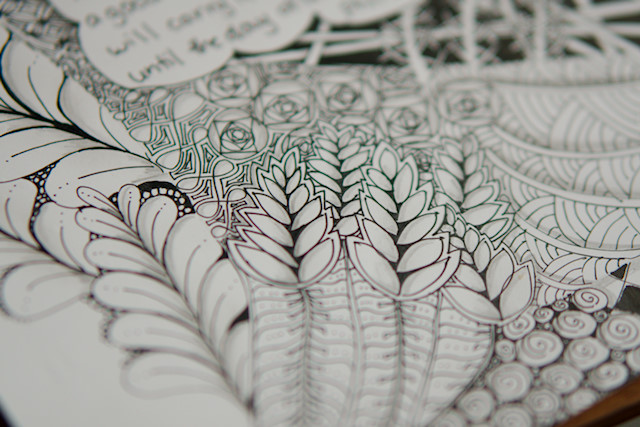 I've only scratched the surface of Zentangle, in my own art and explaining it here. I have enjoyed learning how to draw Zentangle inspired art immensely over the past few months even though I do not consider myself an artist. If you are interested in developing your own drawing skill I think Zentangle is a great place to start.
This post has affiliate links.
You can subscribe to comments on this article using this form.
If you have already commented on this article, you do not need to do this, as you were automatically subscribed.