4 Steps to Making Homemade Soap
November 6, 2009
I've been blogging for many years and for a couple of those years I went through a soap phase, writing about soap making. This is one of those posts. I still make my own soap but I don't write about it much these days.
Some of the information may be a little dated, no doubt new books have been written and new discoveries made about different oils, etc. 
This post shares the resources I used to learn to make soap, over 5 years ago, and tips for you to learn soap making also.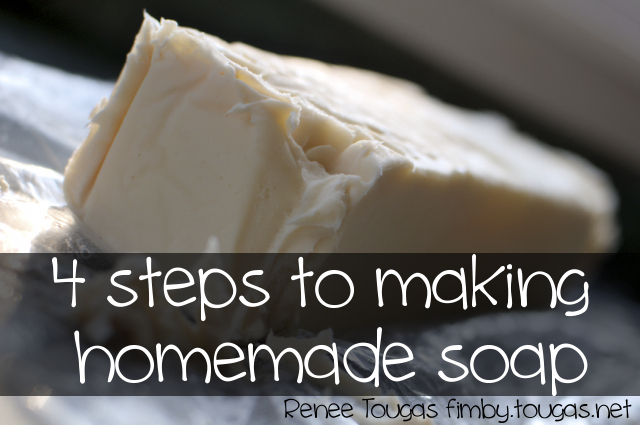 I got an e-mail from my aunt earlier this week. She recently visited my parents and became the recipient of some of my soap (my mom keeps a stash) and now wants to make some for herself.
A quick note about my aunt, she's actually only 5 years older than me and we were roommates during her last and my first year of university. This little side story has nothing to do with making soap.
She asked a few questions about getting started and I am happy to oblige and thought I'd share those tips here for the benefit of everyone interested in soap making.
Step 1: Learn the process
Basically cold process soap making (I don't know why it's called cold process) is a chemical reaction between a lye and water solution with fats/oils. From there it can be as simple or as complicated as you like. There are a lot of great web resources on soap making, here's a few I'm familiar with:
There are many books on the subject. The one I used to get started is Clean, Naturally. It's kind of old but I like how simple the recipes are. You could check out these books also:
Step 2: Choose your recipe
After reading books and perusing websites you'll be either overwhelmed or inspired, maybe a bit of both. I highly recommend you start with a simple recipe that doesn't involve a lot of capital investment. If, after you make your first batch you're hooked, you can think about getting fancy.
Oils
The simplest recipe of all is pure castille soap. I have never tried that for 2 reasons:
Olive oil is a relatively expensive oil to use exclusively for soap.
I like to blend oils to achieve different properties.
If you want to give it a go check out this recipe for Pure Olive Oil Soap from Little House in the Suburbs.
Here's what I know about the properties of different oils - for the life of me I can't remember where I found this or I would give proper credit.
Properties of oils (for soapmaking)
Hard, stable, long lasting - palm, lard, tallow
Lathering - coconut, castor, palm kernel
Moisturizing/Conditioning - olive oil, canola, sunflower, soybean
Luxury/extra moisturizing - cocoa butter, shea butter, almond, hemp, jojoba
But I did start off by saying to keep it simple. So I recommend you watch my How to Make Simple Soap Video.
Alternately, you could try this basic recipe found in Clean, Naturally.
24 oz. Coconut oil
24 oz. Olive oil
38 oz. Vegetable shortening
12 oz. lye
32 oz. water
4 oz. essential oils of your choice, added at trace
This recipe will produce 32 bars approximately 3.5 oz.
This is a good recipe to start with because the ingredients are easily obtainable and relatively inexpensive.
Having said that, I don't follow it anymore because I don't like how the plants used for making shortening (soybean and cottonseed usually) are grown - heavily sprayed and such. But searching for ecologically sustainable alternatives isn't easy either. Nor does this recipe produce a really hard bar but I still recommend it for a first time around.
For more recipes you can check the few I've posted in Homemade Soap and Body Care Products.
Lye
If you decide to craft your own recipes you'll need to use a lye calculator to determine how much lye and water you'll need.
For example, if you want to make a batch of soap with 20 oz olive oil, 20 oz emu oil (oh yeah, that does exist) and 20 oz coconut oil you simply enter those values into the chart and it tells you how much lye and water you need. The science behind this part is rather tricky so just use the on-line tools available, they do all them math for you - something I've never even attempted.
A note about lye: I am repeatedly asked if you need lye to make cold process homemade soap. Yes, you do. 
This is not melt and pour soap this is actual soap making. This is chemistry, mixing a strong alkali with oils (which contain fatty acids), to saponify the oils. Soap is saponified oils. It is the saponified oils that provide the cleaning action. 
Don't be scared of using lye. Homemade soap makers have done it for years.
Essential oils & additives
Adding essential oils and good-for-skin natural additives is the really fun part of soap making.
Here you need to read other recipes and use your own creativity to come up with combinations you like. If you want to keep it simple to start, use a basic (& relatively inexpensive) lavender or peppermint essential oil.
And when I talk about essential oils I am not talking about fragrances which are chemically derived, I have no experience using them.
I love adding texture and color to my soaps but I've had some less than desirable results in some batches, ie: colors that don't turn out like I'd hoped. For beginners I'd start simple, maybe some cornmeal or oatmeal for an exfoliant. Or calendula flowers for color and skin healing properties.
Step 3: Find your supplies
This could possibly be step 2 because you don't want to pick a recipe with really exotic ingredients that are difficult to find.
Oils
If you choose a fairly basic recipe, like the one listed above, most of those oils can found in a grocery store. Here's a list of places to look:
Grocery store - olive oil, shortening, canola oil, lard, soybean and others can be found easily.
Health food store/Natural food stores - these might have a soap making section as does our little local store. This is where I often buy my coconut oil, palm oil and other luxury oils. However, you don't need to use food grade coconut oil, it will be more expensive than soap making grade oil.
Local farm - if you decide to use animal fats you might be able to get these cheap from an animal producer.
On-line/Mail order - If you can't find what you need locally or decide to start making soap in bulk you can order on-line. See the suppliers lists on Homemade Soap and Body Care.
Lye
I have to admit, finding this can be tricky. Many companies now offer lye via online mail ordering. Find a list of suppliers here or on my post Soap Making Supplies and Where to Buy Them.
Essential oils & additives
You can find these at most any health food store but they can be quite costly. I'm now looking into buying my essential oils in bulk from online companies.
Other plant based additives (for color, texture and skin healing properties) can be found in your garden, kitchen cupboard and the spice or bulk section at the grocery/health food store. I love this natural colorant's list at Muller Lane Farms.
Molds & Tools
You can use almost any container for a soap mold.
Shoeboxes or other cardboard boxes lined with plastic work really well. For years this is what I used.
I now have a wooden mold (that I line with re-used heavy plastic bags) that Damien made me for me. A mold should be fairly shallow and wide instead of deep and tall, lesson learned the hard way.
Almost all the other tools you need can be found in your kitchen. It's an absolute must to have a scale (maybe you could borrow one if you don't own one) and also a thermometer.
Certain tools can be used for both cooking food and making soap - glass & stainless steel bowls and utensils. But all wooden and plastics should be set aside for just soap making.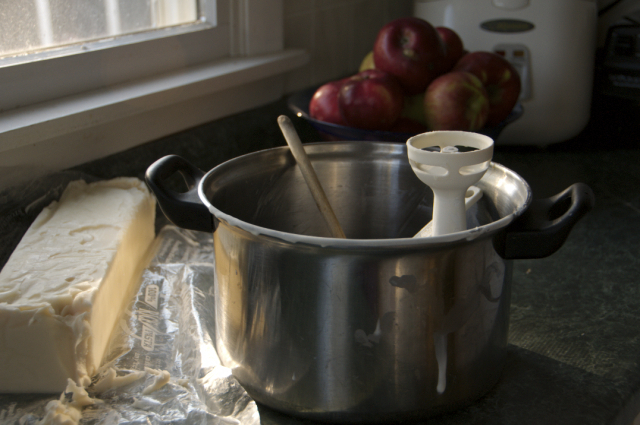 Step 4: Making the Soap
It could take you some time to get to the actual making the soap stage.
I find that making the soap is the easiest step of all, it's figuring out my recipe and gathering supplies that takes the most time and effort.
Plan to set aside at least 2-3 hours of uninterrupted time for your first batch. Be especially cautious if you have little ones in the house. Soap making is dangerous and you don't want to cause injury in the process.
I should add I've never had an accident but I wear rubber gloves and keep vinegar handy (to neutralize a lye spill) should anything happen. When I first started 2 years ago I did it after the kids were in bed. Now I make it while I'm cleaning up from supper and I just tell everyone to stay out of the kitchen.
Making the soap is a 2 stage process:
Melting, mixing and pouring.
Cutting and curing.
Soap sits in the mold at least 24 hours and then is removed and cut into bars. These bars then cure (the chemical process of turning oil into soap - called saponification is happening during this time) for about one month. At the end of that time they are ready to use.
Questions & Feedback
I hope it helps you get started in your soap making journey. Please ask questions you might have in the comments. (Updated later: I also have a Soap Q & A post with lots of questions and answers in the comments section.)
Also, if you know of any good books, resources or on-line companies please tell us.
Filed Under
Resource Library
You can subscribe to comments on this article using this form.
If you have already commented on this article, you do not need to do this, as you were automatically subscribed.