Our First Time Family Backpacking
February 3, 2014
Welcome to a week of winter inspiration! This post first published March 2009 on our (now-permanently archived) outdoors blog. This inaugural winter backpacking trip was a game-changer for our family.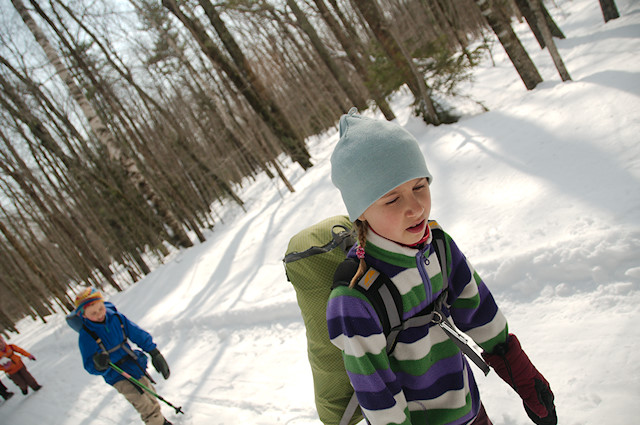 ---
Excitement and apprehension, in equal measure, characterized my feelings going into our first camping trip with backpacks. My anxiety caused to me be, well... anxious. Not to mention I was just plain old tired from a difficult month. So I guess those were my excuses for the pre-trip slightly raised voice "discussion" about canned beans and powdered soymilk. Yep, those beans and soymilk brought me to tears.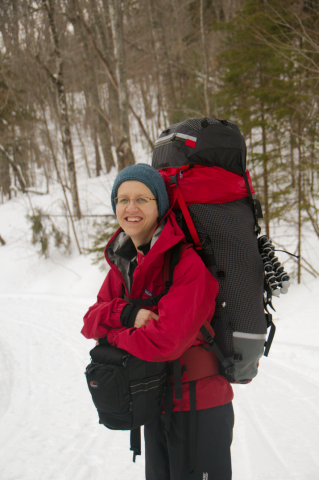 It's funny now, but at the time, 10:00pm on Wednesday night to be exact, those were make-it or break-it pack items. I went so far off the deep end as to suggest to my husband that perhaps I wasn't the right partner for him because I had made the wrong assumptions about... beans.
But where exactly am I going with this?
Ah yes, I was quite anxious about this trip but also very excited. Anxious because we have never backpacked before and excited for the very same reason.
We picked a great place to break in our backs packs. A wood stove heated cabin, located an "easy" (nothing feels easy with that much weight on an initiated back) 2 mile hike in on a relatively flat and wide trail. We did the planning and researching. Ok, Damien did all that and I did all the fretting. But lest it sound like we just decided one day "hey, lets go on a winter backpacking trip" I need to set the record straight.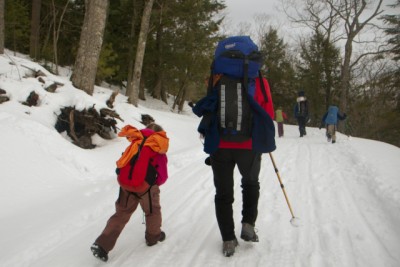 Damien started gearing us up years ago for backpacking, while I was still somewhat reluctant and uninformed. I'm still rather uninformed, I'm probably better off that way, but no longer reluctant (just don't tell Damien).
Family backpacking with elementary aged children is not an easy, get up and go effort. Although we're working towards making it that way we know these "firsts" will take a lot of work. Work that has been years really in the making. Weekly hikes with our kids to train our bodies and learn what clothing works best for the outdoors. Years of saving and spending our money on quality gear that is light but will still keep our family warm, safe and comfortable. Recipe trials that have been mostly successes but some failures.
This inaugural trip was years in the making but you forget all that when you are up late for a week cooking and dehydrating hummus, crackers, cookies and fretting over powdered soymilk and canned beans. All you feel is tired and cranky and maybe like this whole trip is just too much work.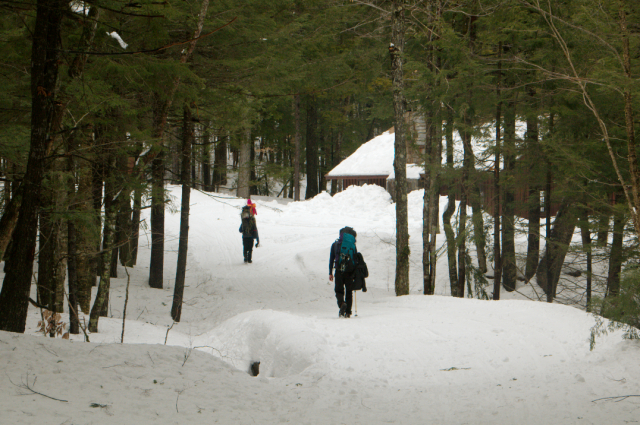 But then you hit the trail head. And your push yourself through that first mile and realize "I can do this". You encourage the kiddos who don't seem to need it as much as you do. Because although their packs are the heaviest they've carried, they enjoy the walk and take time to throw snow along the way. And after the second mile when you arrive (already!) and set down your pack and smell the lingering woodsmoke in the cabin you realize you're in for a weekend to remember.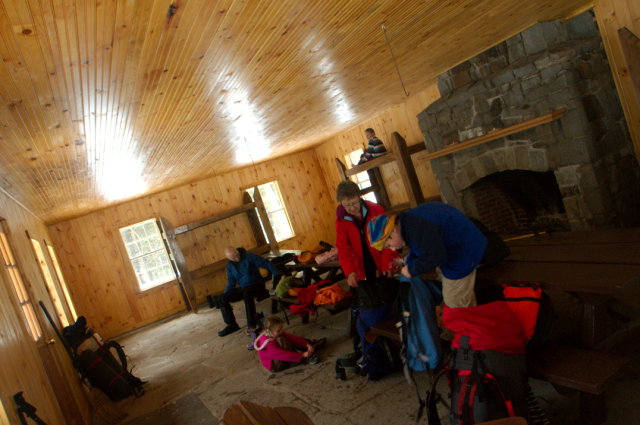 And what a weekend it was. Once in a lifetime. Not because we won't do it again. We will and then some. But because you only have firsts once. And this was a first.
First time packing our camping supplies on our backs. The first time winter camping. The first time doing both of these with my parents, who had never done anything like this before either.
Was my husband crazy or what? First time taking not only his wife and kids but his in-laws too out into the woods with everything on their backs.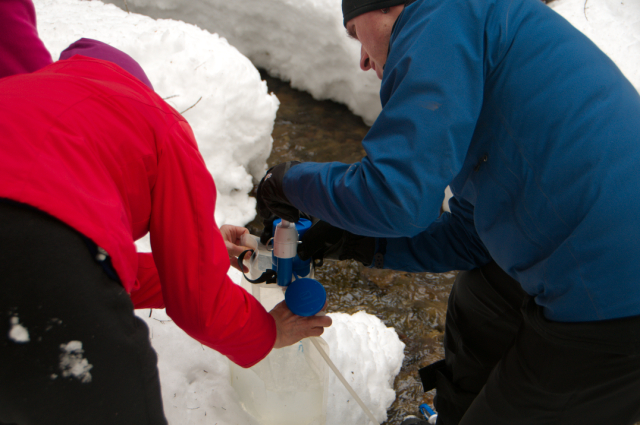 I know what all you hard core types are thinking "a cabin?" Yes, we did stay in a cabin and not a tent. And yes we did take the canned beans and fresh fruit and not everything dehydrated. But it still was the first time backpacking for our family and I will never forget what a smashing success it was, for everyone. You have to know my comfort loving father (like father, like daughter) to truly appreciate hearing "we need to look into getting gear like this".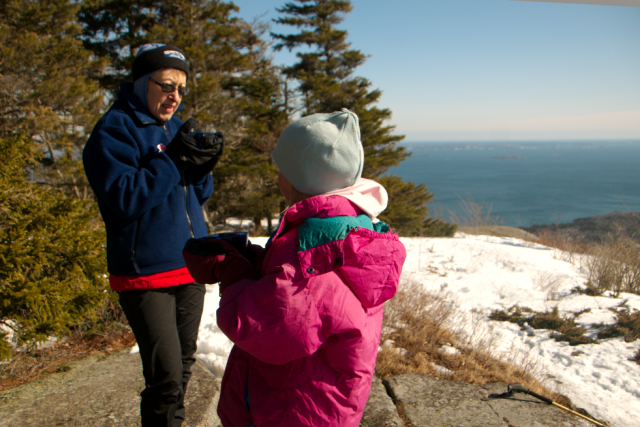 The weekend was a success not only for our family of five but also for my parents who joined us on this crazy adventure. We all agreed we want to do it again. The kids especially who were the center of everyone's love, attention and care. Does it get any better for kids than woods, sticks, stream, snow, cabin, a fireplace (are all kids pyros or is it just mine?), bunk beds, mommy, daddy, Nana & Papa? All in one place! The kids wanted to stay a month.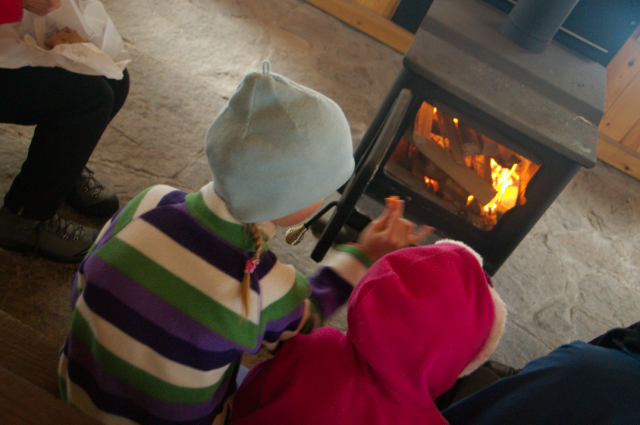 I'm still riding the wave of contentment, pure joy (bliss), and family togetherness that was this weekend.
Our two day trip was not without challenges. My dad had a cold that together with carrying 50+ lb pack wiped him out on Saturday and Brienne picked up a tummy bug somewhere along the way (eating snow?). My calves are still sore, my hip and shoulder bones a little bruised. But I'm certain those issues will be resolved in future trips.
Maybe that's the greatest success of this trip. That we're already talking about the next one.
Renee Tougas participates in affiliate marketing, including the Amazon Services LLC Associates Program. Whenever you buy something on Amazon from a link you clicked here, I get a (very) small percentage of that sale. See disclosure for further explanation.
Filed Under
Part of Series
Resource Library
You can subscribe to comments on this article using this form.
If you have already commented on this article, you do not need to do this, as you were automatically subscribed.