Where They Want To Be (or, you don't need a school-room to homeschool)
May 6, 2013
The house we currently live in has the most "living space" of any home we've had.
There are three distinct shared living spaces: a small finished walkout basement with a woodstove; a one-room addition that houses our outdoor gear, the treadmill, a desktop computer, a futon and all the craft supplies - we call this "the studio"; and our living and dining room which is an extension of our open kitchen. This is the space you see most often on the blog.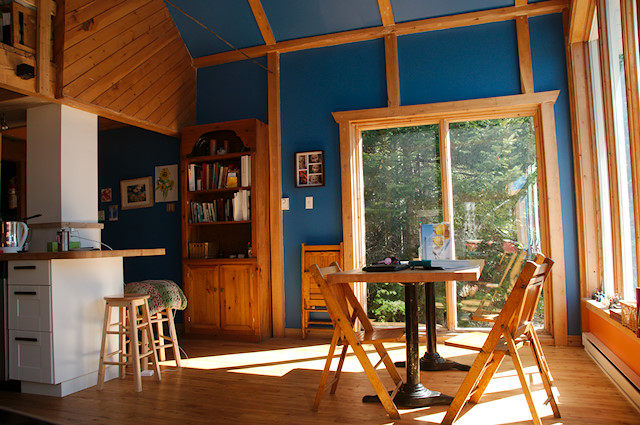 There are a few reasons you see this space more than any other. It has fabulous natural light, so it photographs well. It is attached to the kitchen where I spend a lot of time and where my camera is close at hand. And it's the place where nearly all the action happens, and therefore most of the photos are taken.
When we moved into this house last summer I imagined the studio (the addition I mentioned above) with its wall of windows, high ceiling, easy access to craft materials, and oriental rug floor (the only carpet in the house) would be the place for doing stuff. That's why I called it the studio.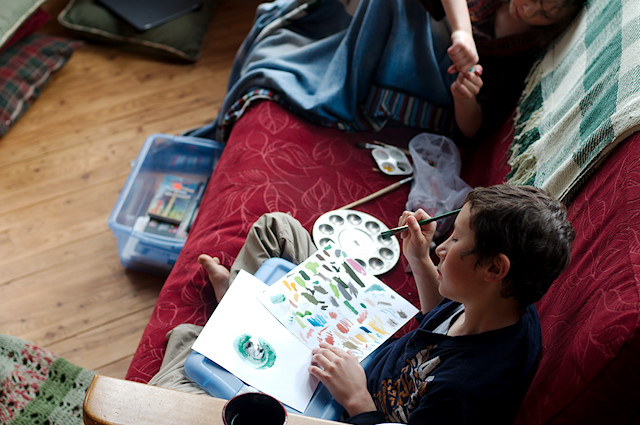 I imagined a living room floor and futon that would remain mostly clean and clutter free. (Which would have been the first time ever in our family life, but hey, a girl can dream.) I imagined the clutter of family living and creativity would be kept in another room. I named the room in anticipation of that. Ha, ha!
It turns out, after living nearly a year in a home with ample space to spread out, my kids want to be where they have always been. Close to the kitchen and close to me.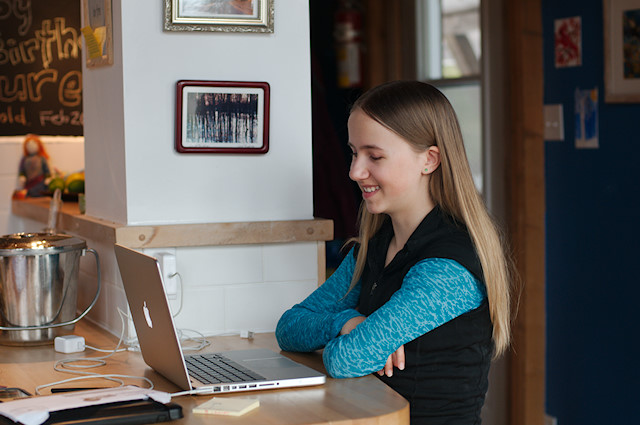 Even our teen, who has a private loveseat nook in her room, spends most of her day at the kitchen counter - learning, creating, and connecting with friends on her computer.
It would seem she wants to remain smack dab in the middle of the action, surrounded by cooking and clutter. I love it. I wouldn't wish for it to be any other way.
I wonder if this is what happens when you don't push your children away as babies, toddlers and preschoolers. Maybe, when you spend years keeping them close as littles (exactly where they want to be at that age) they want to stay close when they are bigs.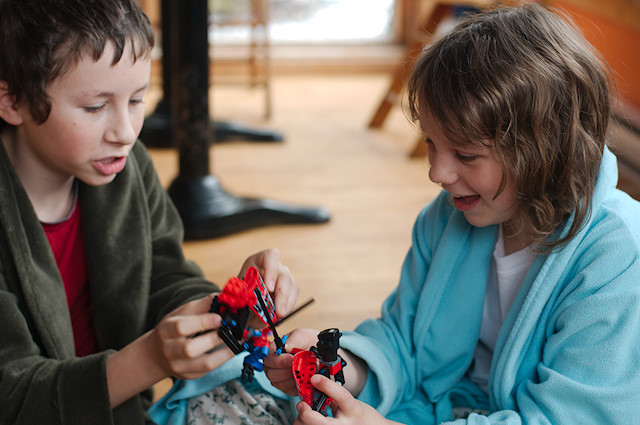 Or maybe it's just because we've always lived in smaller, modest homes and the only space to craft was the dining room table and living room floor. That's what they are used to.
There are other factors no doubt that contribute to our living room being a literal living room. It is a lovely space with large windows and with a direct view to the birdfeeder, a source of amusement and fascination for our family.
Also, all the children have their own portable computer devices, there is no need to use the desktop computer in the studio except for access to certain software programs.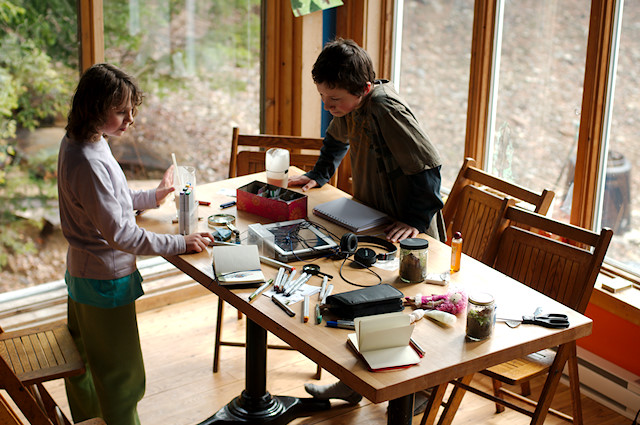 So this is how it works in our home. All the stuff - the lego, the craft supplies, the books, the toys - they're all stored somewhere else. But whatever the kids want to read, use, or play with is dragged into the living area; and sometimes for days, like when they make tents or boats. And I will spend the week walking around a tent every time I move from the kitchen to the couch and around to the dining room table. (Friday afternoon is the day everything must be cleaned up and put away in time for weekend hospitality.)
For the first time ever in our family life we have space elsewhere for playing and crafting,yet the living room is where they play, the dining room table is where they craft. Just like when they were 6, 4 & 2.
And when we sit down to eat lunch we sometimes share the table with paint projects (we always clean off the table for supper), but so what?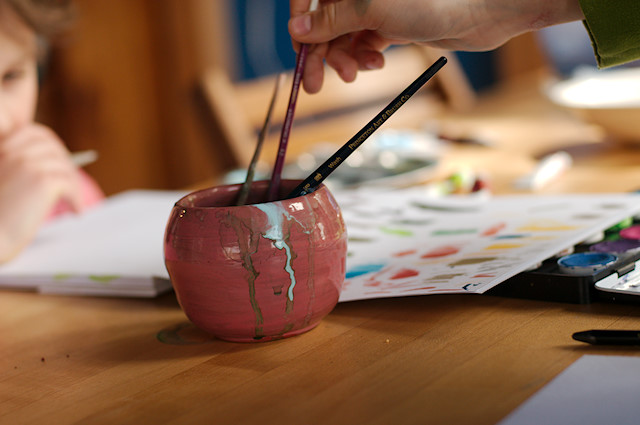 There are worse things than having projects on the dining room table, like no projects at all.
Dreams of a clutter free living room floor... are still just dreams. My kids are (almost) 14, 12 and 10 and I still regularly step on itty bitty pieces of Lego.
My kids will be the first to tell you I do not always approach this part of creative family living with utter equanimity. I occasionally "freak out" about messy floors and messy counters.
But for the most past I cherish this because I see what is around the bend. I have an older child that is around that bend already and I know what's coming.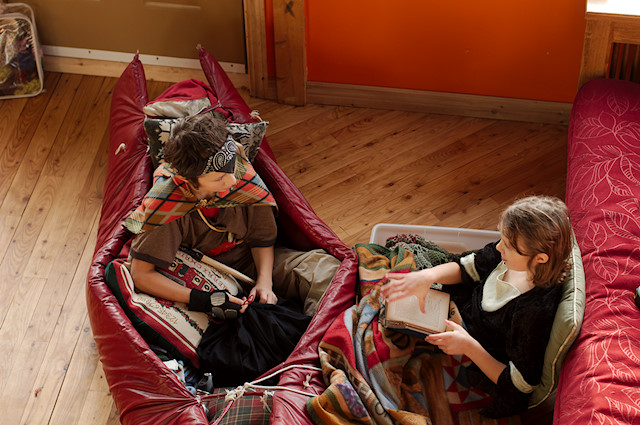 Our young adult is starting to live in a mostly digital world. No muss, no fuss but also none of the beauty that accompanies the hands-on creative process. No bright red paint splashed against the tin palette. No lego piles, sorted by color, strewn on the sunlit floor.
I know, after fourteen years of parenting and homeschooling three active, creative, and inquisitive children you don't need a special space to create the "right environment" for creativity or learning.
You don't need a learning room, a library, or a studio. It's nice if you have a bit of extra space for storage of supplies, a large closet will do. But the right space is not the prerequisite for creating the right environment, a right relationship is.
Right relationship is when you value relationship more than stuff and you work on how to share space and how to give and take. It's when mama lets go of her need to control and have perfection. And the kids in turn, learn how to respect and clean up when asked to do so.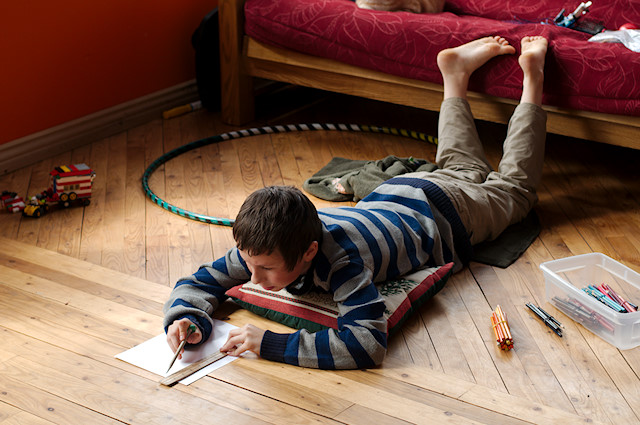 Right relationship creates the environment for learning and living together, the space is secondary.
Related Posts:
---
Filed Under
Resource Library
You can subscribe to comments on this article using this form.
If you have already commented on this article, you do not need to do this, as you were automatically subscribed.