We Have a Housing Dream
October 25, 2011
The beginning of October Damien and I went to Gaspésie to find a home to rent when we leave my parents in just a few weeks. In an amazing turn of God-events (coincidences so serendipitous that we don't call them coincidences) we found a chalet to rent for the winter.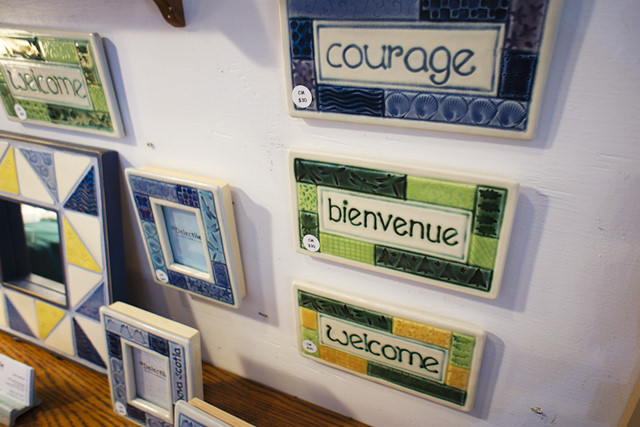 Chalet. Doesn't that sounds like a ski shack in the mountains or something? Oh wait... it almost is (eeek!). What an amazing adventure we are on.
Chalet is what the Québécois (people from Quebec) call a cabin. And in truth that is what we have rented - a cabin used mostly for summer vacation rentals, fully winterized, complete with woodburning stove and sauna. But before I share about our chalet I want to talk about our housing dreams.
We Started to Dream
Three summers ago, about three years into our 30 year bondage to the mortgage company, we started to dream about what we could do with our time and resources if we didn't have a mortgage. At the time, our housing costs (including utilities and repairs) were low by North American standards, hovering just around 25% of our income. We managed this by living on a small urban lot and renting out the basement of our house.
We had a good living situation - a secure job, a home in a family-friendly neighborhood walking distance to Damien's work. Kind of the American Dream (minus the suburbs, big ass cars, and trips to Disney).
But then we started to talk about new dreams - Damien working at home and being a more active participant in homeschooling and guiding our children as they grow into young adults. How we might structure our lives to travel for months at a time, or thru hike a long trail for half the year. And if it was possible for us to live in nature everyday, not just one day a week.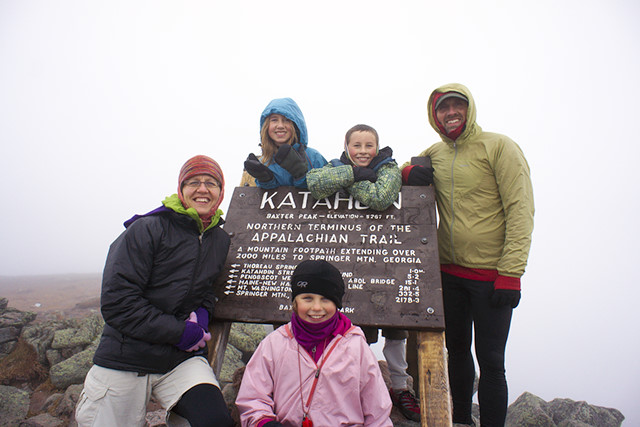 Old dreams were replaced with new ones (dormant ones?). I think a lot of us quench adventurous dreams when we have children and think we have to choose a certain path - soccer, PTA, bigger house, mini-van - when in fact we have a choice in the life we create for our families. We don't have to go with the flow.
At that point in our dreaming we realized our current housing and employment arrangement wouldn't work for creating the life we wanted as a family. 
When we realized also that our immigration status in the United States was going to stop us, indefinitely, from moving forward in our goals we made the difficult decision to move. But you know that part of the story already.
What you don't know is where we hope to go from here (and I don't just mean the Gaspé Peninsula). And what we hope to work towards when we leave Nova Scotia in a few weeks.
Why the Gaspé Peninsula
Before I get too far ahead of myself I want to back up and explain why we're moving to the Gaspé Peninsula - a somewhat isolated finger of land (stretching out into the Gulf of St. Lawrence) in the francophone province of Québec. See this post for a visual. 
We initially choose the Gaspé Peninsula as a potential home for our family because the outdoor adventure possibilities are fantastic and the peninsula is only a day's drive from my parents. Two years ago this fall, when we finally faced the immigration reality, we used a google topographical map - looking for mountains in Canada's east coast - and found the Gaspé Peninsula. Before that I had never heard of the place.
We made a winter trip to see if we could see ourselves living there. We could. The area has a rich culture, its location is remote but not without services or coffee shops (it's a big tourist destination), and the peninsula has farms and local agriculture.
The fact that the kids and I would have to learn French (Damien is a bit rusty but knows French from living in France for one year) was a plus, not a negative for this family of life long learners. 
It was on our second reconnaissance trip last summer when we started to really dream about what life could look like for our family in Gaspésie - mortgage free.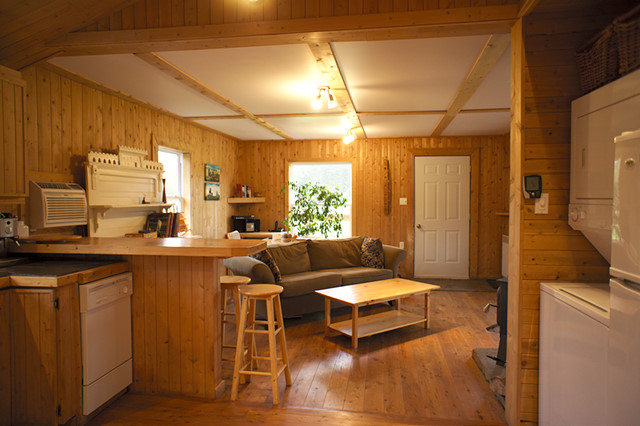 Owning a home and living mortgage free is within the realm of possibility for us in Gaspésie. As long as we are willing to live small.
Two years ago I wrote a housing dream list. 
live more in nature, closer to trees
energy efficient & warm in winter
well built & comfortable
lower our monthly housing costs
be totally debt-free (we have been consumer debt-free for years)
Some of those seem like oxymorons but small scale housing in a low population area (ie: cheap land prices) makes this dream possible.
Our five year plan for living in Gaspésie is to own a small piece of land and build a yurt. If you were to draw our dream home (as of course Laurent has) it would look something like this.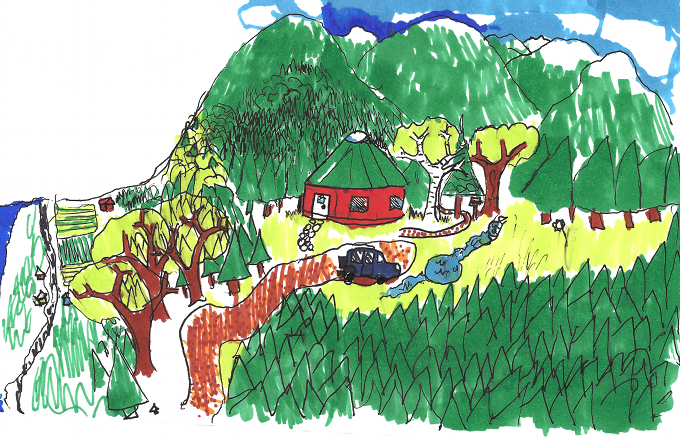 Yurts are a relatively inexpensive way to construct a decent home. A small home mind you, but one that is efficient, warm in winter (important where we live), comfortable and aesthetically pleasing.
Our Housing Dream
We don't want a mortgage. We want the freedom to spend our money, time and resources in other ways. Living in a small space, such as a yurt, is one way to achieve this. Modern yurts have come a long ways from their Mongolian steppe ancestors. Just so you know, I don't want to live in a glorified tent of yak fur.
No mortgage. A yurt in the woods. Close to community, farms and near the mountains. Our Dream.
Dreams morph and change shape in living them out. I am certain this journey will take us on a different path that what we anticipate. That's all part of the adventure.
The only way you make progress at all is to dream up some cool stuff to get you moving. Sometimes quite literally - moving.
It feels very vulnerable to share this dream publicly because it's just a little odd and scary. It's not the homesteader dream, to buy land and grow your own food, though I want to have a garden again someday. It's not the RV dream, to sell it all and roam the country, though we do have mountain wanderlust. Our dream maybe falls somewhere in between those two.
It's a dream to have a debt-free home surrounded by nature with the freedom to adventure with our family. It's not about a house, or a style of house. It's about what our life goals are and how our housing choices either helps us achieve those or works against them.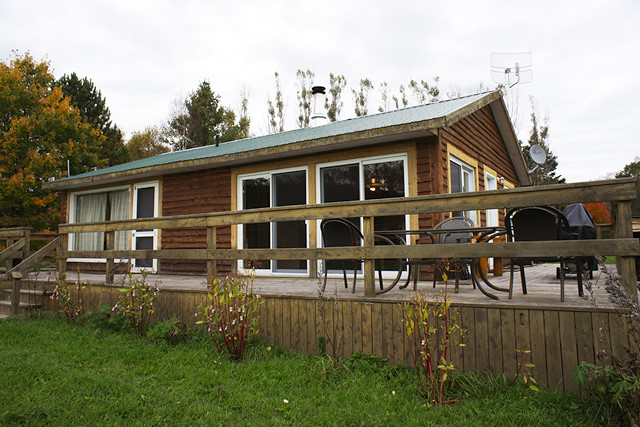 In my next post I'm going to talk a bit about the chalet we've rented for the winter. How it's the next step, bringing us closer to our housing dream. 
Filed Under
Resource Library
You can subscribe to comments on this article using this form.
If you have already commented on this article, you do not need to do this, as you were automatically subscribed.