Traveling light and on the cheap
November 2, 2009
Who says you need a lot of money to travel? To have adventure and experience nature's beauty?
One of our family goals is to experience natural beauty and adventure and to encourage other families to do the same. But a real barrier for people is the cost of accommodations and simply getting from point A to B with children. After all, you need a van with a monthly payment when you have kids. Don't you??
You'll have to forgive my sarcasm I just get so very tired of the pervasive and destructive North American belief that a small to mid-sized family requires a large vehicle with a large trunk, large gas tank and large price tag.
Cost is a real travel concern so let me share something with you; our family took 5 separate trips this past summer with a budget of $500 ($100/trip).
I don't like to talk hard cash very often because people squirm at the mention of money and what's cheap to some is expensive for others and I don't like the comparison game. But as far as our family is concerned 3-4 nights away from home in a beautiful place for 100 bucks total for 5 people is a good deal.
Trips we took: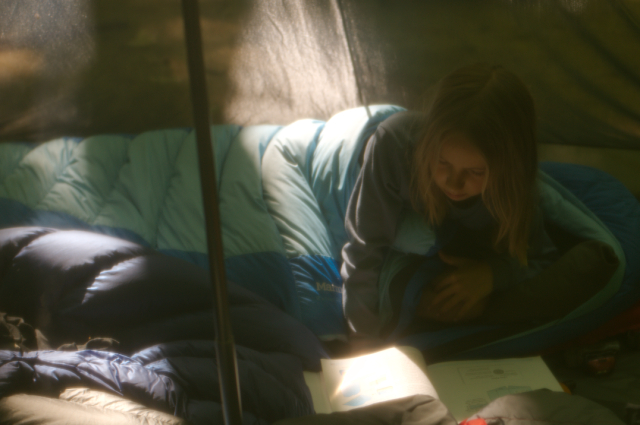 How we did this:
We own a tent, the best investment we have ever made in traveling light. We can take our accommodation with us anywhere: campgrounds, farmer's fields or into the backcountry. I wrote a whole post on the subject of tent travel on our adventure blog. If you want to travel on the cheap with children you really should consider tenting. Our biggest summer travel expenses are the site fees for campgrounds which average $20/night. Still cheaper than any other option. If you avoid campgrounds and are willing to set up camp in the National Forests with no services you can go places for free.
We pack all our food at home ahead of time, and it's paid for out of the monthly grocery budget. Lots of work - yes, but well worth the investment of time (easy for me to say since Damien does most of this work).
We save gas money each month for trips. We have a set amount of money we spend on gas each week. Our budget is a little higher than the actual cost so every month we are able to save some gas money for trips.
Accommodations, food & gas - what else is there? We go places to experience the natural beauty so we don't spend money on touristy type things except for the occasional soda or latte.
While we're on the subject of going places with children I'd like to point you to Damien's latest article, Going Light.
Going light for us means having adventures with our 3 children in our 16 year old car, taking only what we need and teaching our kids you don't need a bunch of stuff to enjoy life. Really, you don't (except maybe a good tent and a nice camera).
The next travel adventure we are planning is a trip after Christmas that involves CouchSurfing and hostel stays. I can't wait. I'll also add this; you are welcome to stay in our home or pitch your tent in our back yard if you are traveling to Maine. We won't even charge you a $20 site fee!
What about you? How does your family travel on the cheap? Please share so we can learn from each other.
Renee Tougas participates in affiliate marketing, including the Amazon Services LLC Associates Program. Whenever you buy something on Amazon from a link you clicked here, I get a (very) small percentage of that sale. See disclosure for further explanation.
Filed Under
Resource Library
You can subscribe to comments on this article using this form.
If you have already commented on this article, you do not need to do this, as you were automatically subscribed.