The Spring I Start Running
April 16, 2013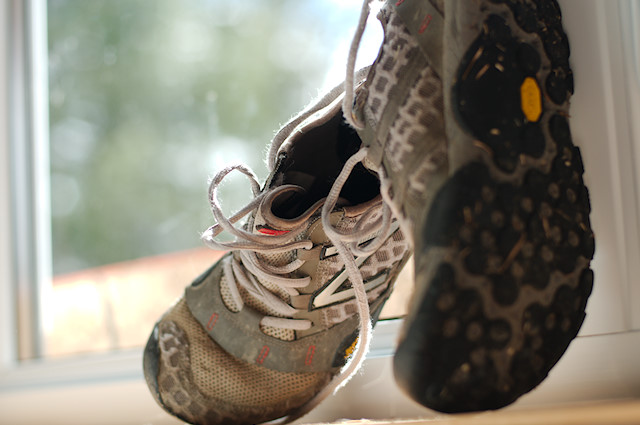 I don't know what to do with this. I don't know how to respond to yesterday's running related tragedy in Boston. I've been a spectator at the Boston Marathon. I've been at that finish line, waiting with my children, for my parents to cross.
My Dad met Laurent for the first time, as a six week old baby, at the Boston Marathon weekend. I am angry and sad and so very tired of bombs and guns and people killing people. 
This post was written and scheduled for today and I am going ahead with it. I think the subject matter is fitting at least. 
~~~
I've been thinking for a while now that one day I would start running but I've been digging in my heels, quite literally. The last time I did any serious running was when Céline was a baby. That seems like another life.
I believe in healthy living and well being. It's one of my core values. But I also believe in doing things I enjoy and doing them for a purpose. There never seemed to be much of a purpose for me in running and it was definitely something I didn't enjoy doing.
Running makes your muscles tired and it makes you sweat. And where I live, at the end of a dirt mud road, running makes you dirty. I just haven't enjoyed running in the past and I thought of every excuse to avoid doing it. And felt perfectly fine about making those excuses. 
I am physically healthy. I hike or ski every weekend with my family and usually get a couple walks in during the week. That's good enough, isn't it?
It used to be good enough but it's not good enough any more.
I thought I could get by with exercise every other day and then one longish day of physical exercise on the weekends. 
I found out this winter that I need more physical, outdoor activity than that. I don't need to run to lose weight. But it turns out I need to run for a different kind of health - my mental health.
I started simply by walking every day, for about an hour.
In order to make this happen in my life I have to do it in the mornings, because then I know it will happen. This is not an early morning routine. If I knew I had to exercise, outdoors, first thing when I got up I wouldn't get out of bed.
For me exercising has to happen during my daytime work hours. It's a commitment I'm making to my health and it's work. It can happen during the "work" hours of the day.
Sometime between 10:00 and 12:00 (I want to be all done by noon), I leave the house for an hour of exercise. Sometimes I walk, but three days a week I run. I'm training for a 5K in June.
I had a difficult mental struggle this winter and one of things that came out of that was a commitment to daily (or near daily) exercise. My mental health depends on it.
Once I committed to being outside everyday for physical exercise it wasn't much of a leap to running.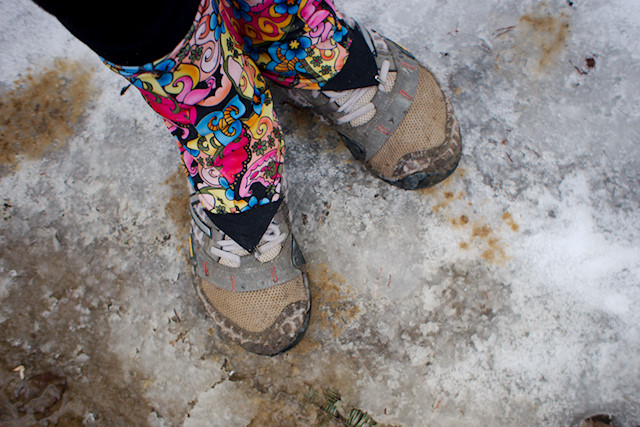 I used to think running was hard. You get sore muscles, side stitches, leg cramps. Blah, blah, blah.
Let me tell you, the pain I have experienced running is nothing, nothing, compared to what I put myself though learning to telemark ski this winter. Once I made this realization I viewed running in a whole new light.
Telemark skiing gave me burning thighs, bruised shins, sore ankles, and more. My body hurt after skiing. And while I was on the hill I felt defeated as often as I felt elated.
Telemark skiing is hard. Running is like child's play compared to that. It's as easy as putting on the right layers, the right shoes (minimalist of course), and simply running out the door. (Keeping in mind I'm only going out for short runs at this point.)
This is such an amazing turn of events for me I can't quite believe this has happened.
I used to need my exercise to be fun and purposeful to get me out the door. But once I made a commitment to exercise for my mental health, knowing I would get out the door whether I felt like it or not, the decision to run was easy. If I'm going to exercise anyway, why not run?
Our whole family is running now, picking up where we left off last fall.
With my daily commitment to outdoor exercise and Damien's continued commitment (he's always been a dedicated exerciser), our kids are getting in on the running also.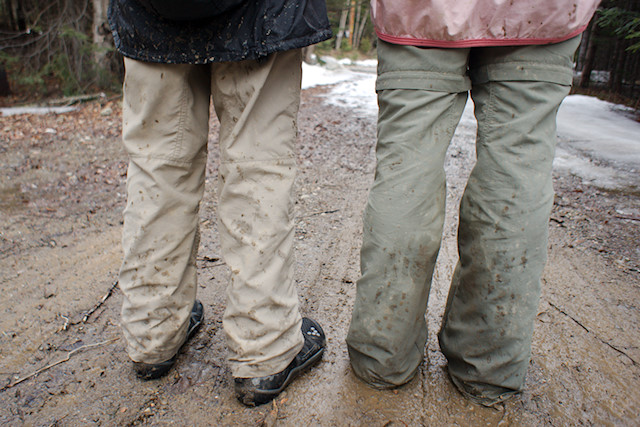 They are required to spend time outside every week day and of course Sunday is our day for family outdoors, so that's at least six days a week that they get outside. As they get older "playing" outdoors has less appeal, but they still need outdoor physical exercise. Running and walking are perfect activities for this.
We require our kids to spend time outside (because we require ourselves to spend time outdoors). They can choose what they want to do with that time. They are choosing to exercise with us.
So now we're all training for a race in June. Damien made training plans for us all. He's training for a half marathon, way out of my league right now. The rest of us are training for a 5K.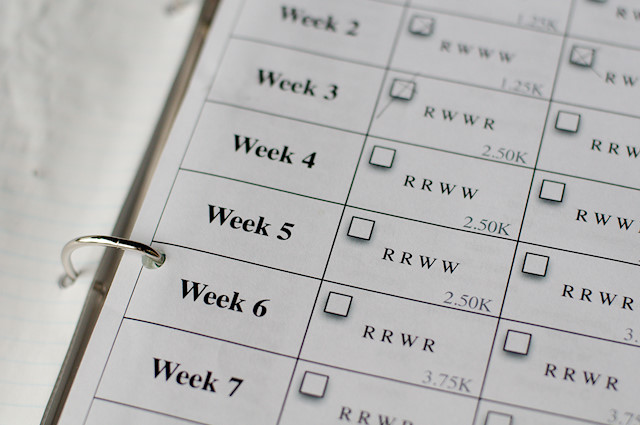 You can download our 5K training plan here in case you want to do something like this yourself. Our usual training route is 2.5K from our door. We do it twice, so a R R W R stands for Run out, Run back, Walk out, Run back.
Damien wants me to add that this is a very unscientific training plan. It's simply a guide to help the kids and I gradually ease up to running 5K. (Damien's own training is the near opposite of mine; involving a heart rate monitor, a computer program, GPS technology and other technical wizardry. Damien's training program is science through and through, complete with altitude graphs and maximum heart rates. My training plan is sheet of paper with check boxes.)
All these years I have dug my heals in and refused to "go running". I laugh now at my stubbornness. This feels really good.
I'm finding that once you make that commitment to your health, and find a way to make it work in your schedule that works with who you are, there's really nothing to stop you.
You can subscribe to comments on this article using this form.
If you have already commented on this article, you do not need to do this, as you were automatically subscribed.