The Girl Learns to Program
September 9, 2011
I could tell you all about the curriculum additions (cha-ching, cha-ching) we're making for Celine's education and how I'm struggling just to keep up with the pace she needs. (PS. I will tell you all about it later this month).
I could tell you how over-the-top blessed I feel that Damien is home with us everyday and is making time to teach Celine computer programming. 
I could tell you how computer programming beautifully incorporates and encourages Celine's love of logic, language and her innate attention to detail.
I could tell you that Celine and Damien have a very close relationship and when they do activities together they share a special bond.  
I could tell you that Damien has wanted, for years, to teach a bit of what he does professionally to his children. To let them into the world he knows and understands, to share it with them.
I could tell you a teensy, teeny oh, never mind, I know nothing about programming, but you can read all about it here if you really want to know. 
I could tell you all of this, and more (you know me, always more), or I could just show you this photo and you'd know.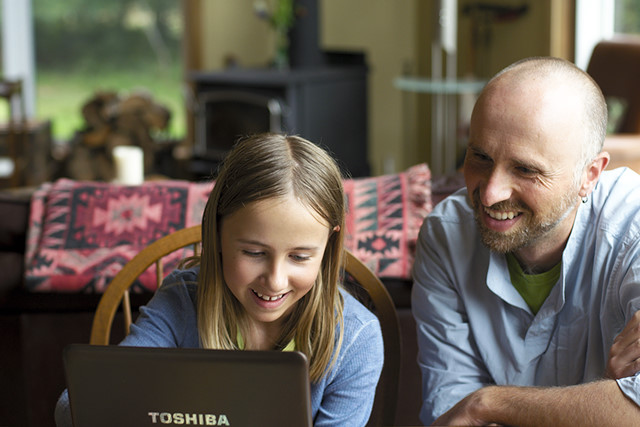 You'd know how I feel in my heart about the girl learning to program.
Because it's not just the thing we're learning (that skill or those facts) but the how and why and the way we connect while doing it.
This my friends is homeschooling and moments like these are the beat of my heart.  
PS. That photo is honest to goodness true blue, like their shirts. I couldn't have staged that if I wanted to.
Filed Under
Resource Library
You can subscribe to comments on this article using this form.
If you have already commented on this article, you do not need to do this, as you were automatically subscribed.