The Chalet ~ Maybe Dreams Do Come True?
November 3, 2011
After sharing our housing dream I feel the need to clarify something. Living in a yurt, mortgage free, is a means to an end, not the end. Our "quest" to live in a yurt or another small space is not a search for the perfect house or greener grass.
It's the desire for our housing to reflect our values and enable us to accomplish some of our bigger dreams. 
We know the kind of life we want as we guide our children into adulthood. We want freedom and flexibility, spending days together as a family, doing work we love, adventuring. Lowering our housing costs allows us to do the things we want to do. 
And moving to Quebec is not about finding that one true place we belong but about living in a place that meets our criteria for family promixity and adventure, allowing us to pursue our dreams, wherever they may take us.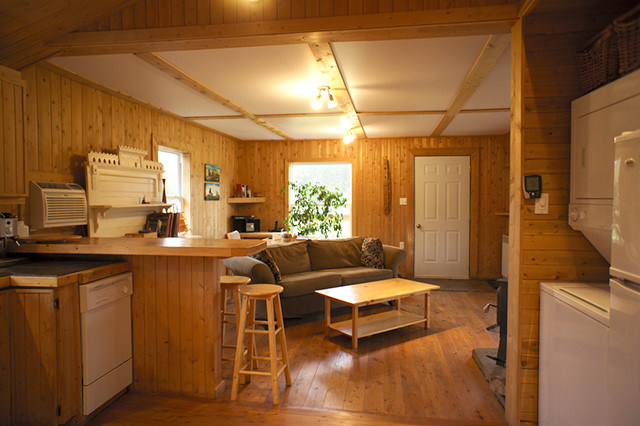 So, with that all out of the way, let's move on to the chalet we're renting for the winter.
The chalet is small, 750 square feet small. It's size was one of the most attractive features for us.
Actually having to live in a small space for a season will help us downsize even more (duh) and give us a glimpse into small scale living with a family of five. If we really hate it, it's better to find out now than after we've sunk the remaining of our savings into building a yurt.
Also, smaller houses are cheaper to rent and cheap is comfortably in our price range.
Before we made the journey north, at the beginning of October, to find a place to live for this next stage of the journey, we made a list together as a family of what we wanted in a house. During one of our summer hikes we talked with the kids about what houses cost to rent, what our budget was, what our family goals and dreams are (they are well aware of this last point, we talk dreams and goals lots!).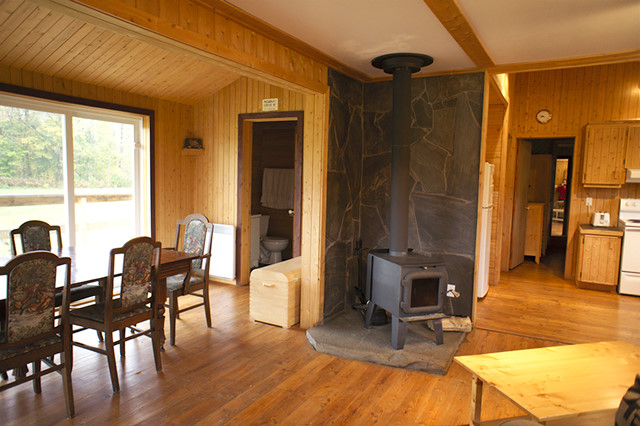 In light of those considerations we asked ourselves, "what do we really need/want in a place to live?", especially since our next place is a rental and will be temporary.
Here's the list we came up with:
2 bedrooms, one large enough for three beds (in some configuration) for the kids. The bedroom for Damien and I needn't be large at all, I'm not a "the master bedroom is my sanctuary" kind of person. Nature is my sanctuary.
Kitchen with appliances, clothes dryer and dishwasher optional.
Studio/living space - any combination of dining room, living room, family room. This space is really the most important. We need room to craft, sew, draw, learn, read, and do the messy stuff we do. Not lots of space mind you, but enough.
Storage space for outdoor gear.
Yard and outdoor space for the kids to play and room enough to park our trailer.
A bathroom of course.
Bonus features we would love:
Wood burning stove (we knew this was actually possible in a timber province like Quebec).
No carpet.
Close to the mountains and nature.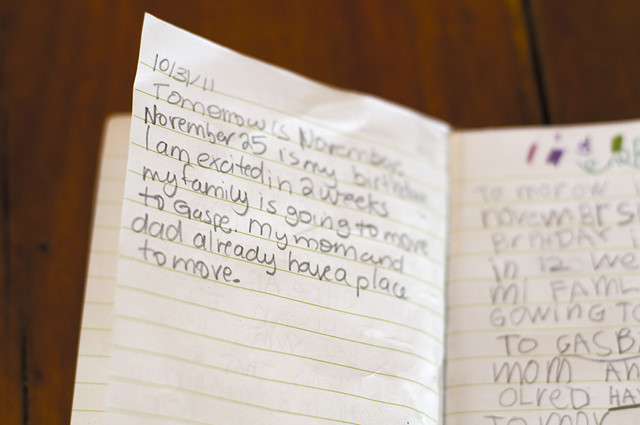 Here's what we found:
A recently updated, furnished 2 bedroom chalet whose interior is all naturally finished in Gaspésie wood floors and slate tiles.
2 bedrooms with all the beds we need and space for kids to store their stuff.
An open concept kitchen, living room, dining room. The kitchen has ample space for me to cook and a bar which will mean the dining room table is available for school and crafting for most of the day.
A living room complete with a wood burning stove and a supply of wood (included with rent) and a built-in desk, perfect for mama's command central.
The chalet has 3 sliding glass porch doors leading onto a wrap around desk that overlooks acres of land at our disposal. Beyond the bank of trees is a river.
Our driveway (ploughed in winter - trust me this is a big deal in snowy QC) is off the only road leading into the Parc de National de Gaspésie. We go out our driveway, make a turn, drive for 45 minutes and we are in the heart of the Gaspésie mountains. If we turn the other way we are ten minutes from town. Mountains, civilization. Perfect.
There is ample room to park our moving trailer, which will remain mostly filled for the winter seeing as the chalet is furnished.
Full disclosure. There is no way we can live and store all our gear in a 750 sq foot space. We will be taking our trailer with us and it will be our gear (and craft?) storage. We will be storing our furniture (not needed in a fully furnished chalet) at a cousin's barn in NS.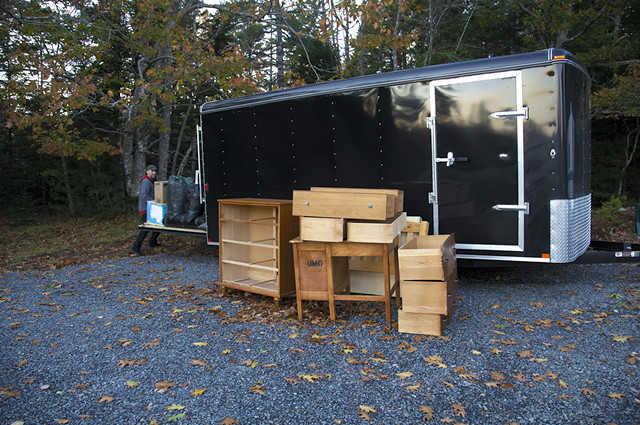 I drew our housing dream a couple years ago, while we were in the angst of making the decision to leave Maine, a place I love. I was going to have to give up a lot - Damien's secure job with excellent benefits (security), our home and our community (familiarity and friends) - in order to gain the freedom we needed for the next stage of family life.
I needed to dream big, something I don't usually do, about what I hoped for in exchange for that sacrifice.
This is what I drew: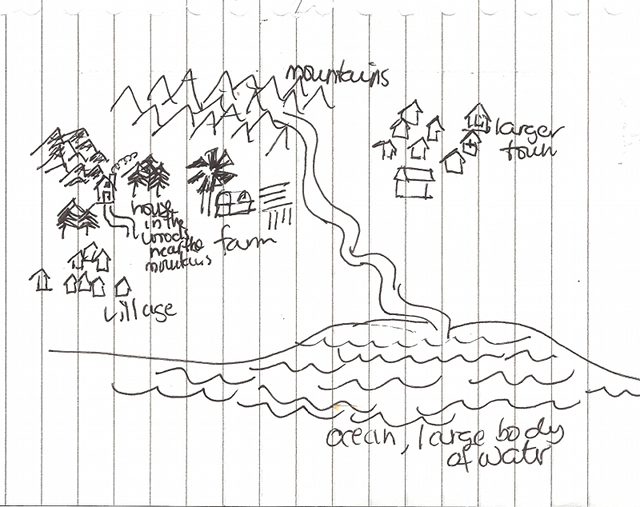 The chalet we found to rent is so close to this picture I drew two years ago, it's uncanny. It's too coincidental to be coincidence. 
And here is the icing on the cake - we have to be out by the end of May next year. Why is this a good thing?
We'd like to travel next summer, go out west if we can. Now we have the total freedom to live exactly where we want to be for the winter with the very real possibility of traveling next summer - adventuring together. Dreams becoming reality.
We know there will be difficulties to living in a small space, like where to put the kids' medieval castles (seriously). Not to mention the huge challenge of moving to a French speaking province. This adventure is not without a lot of what if's and the accompanying trust we must have to keep moving forward.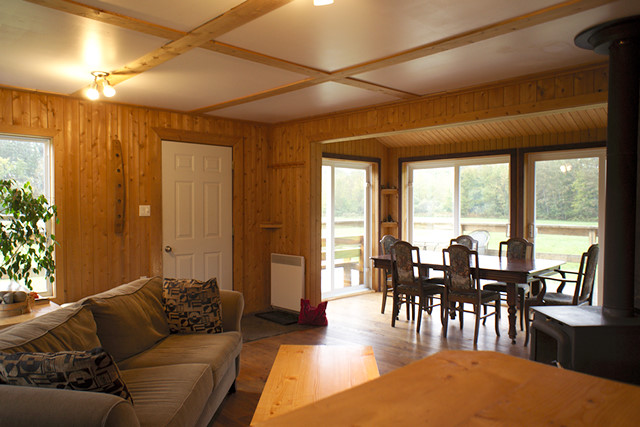 But the way this chalet rental came together was another confirmation we're on the right path. It felt like a gift from God, "I've heard your request, I have the perfect place in mind".
I haven't even described the process of finding it, which was basically a chain of events starting with stopping a perfect stranger on the road to ask if he knew of any rentals in the area. In a small, close knit community like this there are very few houses advertised for rent, you just have to know someone.
At every stage along the way - leaving Maine, renting out our house there, establishing our income while living in Nova Scotia this summer, and now finding what we needed to live in Gaspésie - we are flabbergasted by God's goodness to us.
We have worked hard and there have been setbacks since we started dreaming this journey nearly three years ago. We sketched out long term plans and tried to be wise with our resources but every step of the way we have seen only what's directly in front of us and have had to trust for everything beyond that point.
It's been one step at a time. And as we have lived this story the pieces fall into place in ways we couldn't have imagined or anticipated.
And what happens at the end of our rental term? Who knows. It's all part of the adventure but at this rate, I can't wait to see what unfolds.
PS. We'll be replacing the chalet couch with our trusty futon and opening our home to couchsurfers again. Anyone up for a cross country ski visit in a winter wonderland?
Renee Tougas participates in affiliate marketing, including the Amazon Services LLC Associates Program. Whenever you buy something on Amazon from a link you clicked here, I get a (very) small percentage of that sale. See disclosure for further explanation.
Filed Under
Resource Library
You can subscribe to comments on this article using this form.
If you have already commented on this article, you do not need to do this, as you were automatically subscribed.