Tenacious Bling
October 23, 2014
Three years ago I published a little ebook for mothers about nurturing creativity, an encouragement mostly to explore, develop and play with creative practices in our busy lives as moms.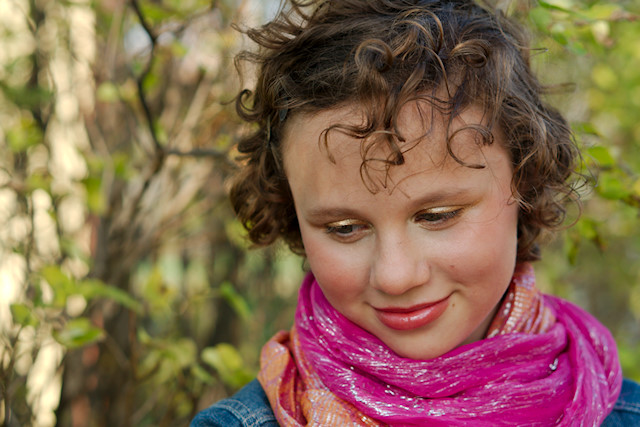 I listed a few examples, mostly from my own life, of easily accessible creative activities and expressions we can explore, even if we don't feel very artistically gifted. I am truly disappointed that I failed to mention one so glaringly obvious.
If I had written that little book now I'd have a richer understanding of one of the most readily accessible creative outlets for women. Fashion.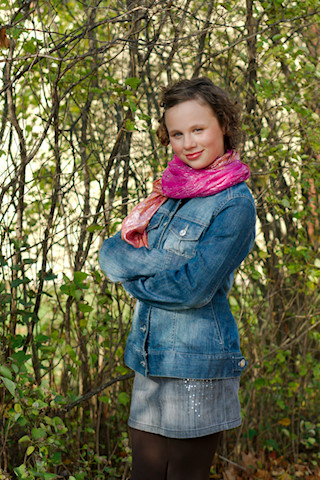 I have to smile when I write that because it's taken raising a fashion conscious, clothes loving, and sometimes makeup obsessed pre-teen to show me what many women already know and appreciate in their lives: personal appearance can provide the canvas for a wellspring of creative expression.
Because I am a casual/sporty, spend no more than 2 minutes doing your hair type gal this little nugget of wisdom remained largely buried to me. It took my growing daughters to help me unearth it.
(I think living in Québec around fashionable and incredibly creative women has also helped.)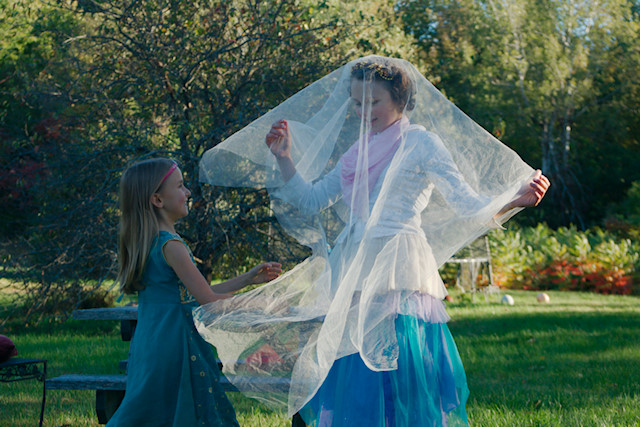 I have unfairly judged women who are well made up in their clothing, hair and makeup.
I wondered, "are they not comfortable and happy in their own beautiful skin?" Maybe. Maybe not. That's not for me to know or judge.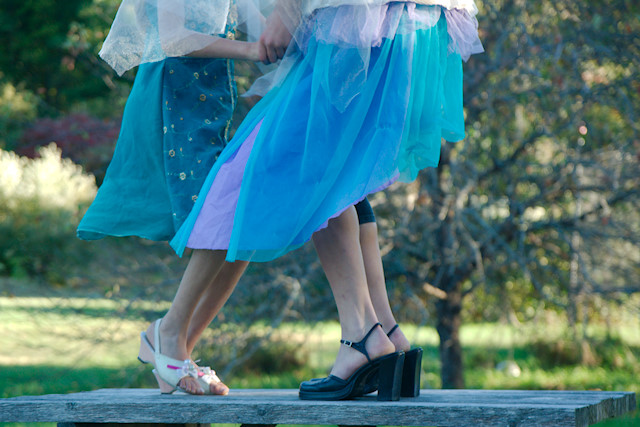 What I do know is this. My almost twelve year feels comfortable with her physically-fit and athletic body. She loves her curly hair and strong, muscled calves. She is proud of her widely spaced toes and broad feet, healthy after years of being barefoot and minimalist-shod. She marvels at her green and grey tinted eyes, unique in our family of blues. She appreciates her dominant bottom lip. (I guess that's why she could produce such a good pout as a two year old.)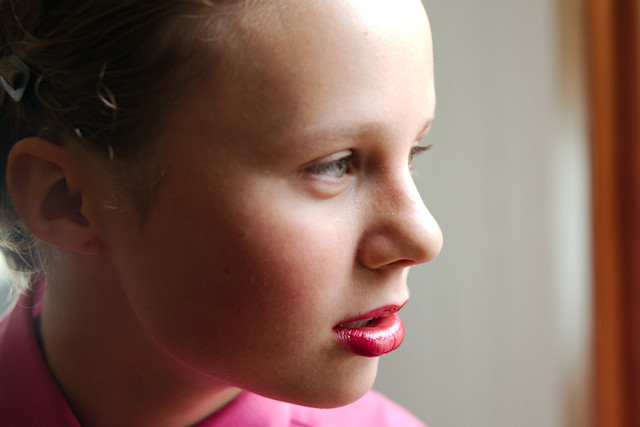 And she loves expressing her appreciation for this body, as it is, by embellishing it. Wearing clothes that are fun and fancy. Using her skin as a canvas for makeup art and design.
While we were hiking people liked to ask our kids, "what do you miss most?" Without skipping a beat Tenacious Bling always answered, "clothes".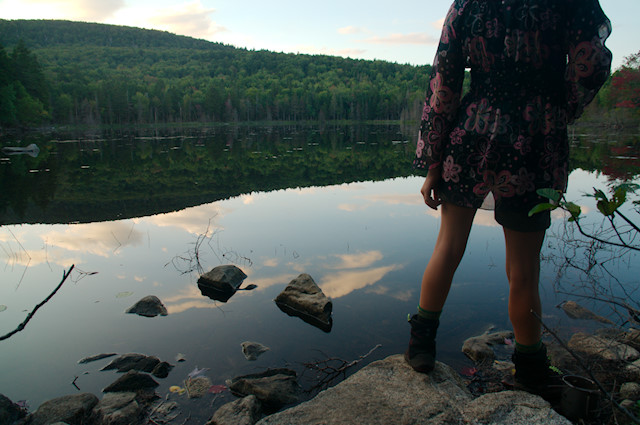 Her wardrobe when we started the trail was as utilitarian as the rest of ours. But it soon became apparent she was not happy with the situation (i.e.: she complained a lot) and she spent the rest of the hike devising ways to add bling to the blah.
It's not just contemporary fashion she loves, as contemporary as hand-me-down fancy dresses and thrift store finds can be. She loves dressing-up to play a role. Girl on the town for when she runs errands with us. Peasant or servant girl when she's on meal prep. And the perennial favorite Princess.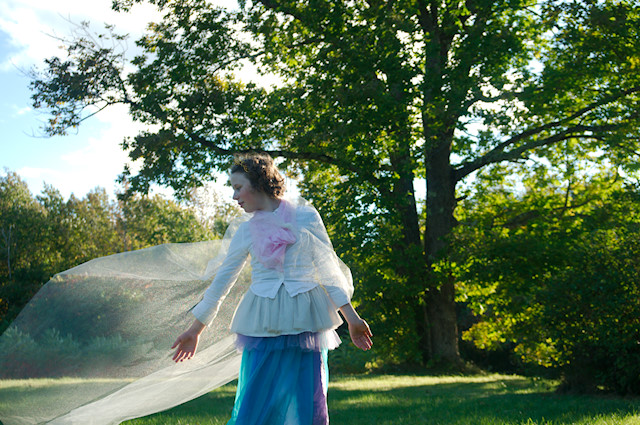 As Brienne comes into her own creatively and artistically in a family whose other members are accomplished artists, programmers, photographers, writers, and sewists (and dabblers in a lot more), I can see fashion being a key part of Brienne's creative pursuits, and maybe theatre.
She is sparkle and bling; verbally expressive, persistent, and physically flamboyant. Equally confident on a sports award podium or dressed up to go grocery shopping.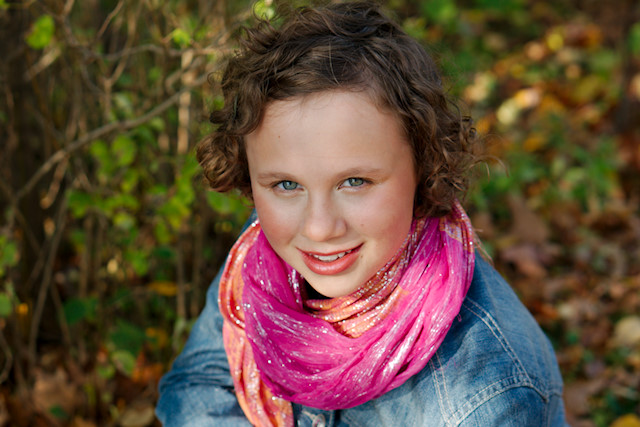 She is who she is, our family's very own Tenacious Bling. And I couldn't love her more.
---
About the makeup
Brienne is wearing Cheeky Cosmetics on her face and Bite Beauty on her lips. Finding natural and less harmful makeup has been getting much easier in recent years but I'm always on the lookout for better products for my girls' skin.
Céline recently purchased a Bare Minerals foundation kit and tube of mascara for her cosplay makeup needs. At our recent (and first) visit to Sephora in Halifax, we used the EWG's Skin Deep Cosmetics Database to help use navigate the labyrinth of products.
If you have any favorite natural makeup brands please share as I'm sure there will be more purchases in our household in the future and I like to be in the know about the best options available.
Renee Tougas participates in affiliate marketing, including the Amazon Services LLC Associates Program. Whenever you buy something on Amazon from a link you clicked here, I get a (very) small percentage of that sale. See disclosure for further explanation.
You can subscribe to comments on this article using this form.
If you have already commented on this article, you do not need to do this, as you were automatically subscribed.