Summer day crafts
July 17, 2008
The kids hijacked my plans for the day. That's a reality of child-led learning. You go with try to go with the flow. Depending on the day I am able to do this to varying degrees of success. Flexibility, for me, is the hardest part of relaxed homeschooling, setting aside my goals to help the kids accomplish theirs.
The goals lately have been largely dictated by beautiful summer weather - picking berries, going to the beach, preparing for and having picnics, visiting farmer's markets and weekly farm pick-ups. But regardless of the time of year my kids just gotta' craft and today was one of those days.
Celine is largely self-sufficient in this area now and is an amazing doll designer and small stuffies seamstress. The younger two are kind of left behind in this regard and need my help to complete anything really substantial. Today's project, totally kid inspired, was to sew snakes. So I found instructions for a Braided Craft Snake and used the craft to teach my 5 & 7 year old how to sew on the machine (they both can hand stitch easily) and braid. I had no choice really with them begging me to teach them how to machine sew.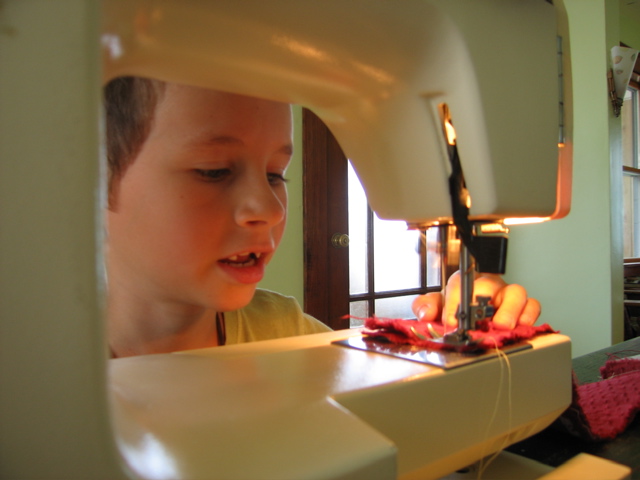 Laurent first time machine sewing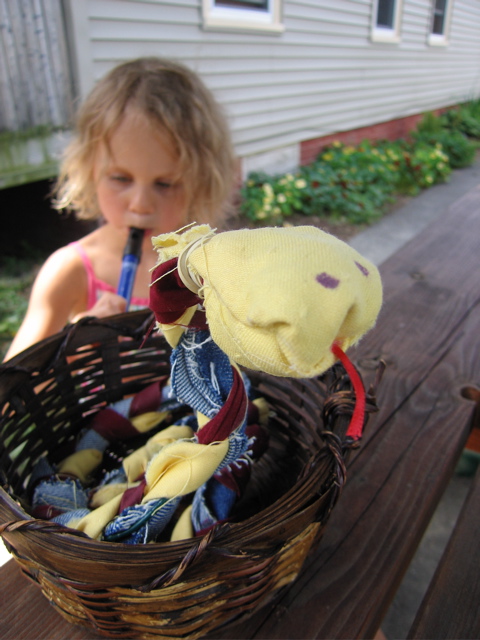 Snake Charmer Brienne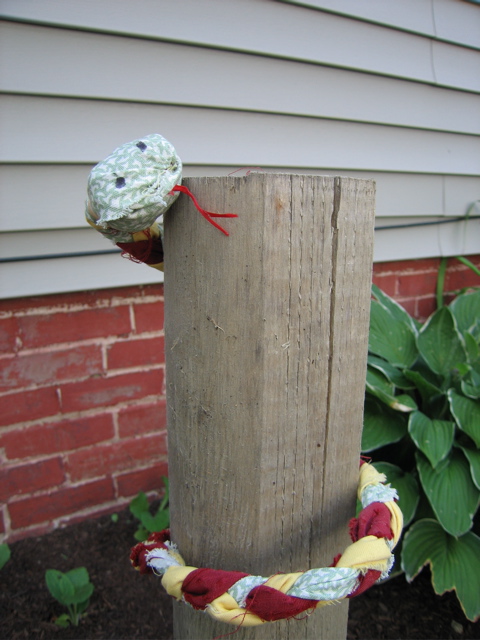 Laurent's snake hangin out in the garden
While we were machine sewing and braiding Celine was finishing her stuffed sea lion. She found the pattern in the ancient book The Big Book of Soft Toys by Mabs Tyler, passed down to us by a friend. She did the whole project herself and had the most ingenious idea of sewing magnets into the nose and ball as a means for them to stick together instead of the pattern's suggestion of sewing them. This daughter of mine simply rocks in stuffie design and sewing!

Celine hand stitching sea lion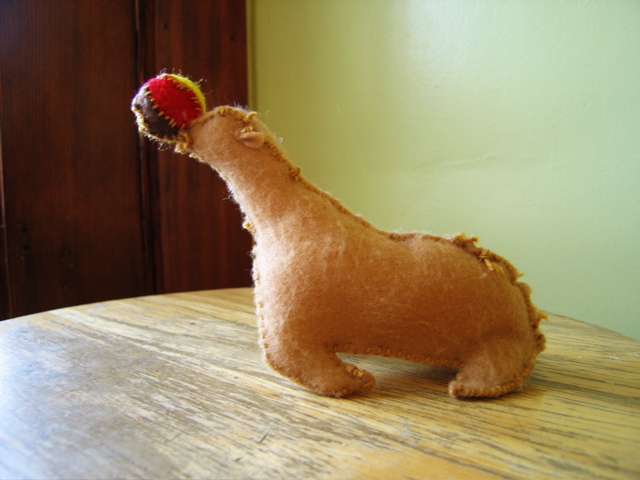 Celine's sea lion: isn't that ball so adorable?
So, the day was different than planned and I won't get to the farm till after supper. The beautiful thing is everyone is so busy with their new homemade toys that I have some moments of solitude. What do I do with moments of solitude? Write about how talented my kids are... I'm hopeless.
Filed Under
Resource Library
You can subscribe to comments on this article using this form.
If you have already commented on this article, you do not need to do this, as you were automatically subscribed.