Studying the World through Reading and Creative Play
June 28, 2010
My last "how we homeschool" report talked about early years math. I mentioned in that post you can learn all the typical school math in some ridiculously short period of time, if you're ready and motivated to do so. I knew David Albert wrote about that but couldn't find a reference. Well, David Albert himself, one of my favorite educational writers visited my blog and left the link. How cool is that, thanks so much David.
Now, let's talk history...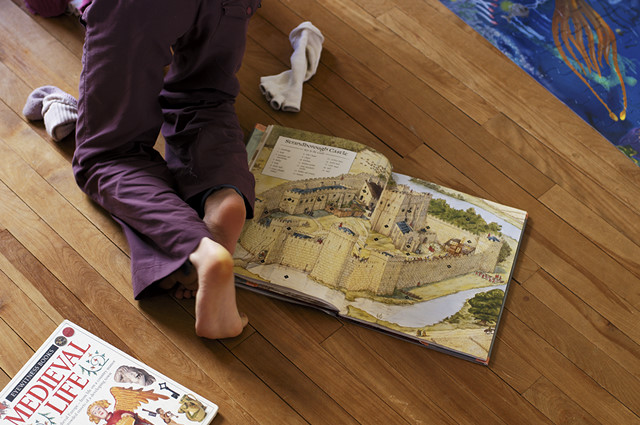 ~~~
As interest led homeschoolers we don't have an overarching curriculum that we follow.  We follow our interests.

From the time my kiddos were preschoolers we have been following our interests in studying history, cultures and geography.  But because I find this separation of subjects quite artificial I lump it all together under the heading world study.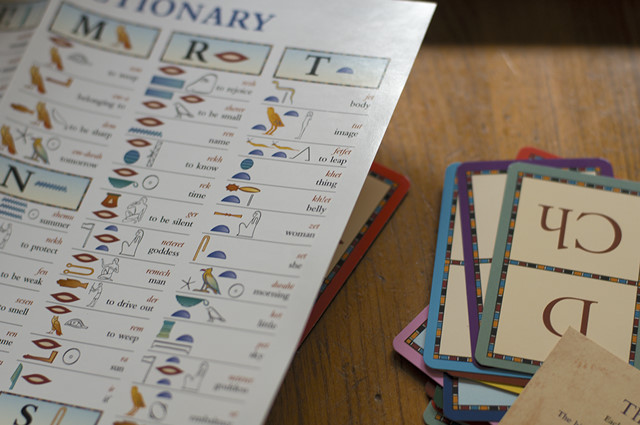 Of course it doesn't really matter what I call it except for the purposes of record keeping and year end assessments which I discussed in this post about portfolios.
World study has been one of the most natural and easiest parts of homeschooling. My children are learning so much in this area all the time that I find it hard to keep track of it all. Unlike their progression in reading, math and writing - which I am able to somewhat quantify, the amount they know and understand about the world around them is quite vast and continually surprises me.  
I've noticed a general trend in how my children study and make sense of the world (in terms of history, geography and cultures). Because we don't follow a curriculum for these subjects I didn't set out to teach it this way, but this is how it has naturally evolved.
1. Reading
Reading is the foundation of our studies. Our seven and nine year old are not strong independent readers yet but I read to them most every day. And it's quite amazing how much of a story they can understand through "reading" picture books. Celine, who is eleven, has been reading since she was six and most of those books have been about world study.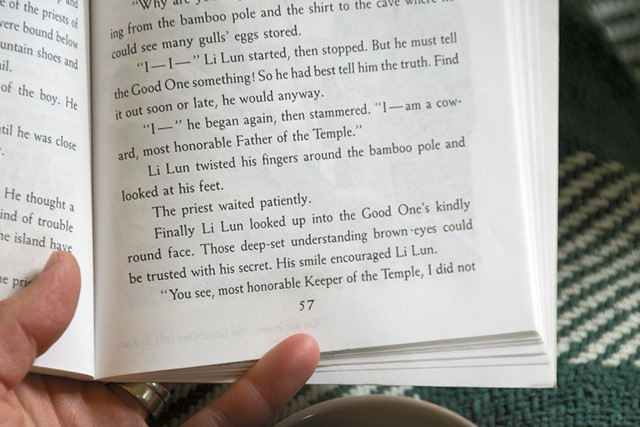 Living Books
Although we read all sorts of books, for the most part the kiddos and myself enjoy living books above any other form. What's a living book? You can read
this post at Simple Homeschool
about Charlotte Mason, who coined this term. 
By my definition a living book is first and foremost a quality story, fiction or non-fiction. It's a book that makes the subject matter come alive to the reader and engages their intellect and imagination. These are the kind of books we read. Not textbooks or books heavy on dates and facts, but good stories.
Choosing Good Books
I let my kiddos choose books based on their interests. There is no required reading list in our house. Whatever their given interest (changes by day, week or month) I help them find good books to check out from the library. They can read about anything they want but I screen books for quality and age-inappropriate material.
I supplement their reading interests with books I'd like to expose them to. These are books we read aloud together and I also add selections to Celine's individual reading stack. Celine does not have to read what I choose but often will when she runs out of books she has chosen for herself.
We do own a small shelf of reference books; Usborne, Scholastic, Kingfisher and the like to provide the facts, dates and often illustrations to what we've read about in our living books. The kids love these books though we don't use them as textbooks or required reading.
For world study book recommendations please see my world study shelf at Goodreads.com. It has hundreds of titles we've read aloud together or that Celine has read on her own. I've recently started dividing them up by geographical area and time periods. Feel free to snoop around a bit in my "bookshelves".
I like the Sonlight Catalog for finding titles. Click here to order one for yourself. I don't use the curriculum but find their book lists very helpful. One book, or books, that I have not found helpful is the highly acclaimed Story of the World series. Not story enough for my kids (or myself either). This go-around (fall 2010) is a different story. We are all enjoying the first book of the series, Volume 1: Ancient Times. Fall 2012 update: Started Volume 2: The Middle Ages.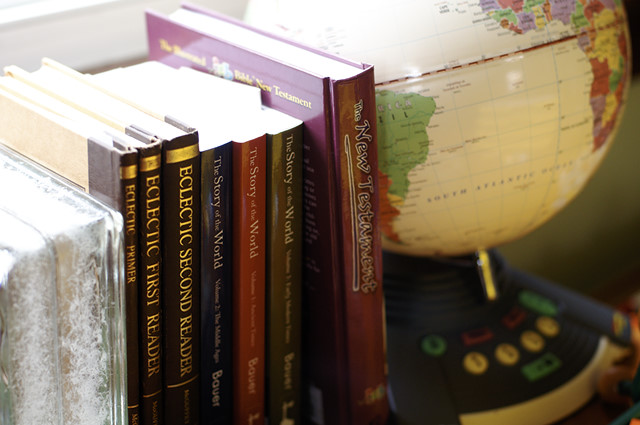 2. Hands-On & Real Life
What good is it to learn something if it doesn't impact your daily living or how you view and interact with the world?
I contend you don't actually "learn" something unless this internalization happens.  Whereas reading is a "head game", the real life stuff we do to study the world is what really gives those ideas life.
Community - Community involvement and accessing resources in our own town and neighborhood is so imortant. This is history and cultural study the kids can readily identify with. Museums, historical societies, local galleries and music, roadside graveyards even - are all local resources to learn the history, culture and geography of our back yard.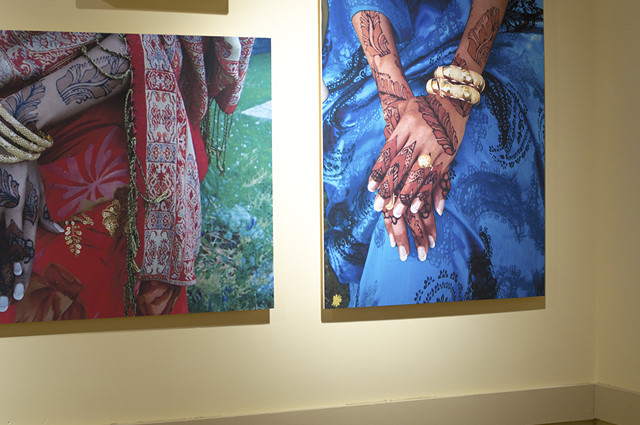 One of our most recent trips was to the local museum to learn about the history of the manufacturing that our town was built around, the immigrants who built those industries and the recent immigrants and refugees to our area who are once again changing the cultural identity of this area. Fascinating stuff.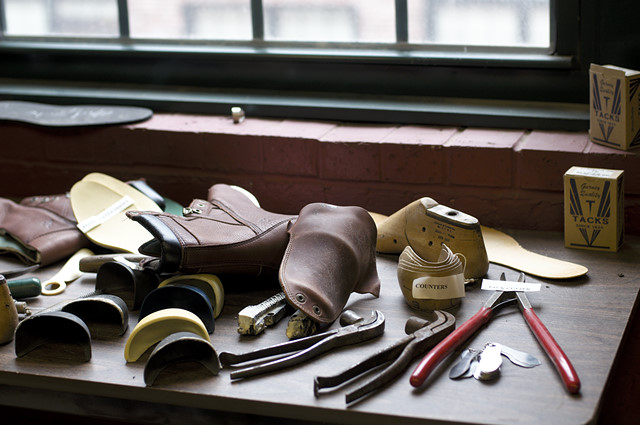 Travel & Adventure - Our children know a lot about the geography of Maine from our weekend hikes and jaunts around the state. We are not the kind of family to stop and read every landmark and quiz the kids on what they've learned about our state. They learn by being a participant in our weekly outings and by touching the very ground with their feet, so to speak.
They also learn about the world by meeting people from other places, both near and far. This is one reason we open our home to friends and strangers whenever we have a chance to do so.
As our kids get older we plan to travel further afield with them and we want them to be comfortable with adventure and exploration and encourage their own world travels once they graduate. For those of us not able to venture very far Heidi wrote a great post on learning geography at Simple Homeschool. Also, Jena just posted how to study your favorite country.
I should confess we don't do much map study or other geography workbook stuff. My kids will go through phases when they study the globe intently, which they all did recently and I hope they remember learning something about the continents and oceans but if not, oh well. They've got lots of time. They'll pick it up later when it becomes important to them again.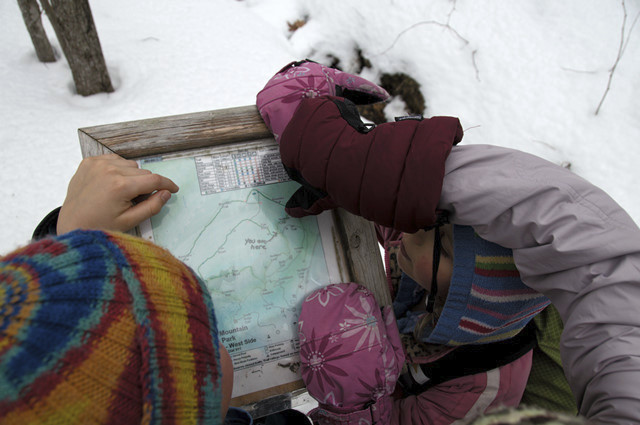 And timelines are just lost on our family, none of us are real date junkies. Just tell us a good story. Now at Celine's age (eleven) we're starting to really research dates to round out our understanding of something we've read. And most often it's to satisfy my curiosty, more than the childrens'.  
3. Design & Play
I'm not which comes first the reading or the play but somewhere in the process of internalizing what they've read, experienced or heard about my kids like to play it out.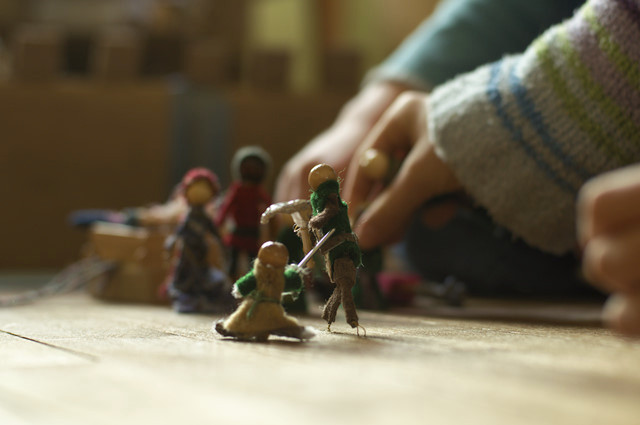 Here's a few things off the top of my head they have done with play and design.
Make figurines of ancient Egyptian Pharoah's court, complete with scantily clad (ahem) "entertainers".
Play spin the globe for fun and try to sound out the countries and remember the continents
Construct elaborate houses and dwellings from various time periods through history, most notably Celine's victorian doll house and a medieval castle.
Build bows and arrows and hunt for game.
Dress up as samurai, pirates and medieval ladies.
Sew dolls and accompanying outfits according to different time periods.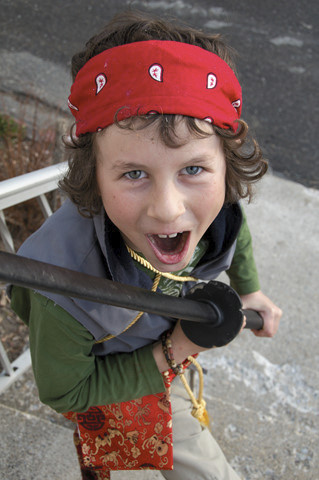 State of our Union
This year to round out my kiddos interests a bit I sought out books on the Eastern Hemisphere. An area their own interests haven't led them to study yet.
Using the Sonlight catalog I found quality books and borrowed these from the library to augment their own eclectic and diverse interests. Interests that are, quite literally, all over the map. In addition we watched appropriate video documentaries on asian culture, geography and history.
This has broadened our horizons significantly and I for one was happy to learn about something other than ancient Rome, ancient Egypt and pioneer life. Over the years we've read books that have touched on each continent and have taken us through many periods of history. This past year our family has studied:
Medieval Europe (always - it's Celine's main historical interest)
Ancient Egypt
Samurai and Asian martial arts
dogs and cats - you'd be amazed at how much geography and history you learn studying animal breeds
Victorian England
North American Natives
Switzerland, inspired by a visit with Swiss travelers
Mars and space travel (or this science?)
Colonial and Revolutionary period United States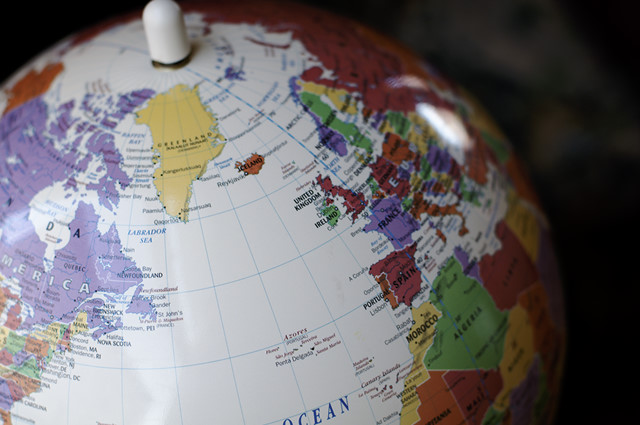 St. Patrick's Day study
In years past we've studied:
Marco Polo's travels
Pioneers and settling western North America
New England/Canadian Maritimes
Seafaring history
And those are just brief lists.
I have no worries that I'm raising historical and geographical illiterate children, in spite of never coloring in a map. We learn something new about the world each and every day. 
How do you teach your kids about world history, geography and cultures?
Filed Under
Resource Library
You can subscribe to comments on this article using this form.
If you have already commented on this article, you do not need to do this, as you were automatically subscribed.