Stories for the Season: Winter Holidays
December 4, 2008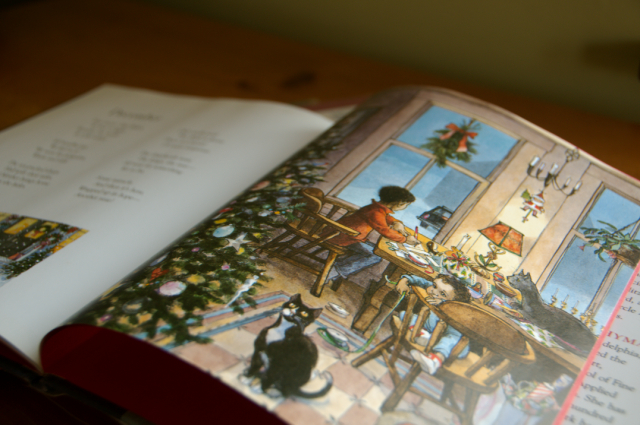 December illustration: from the gorgeous "A Child's Calendar" by John Updike
A snowy day, a couch and blankets, snuggling with stories. It doesn't get any better than this. We love stories and these are a few of our winter holiday favorites this month.
A Little House Christmas: Holiday Stories From the Little House Books A compilation of three Christmas stories (they should just call it for what it is, none of these 19th century American stories are about Hanukkah or Solstice) from the Little House books. So cozy and Christmas-y, recalling a time when an orange, red mittens and candy cane blew your socks off.
The Fourth Wise Man I've only ever flat out cried while reading two books to my children. This one and the The Quiltmaker's Journey. Funny, both books are about serving the poor and lost, giving of ourselves to help those in need. This book was amazing, definitely religious in nature but not in the traditional sense. A tale of faith and devotion, it is a Christmas story unlike any other.
We Were There: A Nativity Story A nice change from all the cuddly and cute animals that are a part of typical nativity stories. How about rats, scorpions, toads and bats? They're all there in this story, and they're even sweet - kind of.
My Prairie Christmas This book is a good reminder that although our lives may seem tough; life as a pioneer on the prairie was down right difficult, Christmas included. But there was beauty to be found and celebrations to be enjoyed just like there is in the here and now. A lovely story of family togetherness in spite of hardship.
Elijah's Angel "A child's vision of religious tolerance is exquisitely played out in this story about an elderly Christian barber and a Jewish child who befriends him. Michael J. Rosen based this story on the real-life Elijah Pierce (1892-1984), a lay minister, barber, and woodcarver from Columbus, Ohio, whose award-winning woodcarvings are now owned by the Columbus Museum of Art." Beautiful story that weaves together Christmas and Hanukkah.
Light at Tern Rock. We read this before bedtime over the course of a couple days. A lovely little story with an emphasis on traditional Christmas celebrations. The story is fairly predictable but leaves you feeling warm, cozy and Christmas-y. I also liked the unique setting of the lighthouse on the east coast (never did figure out exactly where, somewhere close to Maine though).
Mousekin's Christmas Eve A short read aloud about a mouse's quest for a few crumbs and a warm bed. Sweet. But the kid's and I did find a factual error. Snowy owls don't live in forest trees. Their habitat is the tundra and although they migrate south to warmer climes they make their homes on the ground.
Hannah's Bookmobile Christmas "A warm-spirited Christmas story about friendship and generosity, with a touch of adventure." Almost makes me want to spend Christmas Eve in a bookmobile - almost.
Renee Tougas participates in affiliate marketing, including the Amazon Services LLC Associates Program. Whenever you buy something on Amazon from a link you clicked here, I get a (very) small percentage of that sale. See disclosure for further explanation.
Filed Under
Resource Library
You can subscribe to comments on this article using this form.
If you have already commented on this article, you do not need to do this, as you were automatically subscribed.