Spring Tomatoes and Growing Where You're Planted
May 3, 2012
Spring is usually a busy time of year for me in the garden. This year it's busy for a whole bunch of different reasons.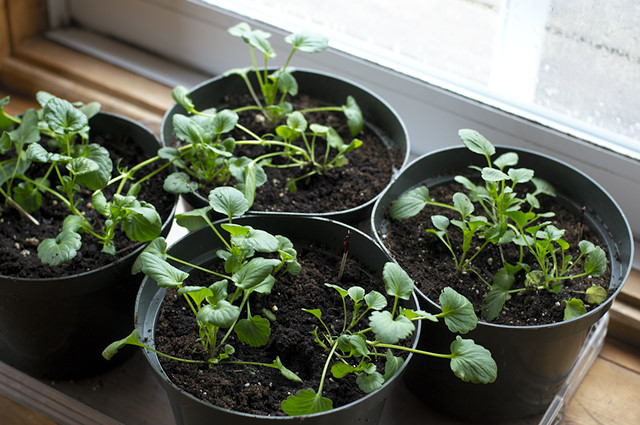 Without a garden I'm in a real season of "blooming where I'm planted" and being creative with what this looks like. Our housing situation is not exactly permanent right now, not even temporary permanent.
Our current rental arrangement expires the end of this month. We're renting an apartment in Montréal for the month of June, and then "settling" into our next home the beginning of July. This is not my year to garden.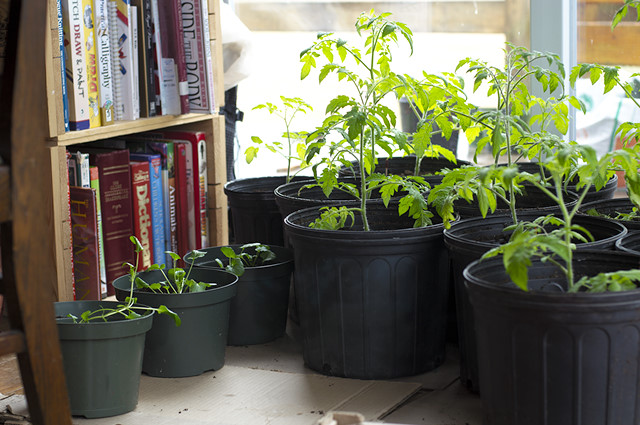 But I can't keep my hands out of growing things, nurturing. Tending a little plot of dirt, even if it's just a bucket of dirt. Or a dozen buckets of dirt.
I'm not the only one in the family like this. I've passed the gardening gene onto the kids. The gardening gene skipped Damien altogether, so it's the kids and I who garden, even if it's just buckets that take up precious real estate in our tiny cabin.
I have a thing for summer tomatoes (a love affair truth be told) so early this spring we started seeds for a container-friendly variety of cherry tomatoes. The kids and I also have a thing for blossoms. To meet that need we planted pansies.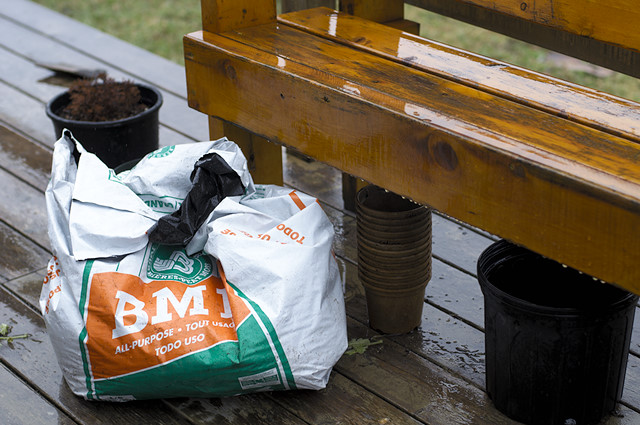 Pansies and tomatoes, the sum total of our garden this summer.
I bought the seeds on an impulse on a cold day in February. The first week the gardening stuff was on display in the grocery store. I couldn't help myself! Even though I had no idea where we'd be this summer - traveling or living locally - I wanted to plant something. 
My gardening, local-farm-loving soul has had an interesting time (read: sometimes difficult journey) since moving to the Gaspé. I miss Maine's longer growing season. Oh yes, the United States most north eastern state has a longer growing season than our peninsula. I miss the farm where we had a share for years. I miss our farmer.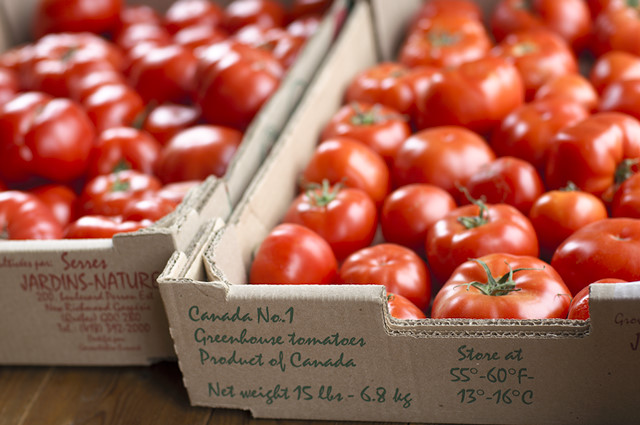 But we're making connections here. Finding the farms and tapping into the local resources, of which there are many.
Our friends (also our telemark instructors) work at the tomato greenhouse in town. It's actually quite the production. Local, organic, soil grown tomatoes (not hydroponic) available almost year round in the Gaspésie, and beyond. I'm pretty sure they truck these babies around the province.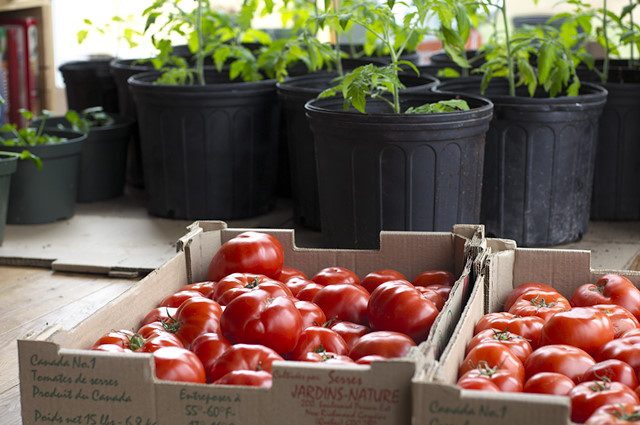 We live in winter wonderland here and tomatoes don't have a long growing season in climates like these so a greenhouse like this is ingenious. And we happen to be friends with one of the genius' who got it going.
Recently we've been given tomato "cast-offs". The most recent pick up was 30 lbs. I'm in tomato heaven. We're eating tomato soup, stocking the freezer and dehydrating them. Handy, as the dehyrator has been running all week for our backpacking trip this weekend.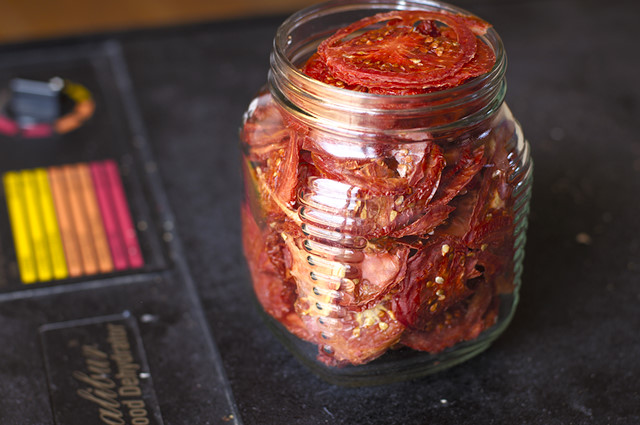 There are two local csa farms to choose from for our summer vegetable share. They call them "baskets" around here. We chose the one closest to us, with a weekly pick-up location on the beach. The kids are going to love this. The first baskets will ready the week we get back from Montréal. That's when the berries will be ready for picking also. I need to get a freezer.
During these winter months we belonged to a group that connects local producers and growers with consumers. We were able to buy frozen blueberries, homemade bagels and pitas, carrots, potatoes, cabbage, herbs, and (if we were into that) raw cheeses.
For the size of the population that lives here there's a lot going on in the local food movement. (I'm wracking my brain to remember if there's a traffic light in town, or the next town for that matter. Ah yes, there's one. Where a main highway intersects another main highway. We currently live on one of those main "highways".)
Québec in general has a strong organic (biologique) movement and strong farm culture. I've very grateful for that. Even if I find the growing season to be frustratingly short. I want green leaves on the trees - now!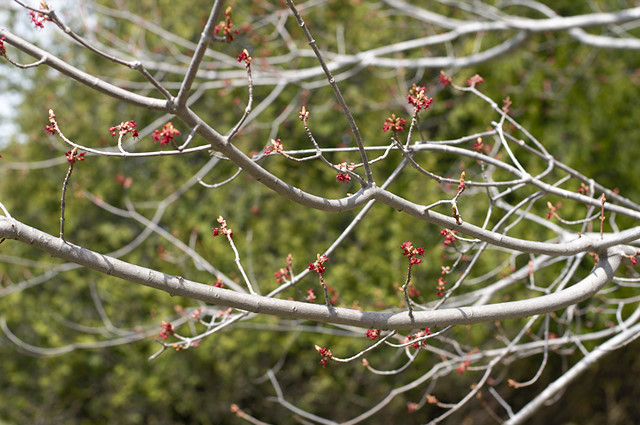 Speaking of local food, I'm a founding member of a food buying club in our community also. We place our first order this week. I've got to get on that.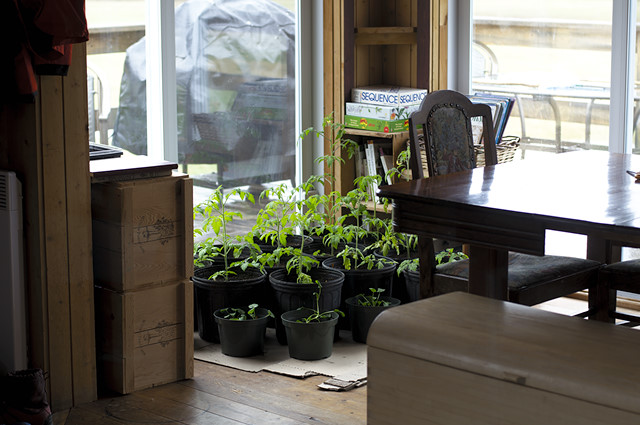 If we stay at the next chalet for a couple years (that's our desire) I may plant a small garden next summer. But there's deer to contend with. Lots of deer. We'd have to build a 7 foot fence or something like that to keep those hungry ruminants out of our lettuce. We may just decide to let the farmers grow it for us and let them deal with the deer.
Farms, food clubs, tomatoes - these are a part of my food culture and I'm finding those pieces here in the Gaspé.
Now I just need to find some tomato-sitters for the month of June. 
You can subscribe to comments on this article using this form.
If you have already commented on this article, you do not need to do this, as you were automatically subscribed.