Small Yard Composting
April 27, 2010
A while back a reader e-mailed me about composting. They wanted to know do I compost? and if so, do I have any ideas for cheap indoor compost containers?
I answered the questions something like this. Yes, I compost, it's as daily a task as laundry or meals. And at one point I vermicomposted and used an inexpensive heavy duty plastic container with holes cut in the bottom for drainage.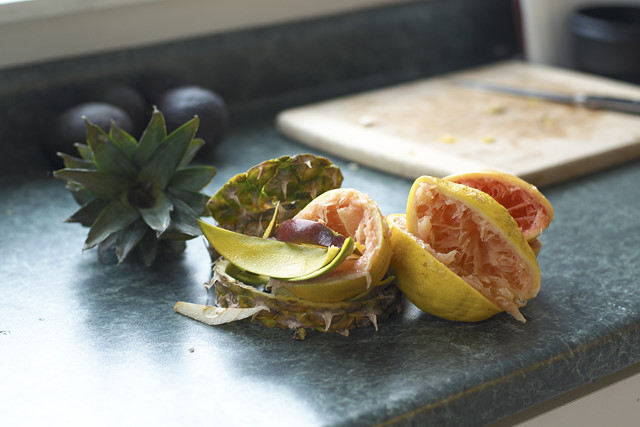 And now it's time for the rest of the story since there's more I'd like to say about composting, specifically in a small yard.
Composting 1-2-3
Composting is very easy and because it's totally natural, happens regardless of our intervention.
However, the better you manage the three basic elements the quicker you'll have "black gold" to add to your garden. Also, a well managed compost will be less smelly and be more pleasant to deal with. This is decomposition we're talking about afterall.
Moisture. Not too much, not too little.  It should feel moist in your hand but not leak moisture if squeezed.
Oxygen. This is why you need to turn or stir the compost. There needs to be air spaces between the particles of organic matter for the best "performance" (reduces smell and increases rate of decomposition).
Browns & Greens. Technically the right ratio of carbon to nitrogen. Brown matter, generally dried and dead matter, (ie: dried leaves, straw, shredded cardboard) is high in carbon. Green matter, generally fresh and moist matter, (ie: weeds, food scraps, seaweed) is high in nitrogen. If your compost smells rotten - too much green stuff. If it's decomposing really slow - not enough greens. There's a balance to be found, call it the compost yin & yang.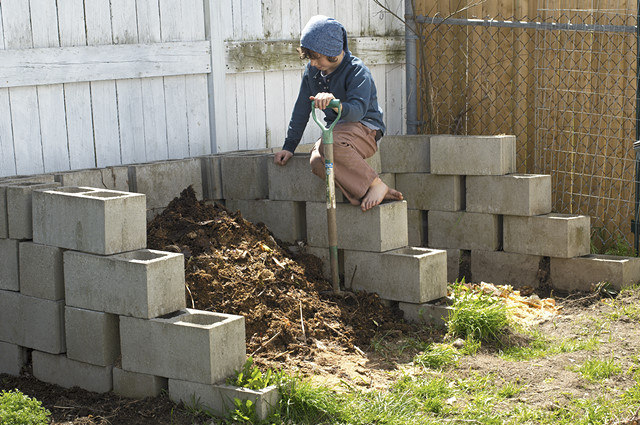 Urban Yard Realities
I've been composting all our kitchen and yard waste since moving here 5 years ago. Before that the home we rented had less than a postage stamp for a yard (no yard waste) and I vermicomposted most of our kitchen scraps, though I'm not the expert on that topic at all. My worm bins were soupier and smellier than I would of liked. I couldn't get the right mix of the three basic elements.
When we bought this home and had our first real (albeit small) backyard my top priority before building garden beds and planting was to establish a compost area. Our whole lot is a total of .10 acres, most of that is house, which leaves not a lot of yard and even less precious space for recycling waste. But the basic tenets of composting: building soil and reducing the waste stream are very important to me.
Where we live, the city does not collect compostable waste. You either trash it or compost it yourself. Obviously, there's only one option in my mind. So regardless of the temperature, ice and snow pack or trouble to build and maintain we compost everything we can all year round. And it works. Really well.
Because our soil is contaminated with lead, enough that we shouldn't eat greens or roots that grow in it (berries, fruiting & seed vegetables are fine) we have a two part system to separate our yard waste - which cannot go into our raised bed from our kitchen scrap compost - which can be added to the raised bed.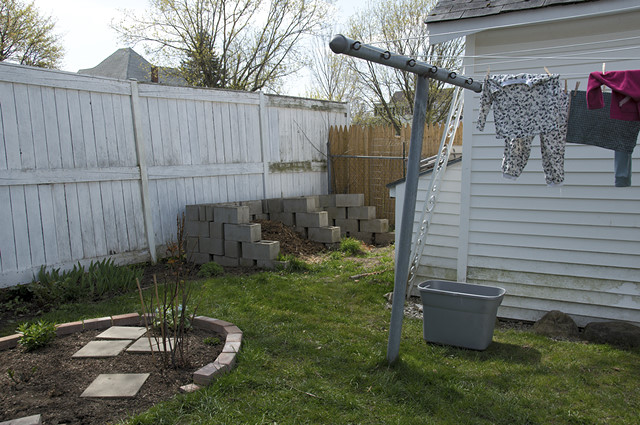 Kitchen Scraps
Our first attempt at backyard composting was to buy one of those black upright bins. It looked like this (photo is not ours but shows you the style). This proved to be inadequate for our needs since we compost all year round in a cold climate and eat lots of plant matter that generates a lot of scraps. Simply not enough space in one of these babies. 
This was the compost area we built instead, two compartments side by side to rotate "curing" compost and "feeding" compost. I don't know what other people call it but whenever we add a bucket to our pile we call it "feeding the compost".
One side of this concrete structure is for feeding and the other gets to rest and cure to really decompose well to be used in the gardens. Because it's lead free we can use it in the raised bed but if we have extra I put it wherever I need it, it's rich stuff.
We use the usual method of bucket under the sink to collect any and all scraps, including paper tissues (we don't use cloth yet). We collect a lot of material since we eat a lot of vegetables, this is basically all greens. For browns we add our pine pellet cat litter. If we didn't have this we would need to find another material such as shredded paper.
I don't cook with animal products so I couldn't advise on how to deal with bones and such. Our tenant adds eggshells to the mix, which aren't a problem for attracting critters or vermin.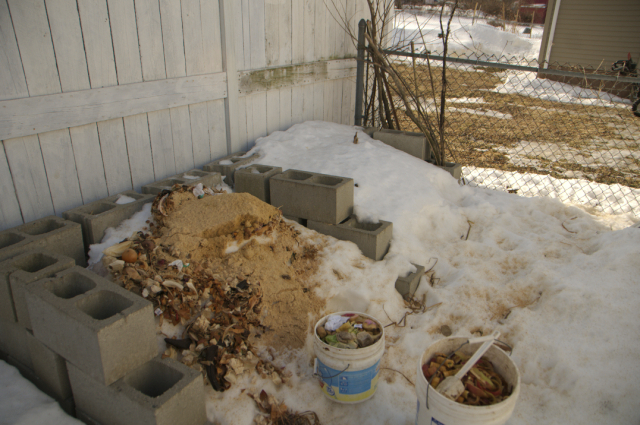 We feed our compost all winter long. It's frozen solid most of the time and we just keep dumping on top of it. But come spring those worms are hungry and in one month will "eat" it down to a pile like this (left side in photo below). This pile still needs to sit another month before I use it in the garden.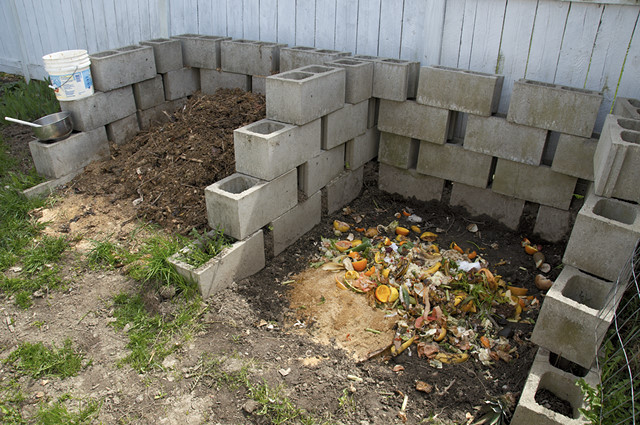 To my great gardening regret I have never been able to produce a hot compost. One that really heats up, due to all the micro-organism activity, enough to kill seeds. I've had some great specimens sprout from the compost, especially squash and I usually transplant a couple of these volunteers elsewhere in the yard before I turn the rest over with the pitchfork.
This system is almost flawless and really easy.
Feed, feed, feed - browns and greens.
Turn when you remember and delight in all those beautiful worms.
Let sit a bit. Couple months should do it or until you can't recognize much in there except the occasional avocdao pit.
Add to your gardens.
My children can attest to how happy my compost makes me. To see hundreds of thousands of worms digging, eating, reproducing - does my heart good.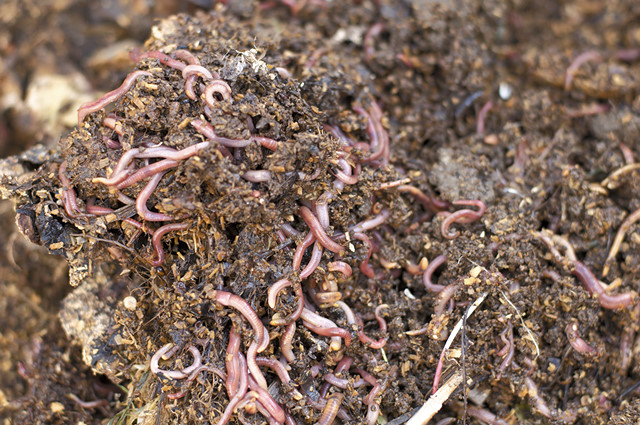 Yard Waste
We separate the bulk of our yard waste from the kitchen waste for two reasons.
Anything growing out of our soil, especially parts of the plant that are high in mineral concentration (think dandelion leaves for example) will have high levels of lead that we don't want to add to the kitchen scraps.
Woody perennial pieces, the bulk of our yard waste, take quite a bit longer to break down in our composter. 
What to do with this yard waste has perplexed me for a while. For years I've dug a separate small pit for it between our driveway and the neighbor's house. I would dump it there and add dirt left over from gardening projects around the yard. But it never composted, just sat there. Not so pretty. I think I may have even garbaged some of it in desperation. (Unfortunately, with really toxic plants - due to toxic soil - this may be a gardeners only choice).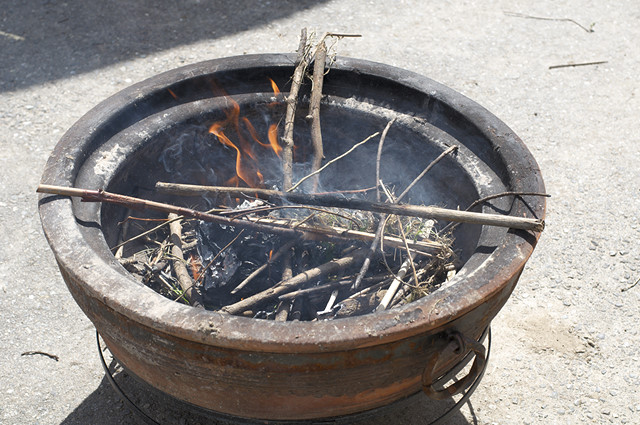 This year I finally stumbled upon a solution thanks to Francesca's great article on tidy gardening at Simple, Green, Frugal Co-Op blog.  I've decided to burn the woodiest waste and continue with the unsightly "heap" for the weeds. The minimal amount of air pollution this burning generates once a month or so is better than trashing it.
Assuming you can have fires where you live I think burning the woody plant material is one of the best options for a small yard gardener. This is what I'm using for my raspberry & rose canes, butterfly bush stalks, lilac bush prunings... you get the idea.
The rest of the bits and scraps, mostly weeds, are going into this mound pictured above (behind the trellis). I'm attempting to pretty it up by planting flowers on the front of the trellis, rescued from under our neighbor's deck (remember their home is abandoned due to a fire). We don't have leaves in our yard and other brown matter because we don't have any trees! Otherwise I would add them also or maybe add them to my kitchen waste (with the ok from the university cooperative extension lab test).
Composting when you have 5 acres of farm land is no problem but for us city dwellers it takes a bit more thought, especially those of us living in older cities with soil contamination. But it can be done even in a small yard.
How do you compost in a small yard or with no yard? Please share your tricks and tips (links to blog posts always welcomed).
Edited in Jan 2020 to add this link -> Composting at Home: A Complete Beginner's Guide
Filed Under
Resource Library
You can subscribe to comments on this article using this form.
If you have already commented on this article, you do not need to do this, as you were automatically subscribed.