Simple Beauty Minerals: A Mother/Daughter makeup review
October 8, 2015
My cousin is getting married this weekend. The wedding is in Chilliwack, British Columbia and I have arrived, a couple days early, to spend time with my aunts, cousins, and grandparents who live in the lower mainland.
I haven't been to a wedding, nor have I visited with my west coast family for ages. This trip has been months in the saving, planning and scheduling and I'm so happy to be here.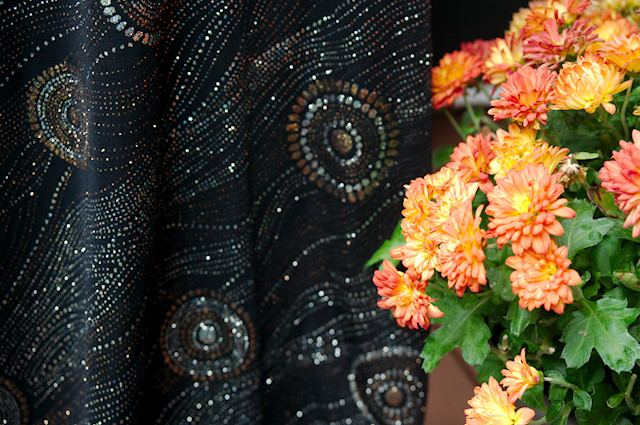 I don't dress up much, nor do I wear makeup very often so these are two things I'm a little anxious about in going to a wedding with all my stylish aunties and cousins. Most of my cousins are beautiful young women in their twenties. My aunties are older, obviously, but they are stylish and sassy, all six of them. They get it from my grandmother.
The first grandchild, the oldest niece, the oldest cousin, I've always felt most comfortable on the casual side of the spectrum.
But a wedding calls for something more than casual. I have the sparkly black dress, the open-toed, high-heeled black shoes, and jewelry on loan from my mom. I even have some makeup.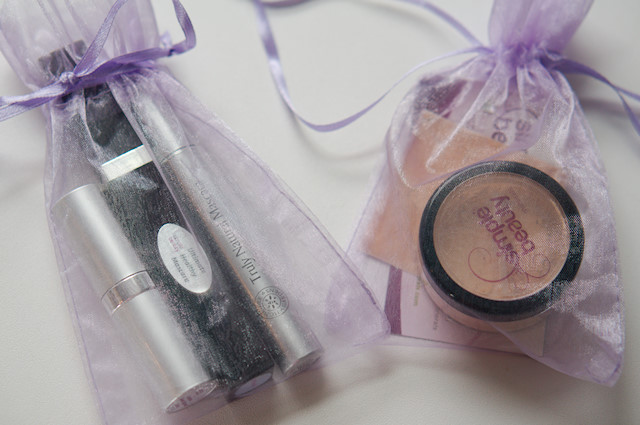 Regular readers know that Brienne is the big makeup wearer in our house. I don't share her creative interest in this area but I can appreciate her passion for beauty and self-expression. I have the same passions, I just express them in other ways.
Brienne LOVES makeup, she studies what is good for skin and hair, she researches products, and creates her own. It's just her thing. As for me, because I don't wear makeup very often I don't own any makeup, and because I don't own makeup, I don't wear makeup. But I've been wanting to re-route this loop, to actually own some makeup so when the need or desire arises, I have something to play with. (I've been borrowing from the girls for the last couple years.)
So when Simple Beauty Minerals contacted me to review their products I knew this would be the perfect project for Brienne and I to do together. I needed some makeup and Brienne "needs" more makeup.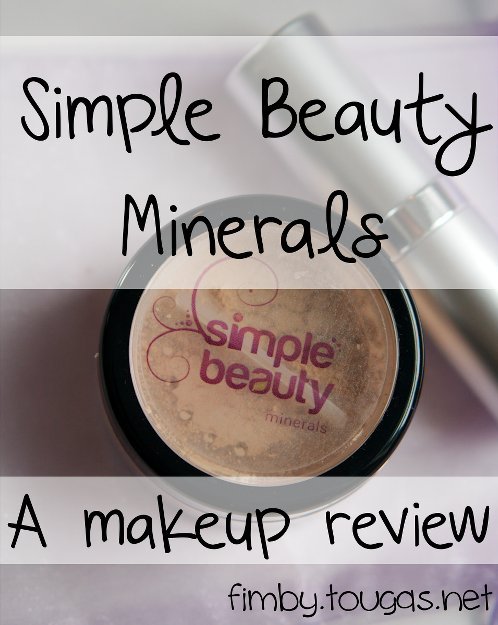 Simple Beauty Minerals sent Brienne and me four products for review.
Brienne received a mineral foundation and mascara. I tested a lipstick and mascara.
Our first impressions upon receiving our makeup was that we liked the packaging. There was a certain "bling" to the presentation which really resonated with Brienne who loves all things sparkly and girly. From the purple gauze bags to the rhinestone adorned contact card, Simple Beauty Minerals makes you feel special and pretty before you even put the makeup on.
Simple Beauty Minerals asked us specifically to test their mineral foundation. I was most interested in the mascara and lipstick so we choose a foundation for Brienne to experiment with.
Simple Beauty Minerals offers many foundation choices for different skin types. So that was our first task, to figure out Brienne's skin type. Once you know your skin type you shouldn't have any problem finding a foundation from the many options at Simple Beauty Minerals.
Brienne tested the Warm 2 Perfect Cover Mineral Foundation. At first, she didn't think it was the best match for her skin tone but after a couple trial applications Brienne noticed that the color blended well with the skin tone under her eyes. Overall, Brienne likes the medium coverage this foundation provides.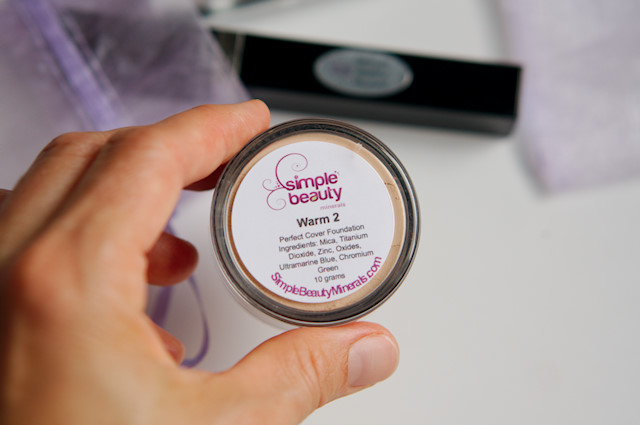 I tried the foundation also. Brienne and I have very similar skin types and I wanted to see for myself what a foundation layer would look like on my skin. This is a mineral powder foundation and I like the matte effect on my skin but it looks too dry under my eyes. So Brienne, who loves to experiment with makeup, came up with a makeup hack to solve that problem.
The girls and I use straight Argan and/or Jojoba oil to moisturize our skin. Brienne mixed some of the foundation powder with a drop of jojoba oil to create a moisturizing foundation for under my eyes. Voila. The effect was much improved over the straight powder application.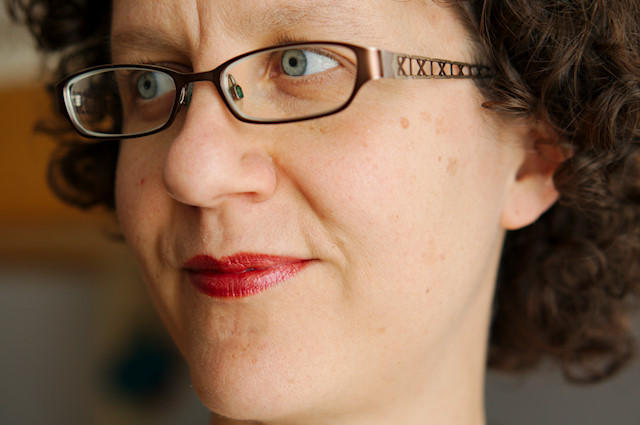 I don't know that this is how the product is intended to be used but it works for us.
Both Brienne and I love the Simple Beauty Mineral mascaras we were sent to try. The Jet Black Ultimate Healthy Mascara is perfect for my needs. As I've mentioned, I rarely wear makeup but there are some occasions, like my cousin's wedding this weekend, that I want to add a little ummphf to my appearance.
"Buy a healthy mascara" has been on my to-list for at least two years now. It's been years since I've purchased mascara and the last time I bought one there were very few "healthy" options on the market.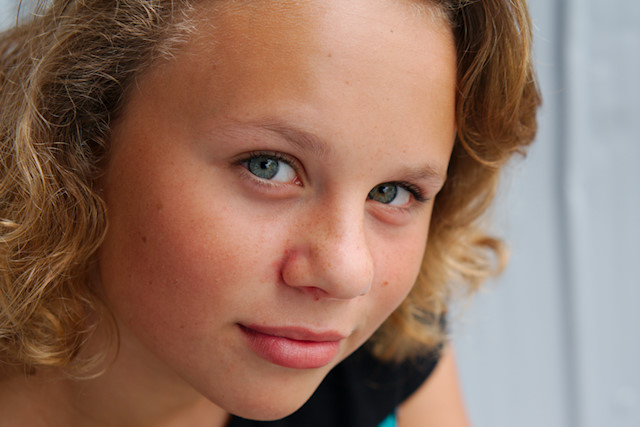 Healthy is a subjective word so here's how I define it. I use the Environmental Working Group's Skin Deep Cosmetic Database to assess the skincare products our family uses. Because of Brienne's keen interest in cosmetics this has become a valuable research tool in our home.
Sometimes the product is in the database and a simple search for the product name will bring up a rating for the exact item. It's not a perfect assessment tool, many products are not in the database and you have to search by ingredient, and there is limited data available for many ingredients.
For a small company like Simple Beauty Minerals, whose products aren't yet in the database, I searched by individual ingredient to figure out what the rating was for the mascara.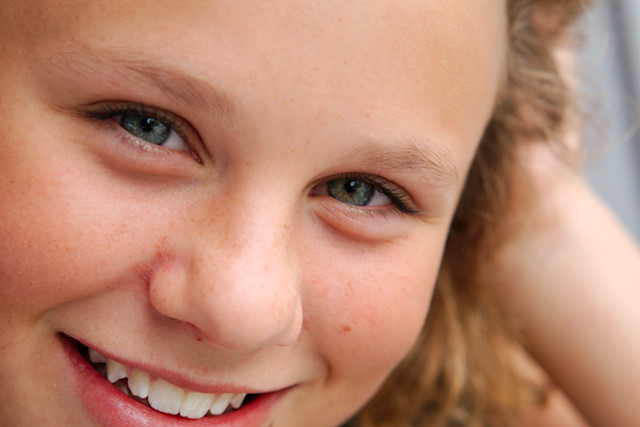 According to my research, the Jet Black Ultimate Healthy Mascara gets a slightly better rating than the Black Magic Healthy Mascara, which is what Brienne is wearing, but both end up with a low hazard rating based on the concentration of ingredients in each.
This is my definition of a "healthy" product, if it gets a green low hazard rating from EWG.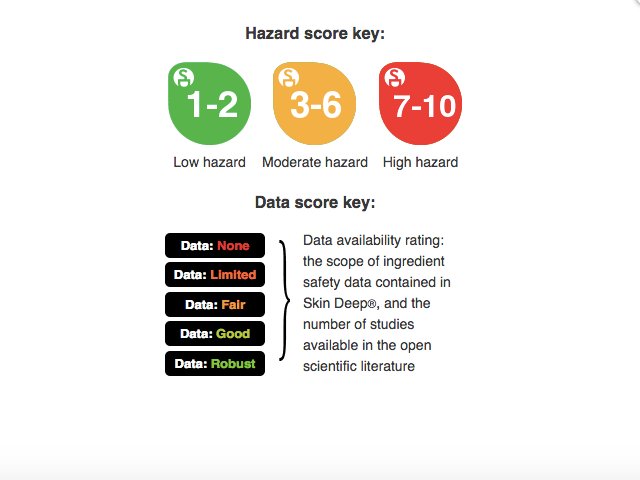 I really like the mascara, it highlights my eyes and if I want more emphasis I can add another layer. Brienne concurs, in her words, "the mascara looks natural but makes eyelashes darker and longer, and it can be layered." We both agree this probably isn't the ideal mascara for you if you want a really dramatic look, but it's perfect if you want an enhanced natural look.
In addition to mascara I have been trying the Sweet Spiced Berry Mineral Lip Color. I'm out of the loop with makeup styles. I don't know if bold is in, or maybe the look is muted these days. In my opinion, if I'm wearing lipstick I want it to look like I'm wearing lipstick, so I went with a darker color.
I was disappointed that the "stick" broke at the base on its second use, perhaps natural lipsticks are more prone to that, or maybe I'm just a brute. It reattached well but I'm more gentle with it now.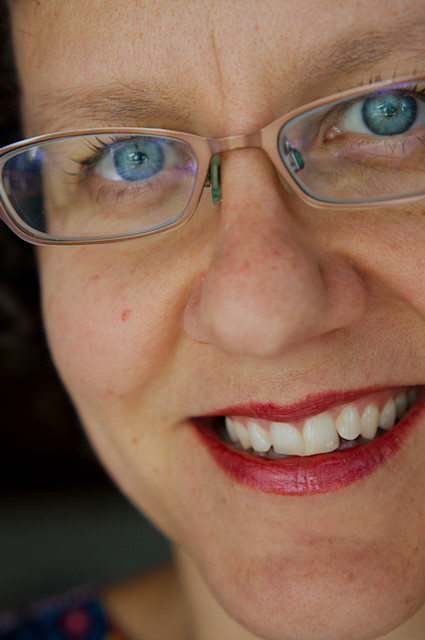 I like the color and the lipstick goes on smooth but I think if I was to get really serious, i.e. more regular, about wearing lipstick I'd benefit from using a pencil or some other lip liner.
I'm much more comfortable wearing mascara than I am lipstick. I feel self-conscious wearing lipstick and I worry it's smudged on my teeth or is "bleeding" around the edges. I suppose a pencil would help that. And I think I look older wearing lipstick, not younger. Maybe I'm choosing the wrong color? Maybe muted is best?
Here's where I feel makeup is fraught with too much uncertainty for the very-casual wearer like myself. For someone like Brienne wearing makeup presents the opportunity to experiment, an artist's palette to play with. For me, it feels a bit like a minefield, not knowing if I'm making the right step, is this too bold? to understated?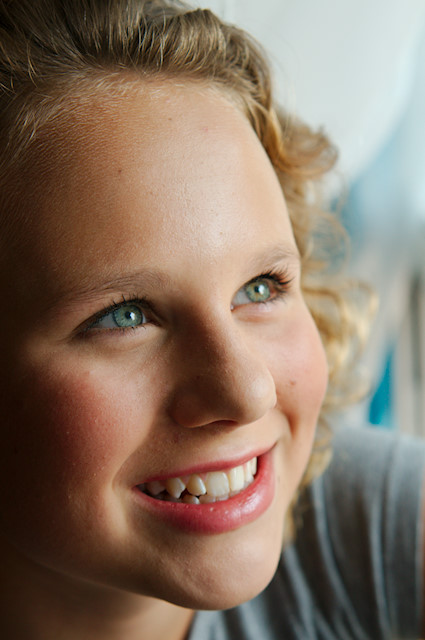 I think the most important thing is to find the place, or the look, where you are comfortable in your own skin, that place where you feel good about yourself (as cliche as that sounds). For me that is an unadorned state, whereas Brienne prefers a look that is more embellished.
Even though I'm not personally confident with makeup in general, I'm confident about the quality and care of the products created by Simple Beauty Minerals. I love that when I do want to wear makeup, for a bit more color or so I don't looked washed out in family wedding photos, I have skin-healthy products I can use and safely recommend to my daughter.
I also appreciate Simple Beauty Mineral's unique stance against photo shopping images of women on their site. The photos in this post, as with all my published photos, are edited for white balance and color correction but I don't "touch-up" or otherwise change the photo to enhance features.
In addition, Simple Beauty Minerals is a small family business founded by a homeschool mom. What's not to love?
If you are interested in trying Simple Beauty Minerals sign up for their newsletter to get your
20% off coupon
.
Filed Under
Resource Library
You can subscribe to comments on this article using this form.
If you have already commented on this article, you do not need to do this, as you were automatically subscribed.