Simple Beauty in the Kitchen (an Idea for You)
January 13, 2012
FIMBY is experiencing some technical difficulties these days. If load times and commenting are slow (& quirky), I apologize. We're Damien's working on it.
I used to use my Simple Soap for washing dishes. Two years ago I wrote about finding a pretty way to keep a bar of soap and baking soda at the sink. I like pretty.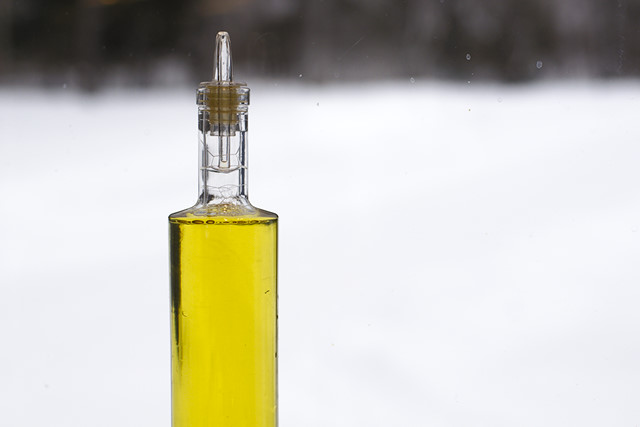 Using a bar of soap to wash dishes seemed kind of strange at first but it worked. We'd lather up a dishcloth - mesh dish cloths work especially well with a bar of soap - and rub it on the dishes. The sink would even get some bubbles going in it (bar soap does not produce a sink full of suds like liquid soap does).
Then we moved, first to my parents and now to the chalet. And the water here is different and the bar soap doesn't work so well for washing dishes. Correction, it washes dishes well but leaves a yucky film on the sink that is a pain to clean every day. And I don't have the patience for that. 
I have yet to make a batch of laundry soap, I'm down to the last drops of the stuff I took with me from mom's house when we moved in November. I'm hoping my soap works OK for washing laundry because I do like making and using my own laundry soap.
So I bought regular dishsoap. Well, not "regular" but earth friendly, made in Quebec stuff from the health food store (took me awhile to find it and in the meantime we had to use regular and man, was that stuff nasty).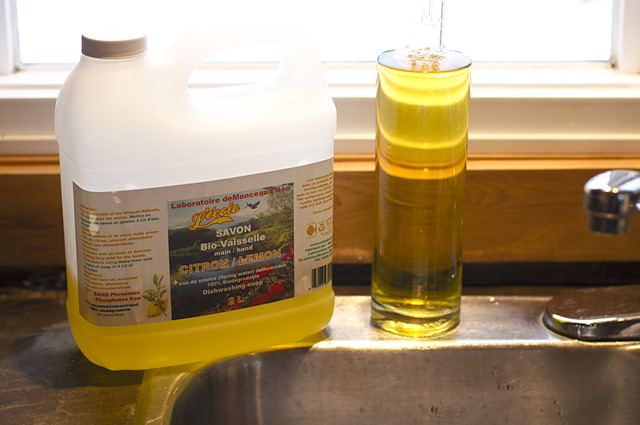 The soap comes in this less than attractive and very large bottle. And I like pretty. Even better I like simple and pretty.
Damien's gorgeous (Christmas stocking present) rum bottle to the rescue.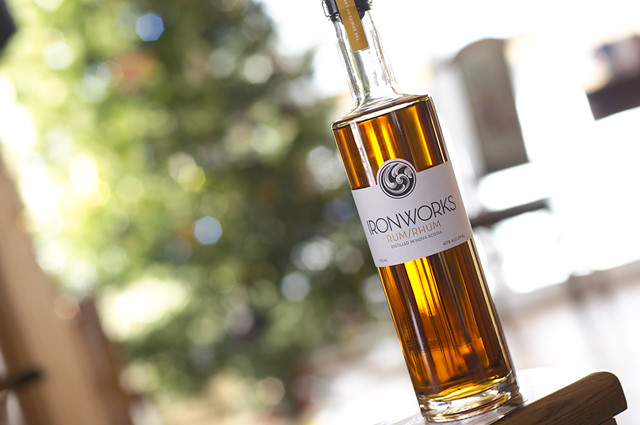 I'd been eyeing this bottle ever since he opened his stocking. I even photographed the rum because it was just so beautiful with the light shining through it, all golden and warm.
As soon as the rum was gone (much too soon as far as Damien was concerned) I re-purposed it for a dish soap bottle.
It was my mom (a purveyor of great kitchen and food ideas) who introduced me to these neat little pouring spouts. Mine spout is plastic but I think these chrome ones are quite sweet. I picked up two years ago at a kitchen store somewhere, or did my mom give them to me? We also have one on our maple syrup bottle but I think they could be used lots of places in your kitchen.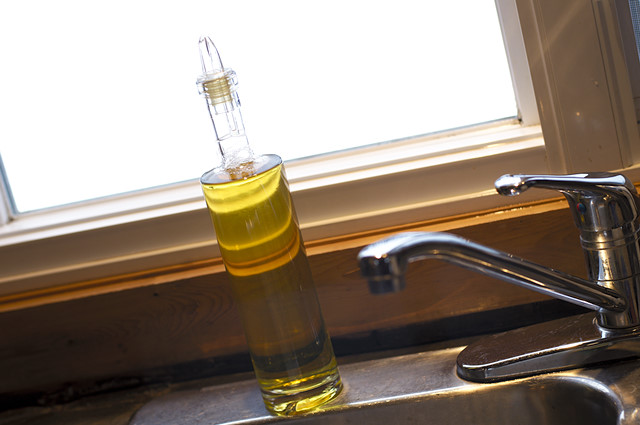 I wanted to share this with you because it's a simple way to add beauty (and functionality) to your everyday. And those are my favorite kind of ideas - something that is both beautiful and useful. William Morris would approve.
Do have any beautiful, functional and simple homemaking ideas to share?
Renee Tougas participates in affiliate marketing, including the Amazon Services LLC Associates Program. Whenever you buy something on Amazon from a link you clicked here, I get a (very) small percentage of that sale. See disclosure for further explanation.
You can subscribe to comments on this article using this form.
If you have already commented on this article, you do not need to do this, as you were automatically subscribed.