Rich Moisturizing Lotion
January 15, 2009
I decided to make this lotion with richer oils than I usually use to give our skin extra protection and moisture for winter.
I had planned to call it Green Goddess, there was so much green in it. The herb infused olive oil made this past summer with fresh garden herbs, the green tea extract and the eucalyptus oil (technically not colored green but smells green!). But the yellow beeswax and pale cocoa butter won out - it ended up a creamy yellow color, so I've named it Mellow Yellow instead.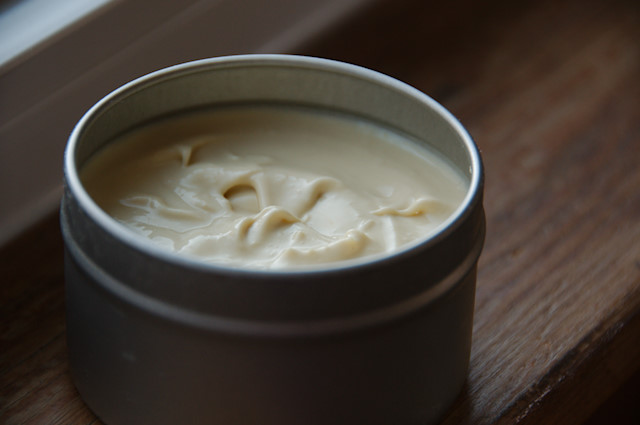 Ingredients
1 1/2 ounces cocoa butter/jojoba mix (or plain cocoa butter)
1 ounce avocado oil
1 ounce apricot kernel oil
1/2 ounce herb infused olive oil, plain extra virgin olive oil is fine
1/2 ounce beeswax
4 ounces green tea or distilled water
1/4 tsp. borax
30 drops grapefruit seed extract
10 drops eucalyptus essential oil
10 drops geranium essential oil
Method
1. Prepare green tea infusion (my very un-official method):
Steep 2 bags of organic or high quality green tea in 6 oz of boiling water.
Let sit it comes to room temperature. Squeeze all liquid out of teabag and then measure 4 ounces.
(Next time I want to try using the green tea alcohol extract that I have brewing right now in my cupboard.)
2. Weigh the oils and beeswax. Melt over very low heat, stirring occasionally.
3. While the oils and beeswax are melting, stir borax into green tea extract or distilled water. Whisk thoroughly to dissolve the borax as much as possible.
4. Remove the melted oils and beeswax from the stove and add the green tea extract/water and borax mixture. Mix with hand blender or mixer until creamy and thick.
5. Stir in grapefruit seed extract and essential oils.
For a photo tutorial of this process please see How to Make Lotion ~ A Photo Tutorial.
Notes
This recipe is runnier than my usual batch. I'm not sure if that is due to incorrect measurements or the different properties of the oils I used. I poured it into jars but I wish I had a little squeeze bottle for it instead, although either will work.
This is a very lovely lotion and I have received compliments on it from other people, ok my mom. But she's tried my others and she liked this one a lot. So do I.
Our family uses this lotion for all our moisturizing needs - face, body and hands. One jar for every purpose, nice and simple.
Shelf life
This cream should last for 4 months or so, but if you see mold growing, discard. If you pour it into several containers you can keep some in the fridge until you need them. I've never had mold grow in mine and they last 6 months or so before they are all used up.
Making kitchen cosmetics requires cleanliness to inhibit bacterial growth. Purified or distilled water is used for this purpose. Also, thoroughly clean utensils and counter surfaces before weighing and mixing. Refrigerate your lotion to be sure it won't spoil.
About Borax
I guess there's some debate these days on the safety of borax. Until I know more I'm still using it because if you don't the cream will separate. From everything I've read borax mixed with water is safer than as a powder that can be inhaled. Even if it isn't bad for you that just seems to make sense.
I have tried to develop a borax and GSE-free recipe. Grapefruit Seed Extract is a controversial ingredient and not as natural as it sounds. Unfortunately, the recipes I've tried without these ingredients have not been successful.
Without borax, my lotion always separates. And my latest batch, without GSE, also started to grow mold. I'm not sure if that was due to no GSE or simply coincidence.
If you wish to avoid GSE my advice is to make small batches, even smaller than this recipe, and keep it in the fridge. Alternately, use tea tree oil, a truly natural anti-fungal ingredient.
If you wish to avoid borax, you can try baking soda, as recommended by several commenters.
For the complete story on using, or not using Borax and GSE in homemade skin care products see The Low-Down on Borax & GSE.
---
Wondering where to buy supplies? Check out Mountain Rose Herbs. Also see this page with a list of suppliers.
Filed Under
Resource Library
You can subscribe to comments on this article using this form.
If you have already commented on this article, you do not need to do this, as you were automatically subscribed.