Pruning raspberries and cleaning up my heart
April 1, 2009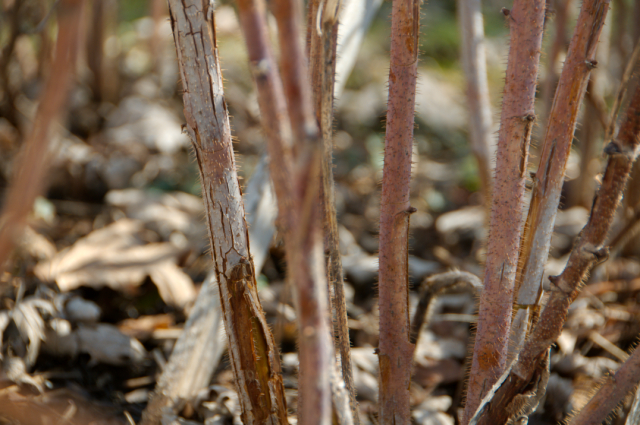 I considered writing this in two separate posts so it would be more readable for the "masses" (all 16 of you) and more (are you ready for this honesty) Google searchable. Oops, did I actually say that? But forget Google, forget the masses! This is my blog I'll write it how I like.
Pruning my Heart
My heart was in a bad place yesterday morning. I guess it had been that way for a couple days. I've let some fear creep in over the past weeks; normally not a problem for me because I see hope and beauty almost everywhere but sometimes fear grabs a hold and it's ugly.
Fear does nasty things to people - just listen to the news. I'm embarrassed and humbled to say I'm no different. I'm so glad none of you were privy to the recent conversations I've had with my husband. Self-pity, envy, selfishness, judgment, pride and then of course guilt for all of the above - all coming from my mouth. Jesus is quoted as saying "For out the overflow of the heart the mouth speaks" (New Testament Bible, Book of Matthew). Now if that isn't the truth!
Because of the Damien's dad's recent death I've been struggling to hold house and home together (mostly on my own). In my fear and anxiety I've been losing sleep and speaking ugliness. I need to let it go. I need to trust, I need to ask forgiveness. I need a clean heart.
So, I went out to my garden. The first time this season. I pruned and prayed. As I cut the old raspberries canes I visualized God yanking out the stuff that's dead and diseased in my own heart (ouch) to prepare for this season's new growth. Creating conditions for a healthy plant that yields a harvest of sweet berries.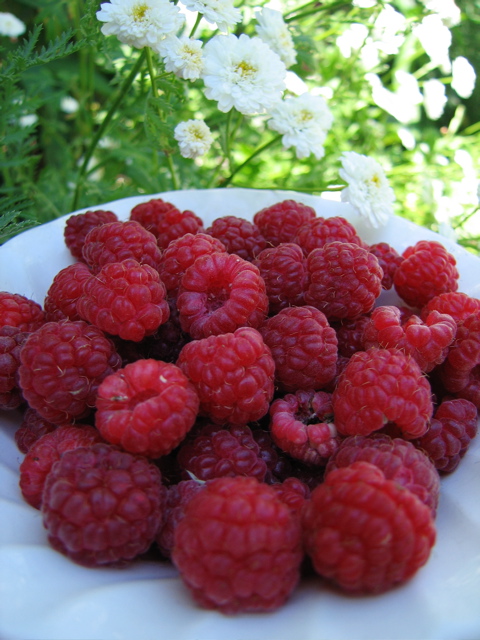 I want to be that.  I'm not naive enough to think that a couple hours in the garden will solve all my problems. A heart, like a garden, is tended season through season in order to bear good fruit. One pruning doesn't do it. But I felt so much lighter after pruning those raspberry canes. I'm fairly certain I met God in that raspberry patch and while I took care of my garden. He took care of me.
Pruning Raspberries
There is no nice transition from matters of the heart to down-and-dirty garden advice so I'll just jump in.
Early spring is the time to prune your raspberry canes. Maybe you've already missed the season where you live but it's certainly early spring here - there's still snow & ice in my backyard. Raspberries, at least the kind I have, bear fruit on the second year canes. Ie: the first year they grow, no fruit. The second year they produce berries. But there's a mix of first and second year growing at the same time so each summer there is canes producing fruit. Yesterday I pruned the canes that bore fruit last year.
To keep raspberries healthy you want to have small groups of canes (4-6 in a bunch) growing at least 1-2 ft apart from each other (for a small backyard garden). Otherwise the plants don't get enough air circulation and are more prone to disease. Suckers will come up here, there and everywhere around those groupings. These can & should be pruned anytime throughout they growing season.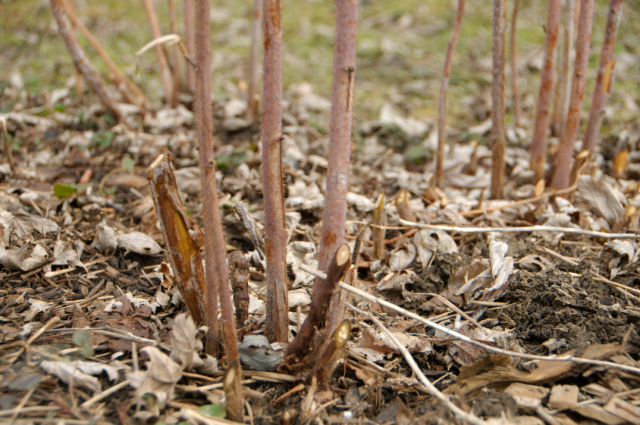 You'll notice in my photos I have more than 6 in some of the groupings. I plan to transplant those out into a new area later this spring so I didn't prune them. Raspberries also need to be supported by a trellis but I'm not getting into that now. That's another day's project. Here's a couple resources for pruning raspberries: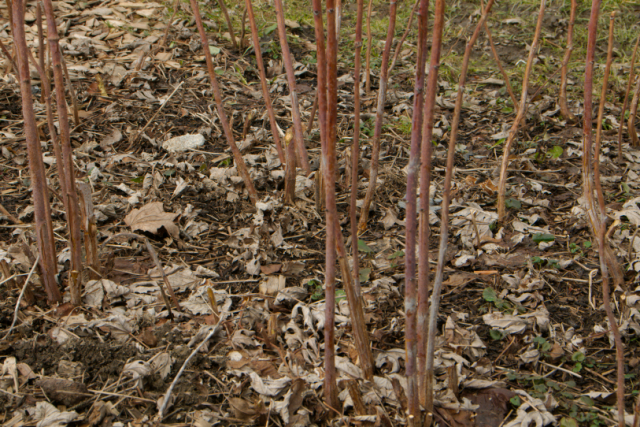 Renee Tougas participates in affiliate marketing, including the Amazon Services LLC Associates Program. Whenever you buy something on Amazon from a link you clicked here, I get a (very) small percentage of that sale. See disclosure for further explanation.
You can subscribe to comments on this article using this form.
If you have already commented on this article, you do not need to do this, as you were automatically subscribed.