Our Winter Schedule
January 8, 2010
I lied. I do have a couple New Year's goals, it just took me a few days of being home from our travels to process them. Apologies to everyone who commented, e-mailed and even posted about identifying with my lack of resolve.
I assure you, I'm still mostly resolution-less. I think my resolutions could actually be called seasonal directions or simply home management goals; less rushing when leaving the house, more reading with the kids, tastier suppers, concentrated support of my children's learning and more focused computer time.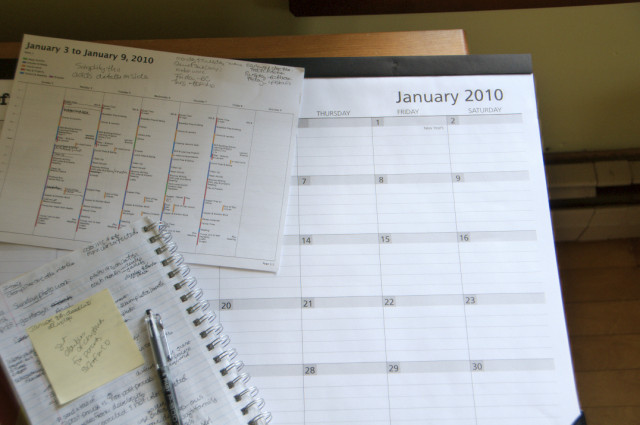 No doubt you have your own areas for growth. But sometimes it's not what we want to do that matters so much as how we plan to do it. For me, if my goals are not represented in my weekly schedule, actually written as reading with the kids, I won't accomplish them. That's just the way I am.
My values are lived out through time management, as geeky as that sounds. If I want to see something happen in the lives of my children, myself or my community I need to schedule a time to progress in those areas. Keep in mind my goals are not grand, but they still require self discipline and organization.
So with that introduction you'll find my winter schedule here.
I am always curious and sometimes a little skeptical about how blogging mommies (certain ones in particular) seem to accomplish all they say they do. I want to know how they structure their days to make "it all" happen and to maybe glean some tips for myself. I'm not suggesting you'll learn anything from mine, but maybe. So take it for what it's worth.
Our schedule serves it's purpose in helping us meet our goals, which is the whole point. About the schedule attached and schedules in general I have the following to add:
Repeat after me: a schedule is simply a tool to help you accomplish your goals. It serves you, you don't serve it. Perhaps I'm the only one who needs to remember that.
One of my life mottos is: if you can't meet your expectations, lower them. If after a couple weeks I discover I was over ambitious in cramming too much into our routine, we simplify it.
My goals have broadened and daily life has become more detailed since my children left baby, toddler and preschooler stage.
I used to use a spreadsheet to plan our seasons. Damien switched me over to iCal and I love it. Easy to change and adapt as you go. I don't use it as a day planner or even weekly planner though. See next point.
I use a large desk calendar for keeping track of monthly appointments, weekly tasks (ie: organize front porch) and daily reminders.
I don't schedule our weekends but the routine is pretty much variations of this theme: one day outdoors as a family, one day for house church/hospitality and working on the house.
I use actual times on my schedule but except for my morning computer time and Brienne's Monday dance class all times are approximate. However, having definite limits for some activities (like checking e-mail) keeps me accountable.
Some days go perfectly according to plan, others don't. Those days are either joyfully spontaneous or have me praying for grace. At the end of the season I'm expecting to look back and see progress in our goals, not perfection.
The kids and I are together most all the time (no childcare hidden in the schedule) and the only domestic help I have is Damien preparing supper on Thursdays. The kids contribute a huge amount to the housework though now, ie: do all the laundry except actually loading the machine.
When we hit a rough spot, as occasionally we do, I apply a similar strategy to Steady Mom, and revert to a bare bones, let's do the basics and be kind to each other type of schedule.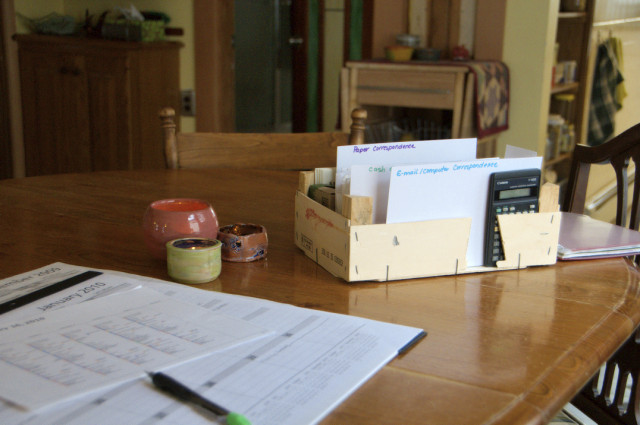 Related Posts:
Feel free to ask any questions about our schedule in comments. And one more thing (I know this is really long), I've got a treat in store for you later this month. A review and giveaway of the new mommy book, Steady Days. Jamie's book starts with a section on getting organized and includes sample schedules and templates. Stay tuned for more on that...
Filed Under
Resource Library
You can subscribe to comments on this article using this form.
If you have already commented on this article, you do not need to do this, as you were automatically subscribed.