Our New Digs ~ Kitchen, Dining and Living Room
May 26, 2011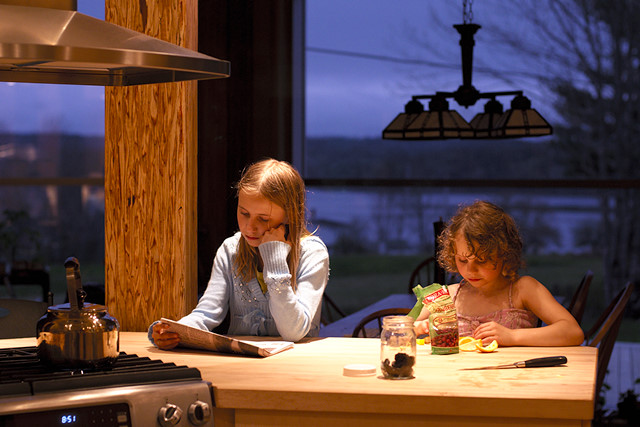 Thank you all for your warm welcome, blessings and prayers for our moving journey. We're starting to find our groove sharing a home with my parents. And we're slowly, a little bit each day, finding all the essentials we packed at the end of last week - clothes, books, and art supplies.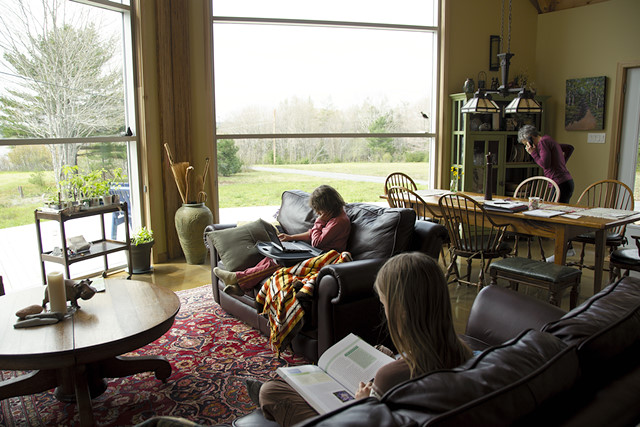 The five of us are currently sharing a bedroom as my parent's home only has two bedrooms. This weekend Damien and I will probably "move out" (leaving the kids with my parents - tee, hee!) to sleep in the camping trailer on the property. The same trailer my parents lived in last summer and fall while building their home.
The sleeping arrangement is really no big deal though as we spend most of our days in the main open living area of the house.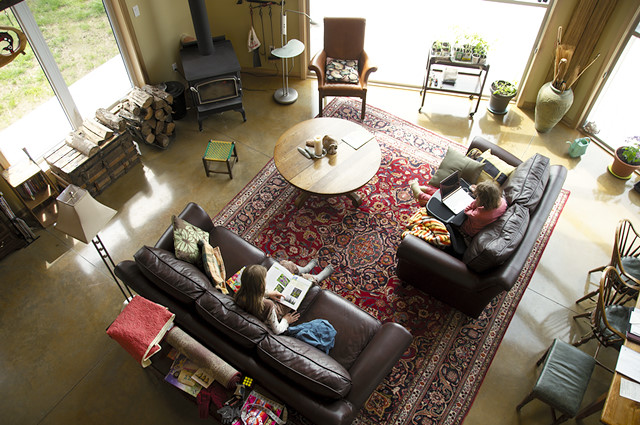 Unfortunately, this spring has been the wettest on record in Nova Scotia for the last twenty years (or something like that) which has somewhat curtailed our outdoor activity. But when your main living area looks like this you don't notice that you are indoors all that much.
You practically feel like you're outdoors in my parent's living room. Inspired by a ship's prow, the floor-to-ceiling windows push out from the front wall letting in copious amounts of light. These windows are also an amazing source of passive solar heat in the winter. It's a great place to view the river and frequent wildlife that passes through the front field.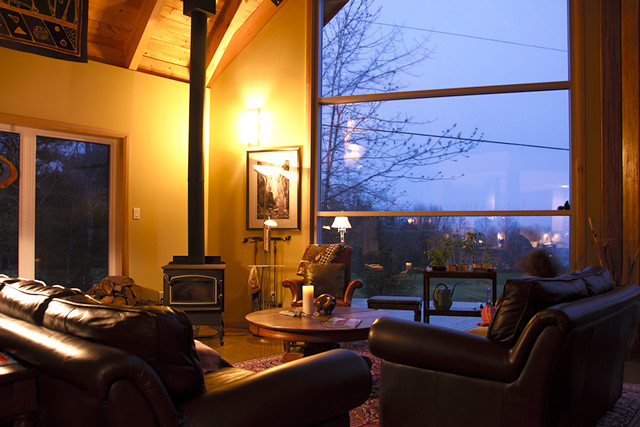 Attached to the large living/dining room is the kitchen. Working in this kitchen is a homemaker's dream come true. My parents who value nutrition and food culture and my mom, who has spent much of her life cooking good food, planned it this way.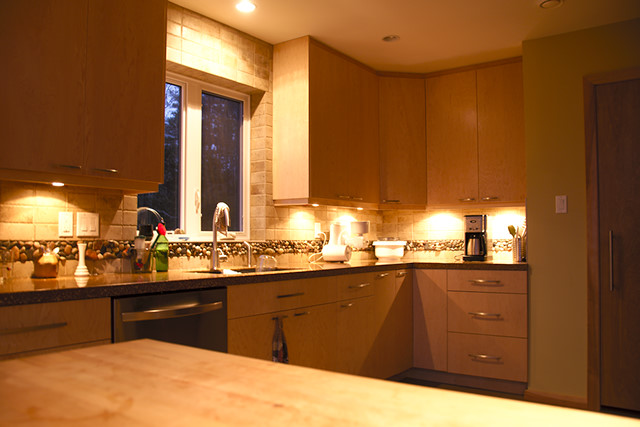 From the wood block "penisula", where we do most of the food prep, you can look right out those huge windows. If this isn't a nature loving homemaker's heaven I don't know what is?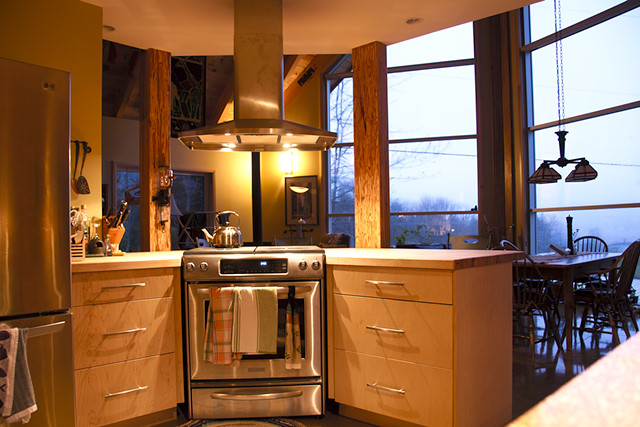 Now you see of course why it doesn't matter where we sleep. When most of your living takes place in a room like this you're happy sleeping in any ol' place they find space to put you. 
I'll be giving virtual tours of the other rooms in their house as I have time.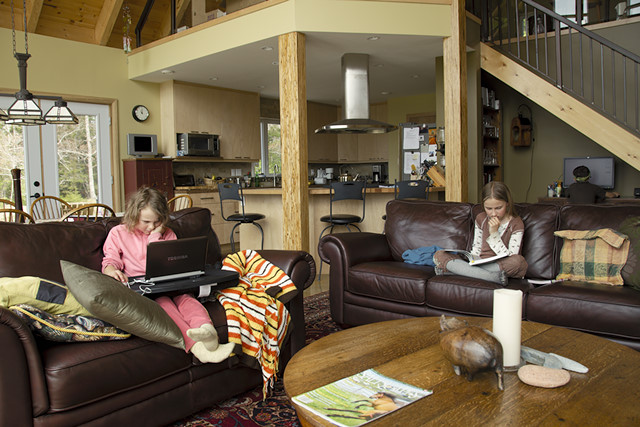 I think I've mentioned this before on the blog but my Dad is a professional builder. His whole adult life (from the time he was seventeen) he's been building residential and commercial buildings. That's all he's ever known.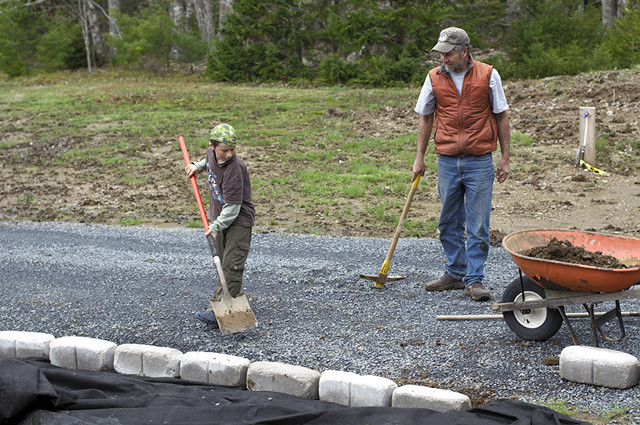 When my parents moved to Nova Scotia four years ago Dad returned to his first love - small scale residential building. My Dad is an artisan, though not the kind you buy crafts from at the market. He is also a very hard worker, with an eye for detail. Quite frankly when it comes to building beautiful homes he's amazing.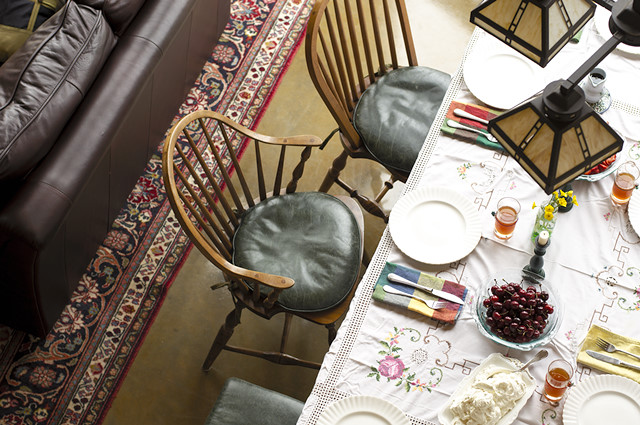 That I get to live here for the next four months - in this gorgeous house, next to a beautiful river, surrounded by nature, hanging out each day with my mom - is well... awesome. Pinch me, I must be dreaming.
Sorry. I'm not meaning to brag. And truly I'm not. It's just that the living arrangements are quite the treat for this renovation-weary, urban home dweller who has lived far from her parents (and best friend Mom) for many years now.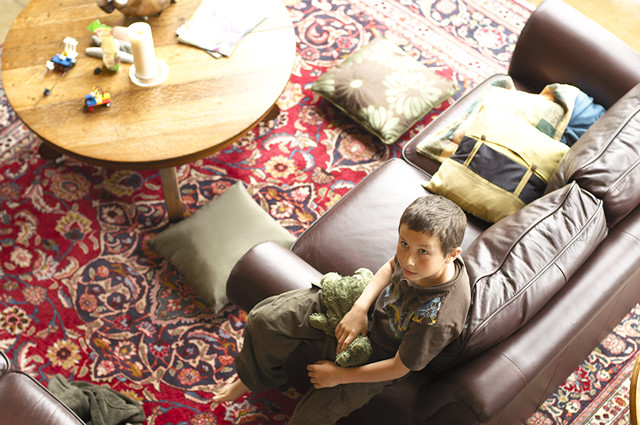 I'm happy in our new digs. Can you tell?
Maybe we could just build on a couple more bedrooms and stay permanently (just kidding Mom & Dad, we will leave the nest - eventually).
You can subscribe to comments on this article using this form.
If you have already commented on this article, you do not need to do this, as you were automatically subscribed.