Our First Week on Skis - A Dream Come True
December 17, 2011
This post originally appeared on our outdoors blog Outsideways.
---
It has been our long term goal to ski together for winter outdoor activity. We are committed to one day a week and this is fairly easy for three seasons of the year but winter has been tough to figure out.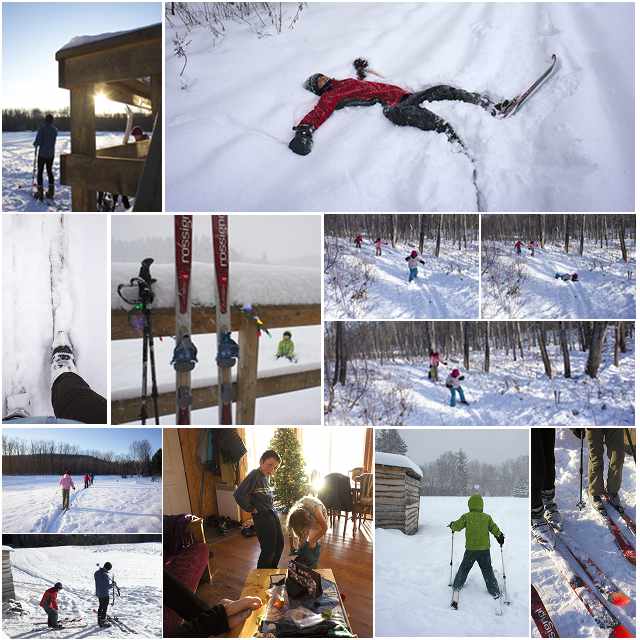 We tried snowshoes when the kids were little. Snowshoes are relatively inexpensive and easy to transport. If only they weren't so tiring for little legs!
Snowshoeing was not fun for the kids and truthfully, it wasn't all that fun for us adults either. Where snowshoeing is really fun (I'm guessing) is in conditions and terrain where the only way to get around is in a snowshoe. Where we were hiking, most of the snow was packed down on the trails, all we needed was our hiking boots.
Then three winters ago we discovered Mad River Rockets, a backcountry sled made in Vermont. Now these were fun. But a bit pricey too. We opted to start with one adult and one child sled and just share.
We did some great sledding early 2011 but on higher hills we reached a frustrating and cold point where some of us had to wait too long for other family members to do their run and then walk back up.
All along though our dream was to backcountry ski as a family. Damien and I grew up skiing and snowboarding in the Rocky Mountains of Alberta. Conventional downhill experiences at ski resorts. We knew how much fun winter is cutting turns down the side of a mountain. In Damien's late teen years he got a taste of backcountry telemark skiing and introduced me to that experience. It was amazing.
Location and life circumstances prevented us pursuing that. But we had a taste and knew that, if we could, backcountry skiing is what we would really like to do for a winter outdoor activity. And when we had a family, that desire didn't go away. This was a dream we hoped we could make reality but we had a few obstacles to overcome.
The cost of the gear. Outfitting a family for skiing in the backcountry was similar to investing in our summer gear - a quality tent, sleeping bags, lightweight cook gear, backpacks, etc... That was a lot of money for us and we just couldn't swing it with our other priorities.
The age of our kids. We are committed to pursuing adventure with our kids for as long as they want to hang out with us (forever, we hope). Backcountry skiing has a steeper learning curve than hiking or sledding. Yes, it can be done but we needed lots of practice time which brings me to my next point.
Location. Up until this move we've been city dwellers. To use skis would require always using the car to go practice somewhere. We didn't have the time in our weekly schedule to commit to that. Not to mention that good places to practice backcountry ski technique were a bit of a drive also.
And then something happened. We moved. But before we moved we set an intention - this winter we would ski with our kids.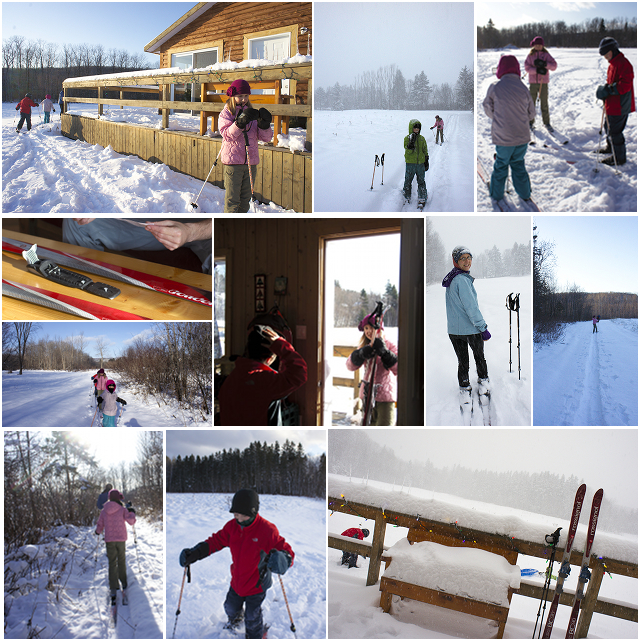 You can read our whole moving story here, but we moved because we needed freedom to pursue our dreams. It just so happens one of those dreams was winter skiing with our family. No, we didn't move just so we could ski - there was plenty of snow and hills in Maine. But our move was the perfect time to shift this winter activity goal to the front and center.
We started a ski fund last winter. It took some convincing to get the kids on board - they each had to contribute a fair chunk of "change". Our winter camping trip, where they could try friend's cross country skis, helped boost their enthusiasm for saving money for their own skis.
Damien started slowing purchasing the gear the end of last season. Gear and shipping is cheaper in the US and we wanted to take advantage of that before we moved. We arrived in Nova Scotia with a few pieces and kept working at it.
I should probably mention that Damien did a whole whack of research on what skis, boots, bindings and poles to get our family. Gear that would allow us to ski "regular" cross country and backcountry. Gear that wouldn't limit us too much to just one of those activities. Gear that could be used for multiple purposes if possible (trekking poles for ski poles). Gear that wouldn't break the bank.
We finished our gear purchases early this month, nearly, but not quite, breaking the bank. We remind ourselves this is why we live in a 750 sq ft cabin (and pay living costs accordingly) - so we can use our resources to achieve our goals.
The last piece to buy was the adult skis which we found locally in an amazing outdoor gear shop in town (10 minutes from home). Finding stores like this in our rather rural location assures us that the skiing around here must be magnificent (so the locals say), otherwise shops like this wouldn't even exist.
For the past week we've skied just around the chalet. Every day one of the five of us has been out in the snow, of which there is plenty - what a treat!
Tomorrow we're headed to a neighbor's hill to learn some more technique. We'll be staying local for a while to practice. One day though we'll take the left turn out our driveway and drive straight into the mountains where the big skiing is to be had.
But first, we need a roof ski carrier. I wonder if we could get the kids to start another fund?
Filed Under
Resource Library
You can subscribe to comments on this article using this form.
If you have already commented on this article, you do not need to do this, as you were automatically subscribed.