Our apartment kitchen, bathroom, and laundry
April 21, 2016
This is my second post in my Montreal apartment tour series.
Now the fun part, I get to take you on a tour of our apartment.
We're going to start in the kitchen because if you were to visit this is where you'd first land. Our apartment building has a front door (with a buzzer) to access all the apartments. This is the door that strangers and new friends will use, since they don't know about our private back door entrance.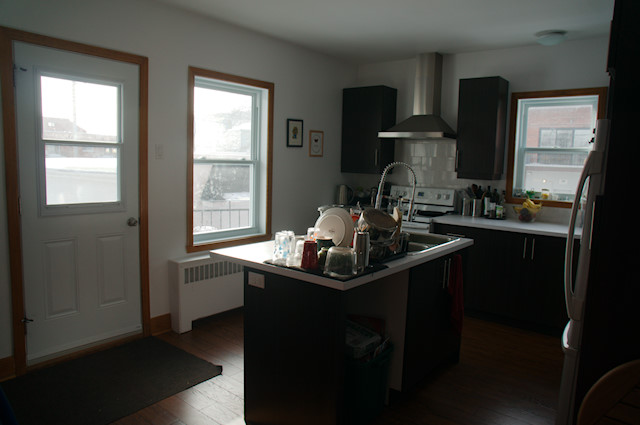 I love having our own entrance, it's such a bonus. However, the backdoor opens directly into the kitchen. No entryway, no mudroom, or anything like that.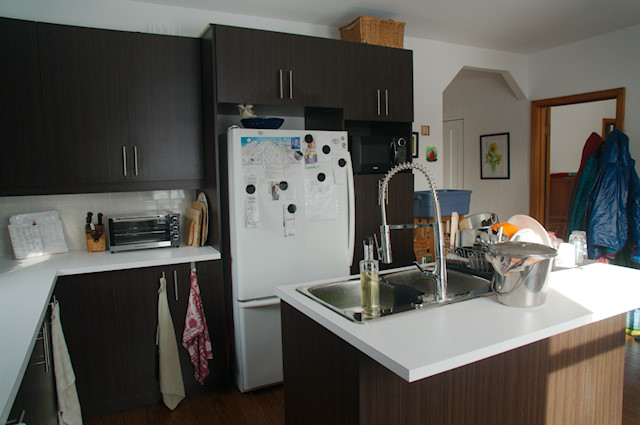 Montreal apartment rentals do not come with appliances, unless the previous tenants sell theirs to you. Our apartment was renovated before we moved in, so no previous tenants to buy appliances from. We bought all our appliances used - fridge, stove, washer and dryer but still it was a chunk of change. We couldn't afford to buy a dishwasher.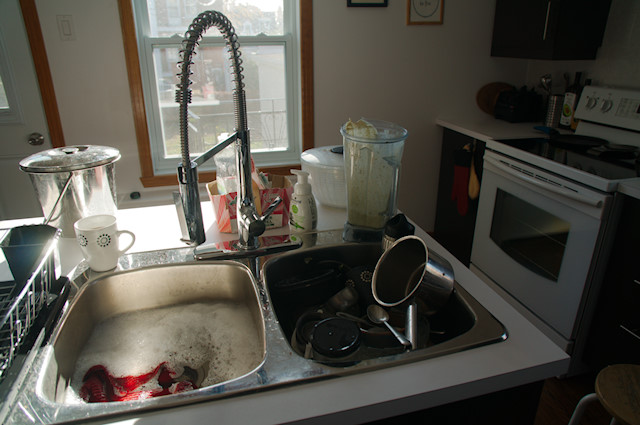 We are saving for a dishwasher because I definitely want one. I also want an upright freezer. We'll have to reconfigure some of our kitchen space to fit one but it can be done.
Our island with the sink has an overhang that would fit three bar stools. I'd love to use this space for extra seating and eating space, but without a dishwasher our counter gets quickly cluttered with dishes - both dirty dishes waiting to be washed and clean dishes drying on the rack. There's no space for eating. Maybe with a dishwasher we can clear some of this constant clutter.
When finances allow we will buy stools for this counter. I'd like red.
The part of our kitchen I am least happy with is our shoe rack. Again when funds allow, maybe next year, I'd like to purchase a storage unit of some kind with shelves that will hide all this behind closed doors. Our kitchen is our main entrance and there will be shoes in this space but I'd like to make that less obvious.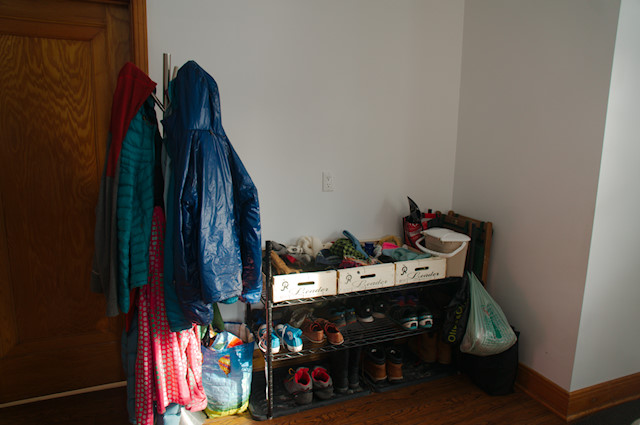 We also have a small hallway closet, near the front door, where we store off-season jackets and shoes.
Small Space Living Hack: Folding furniture
Our kitchen does not have space for a table but it has the best light in the whole house as it faces south, and I find the darkness of our dining room a little depressing in the winter.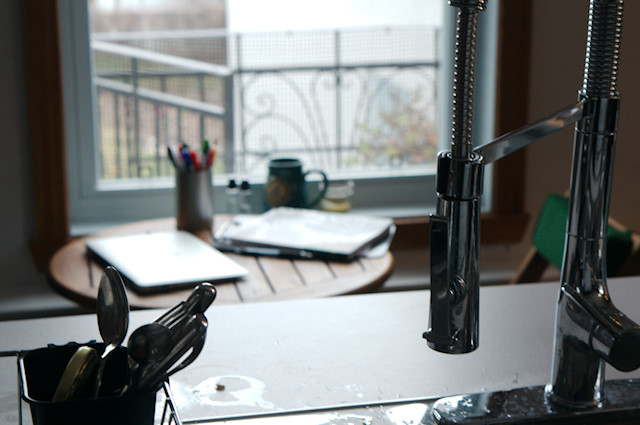 I really wanted a place to sit and read, eat, write or draw in the kitchen. So for my birthday last December I purchased a small folding table and folding chairs to use in the kitchen. These are actually made to be outdoor furniture (which means I found them on sale in December) and I will use them on our little balcony in the summer. Really pleased with this small space living win.
When the table is not needed or is making the kitchen feel cluttered I fold it up and store it next to our pantry. This is the space where I want to put an upright freezer, someday.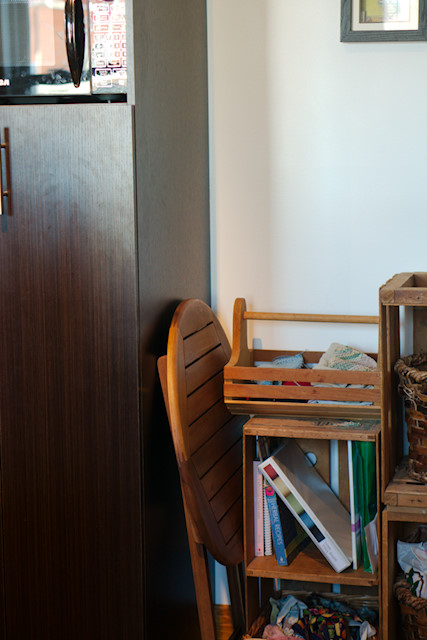 Directly off the kitchen is the girls bedroom and a hallway to the rest of the house. The first left off the hallway is our bathroom. One bathroom, three teenagers. Yes, it's possible.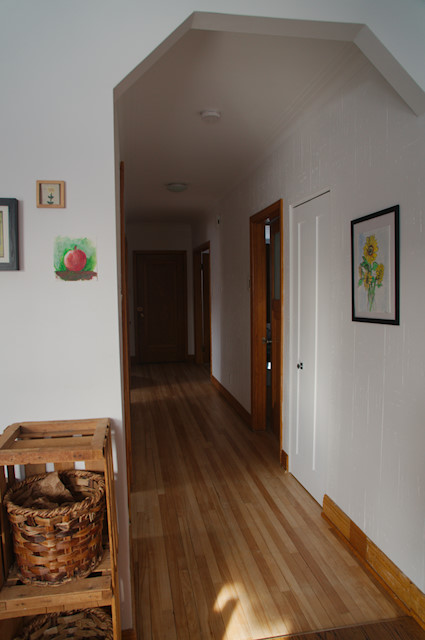 Small Space Living Hack: One bath towel per person
Everyone has one towel (and one set of sheets). We also have a couple guest towels and a few "spare" towels for cleaning up messes and hosting extra guests if necessary.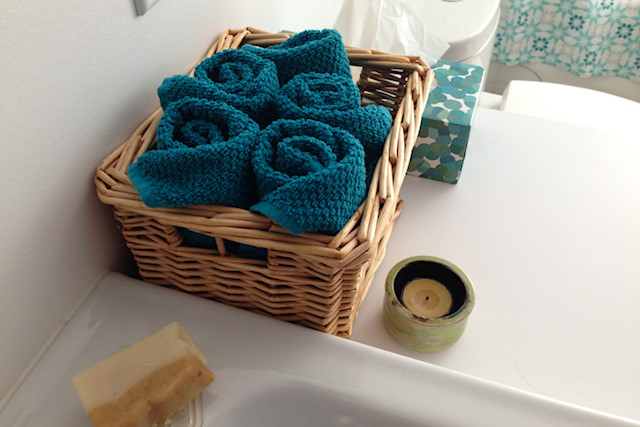 The cupboard and vanity in the bathroom holds all our bathroom and laundry related items: towels, first aid, medicines, toilet paper, personal care products, girls make-up, diffusers (when not in use), cat litter & supplies, cleaners, laundry soap, etc... (I keep herbs and remedies in the kitchen.)
Let's talk dental hygiene and personal care for just a wee minute.
I love to simplify and streamline our possessions but each family prefers different toothpaste so we have a bunch of those. Told you we weren't minimalists. And I'm always experimenting with new "natural" toothpastes.
My current favorite toothpaste is unsweetened (finally!) Redmond Earthpaste. In Canada you can find it at Well.ca (I buy it much cheaper locally.) I'm done experimenting with making my own toothpaste.
Another dental hygiene reality: it seems the kids are more likely to floss when there are multiple brands and boxes to choose from. At least the kids and I are happy to share the same shampoo, conditioner and body soap, which keeps the shower simple.
Now back to the tour.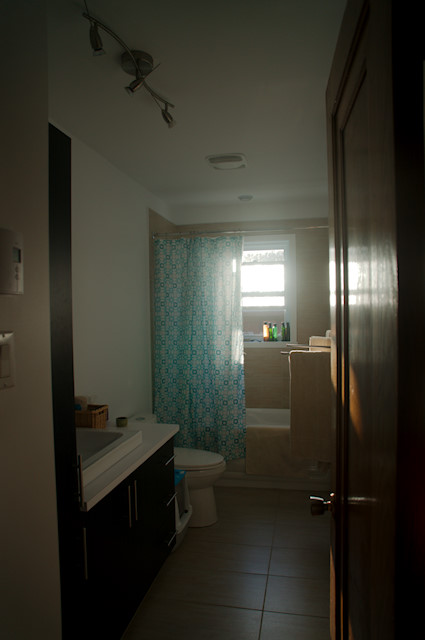 We don't have a linen closet. I keep all the guest linens in a tub in our bedroom closet along with our extra blankets.
Directly across from the bathroom door is the laundry closet. This is an instagram shot from last summer. I admit to removing the red mop bucket that usually sits on top of the dryer. The top of the dryer is also where I store extra toilet paper when I buy the big packages at Costco.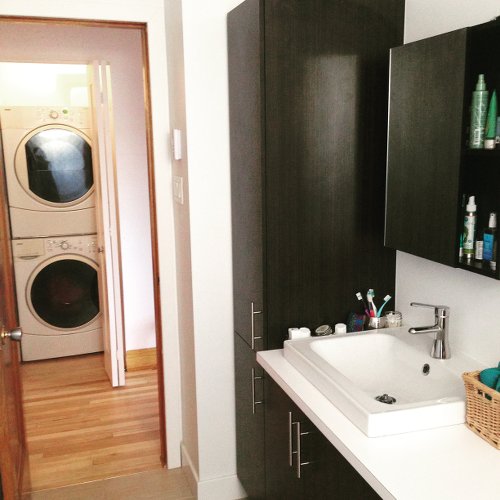 That's the tour of the kitchen, laundry and bath. Having a newly renovated kitchen and bathroom is such a treat for me. Yes, the counter tops and backsplash aren't anything special. It's not fancy but it's simple, clean, and functional. Also the kitchen is well lit with natural light and I love that.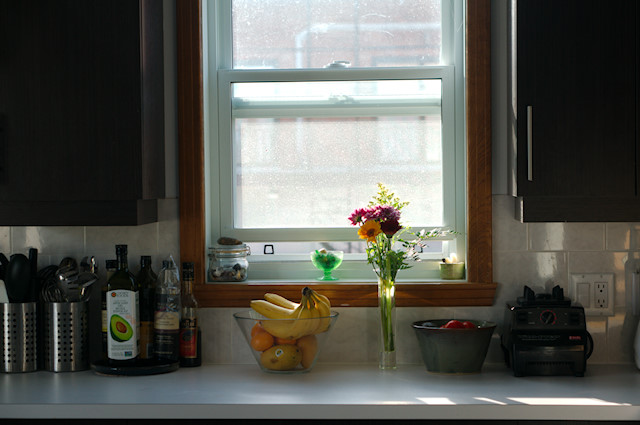 Next up on the tour: the dining and living room. A family and teen hang-out space for eating, working, studying, hosting friends, lounging, watching TV, and gaming. It's definitely an all-purpose "living" room.
This post has affiliate links (the toothpaste links).
Filed Under
Part of Series
Resource Library
You can subscribe to comments on this article using this form.
If you have already commented on this article, you do not need to do this, as you were automatically subscribed.