Not your typical how-to-reduce-your-grocery-spending blog post
June 4, 2013
I can't stand (Ok, that was a bit harsh, how about... I have a hard time reading...) the usual blog posts about how to save money on groceries.
The typical advice to clip coupons for products we don't eat, stock the freezer with meat on sale, or shop at stores that don't exist where I live (or that I'm philosophically opposed to) are not very helpful.
Where is the "how to save money on grocery spending" advice for families like mine?
Families who believe what you eat is foundational to health. Families who want to support local growers and producers. And families who want to figure out ways to buy more organic products but are stretched to the limit already.  (This sounds like a lot of families I know actually.)
For years I read posts from frugalistas about insanely low food budgets, thinking I must be totally missing the boat somehow, but knowing I was doing the best I could.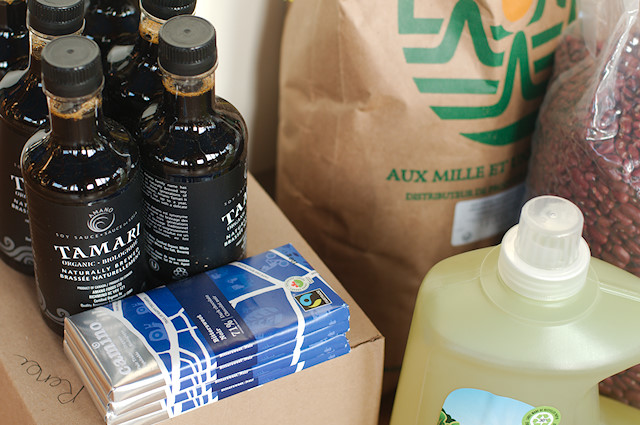 After huffing and puffing about people who can spend $100 a week to feed a family of 4 my husband told me, "stop reading about those people". So I did.
We now spend about 35% of our income on food.
This jumped quite significantly when we moved to rural Canada. Canadians spend more on food anyway, and rural Canadians are hit the worst I believe.
Our family doesn't buy a lot of cheap calories, instead we load our fridge with produce and our cupboards with nuts, seeds, dried fruits and the more expensive gluten-free grains and flours. Our family spends a lot on food and we earn well below the average household income for a Canadian family.
Our grocery shopping is a mixed bag of non-organic grocery store produce (and a few staples) purchased each week, an organic summer farm share, year round purchases from a local farmer and producers group, monthly bulk food purchases (these are mostly organic and Québec grown as much as possible), and weekly visits to the health food store for everything else.
With the exception of a few products (salsa, canned tomatoes, pasta, rice cakes, "emergency" canned beans and soymilk, etc.) we don't buy many processed foods. We cook our food from scratch. I menu plan. And it still costs us a pretty penny to feed our family. (For the record, we do eat out a couple times a month and I include these costs in our food budget. This has changed since moving from the US, where we could afford to eat out once a week.)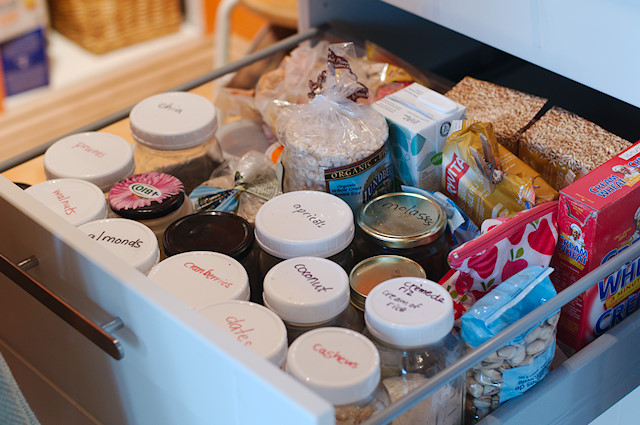 I will not give you a dollar number for our groceries, because you would wonder, "how can they manage to clothe, house, feed and educate those younguns when they spend so much on groceries?" I'll spare you that mental anguish but the math looks something like this:
cost of food > housing+fuel+insurance+education+clothing+entertainment
None of this is a complaint. We were just talking recently with our kids about how wealthy we are. We have a nice home, we eat well, and we have fun adventures together. We are rich.
I simply share all this as the financial reality of feeding a family of five, on a nutrient-dense, plant-based diet in rural Canada; keeping in mind, we don't grow any of our own food. If we invested time into that (which we're not prepared to do right now with our other life goals) we could save money on groceries and eat more local, organic produce. But we'd still have to buy a lot of food.
There is a good news part of this story.
Over the years I have found ways to save money on good food, accessing organic food staples I otherwise couldn't afford.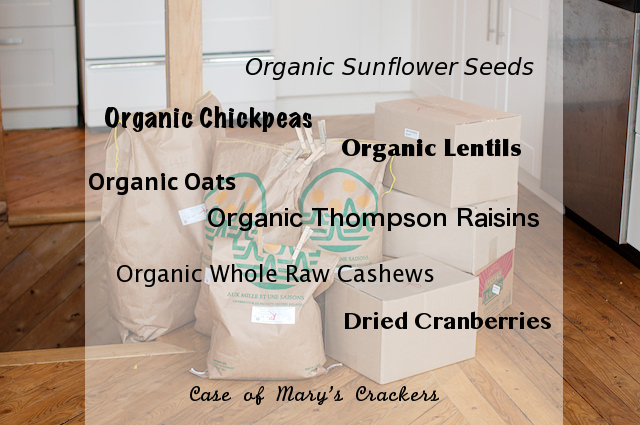 What's my secret? Food buying clubs.
Last fall I wrote a little e-book about this very thing. And then I somehow forgot to tell you about it.
I didn't forget so much as other things kept coming up. And I don't want FIMBY to be all about selling stuff so I kept putting off telling you about it.
But that's crazy, because this is a really helpful resource about something that affects all of us - the rising price of groceries and the very real costs of accessing quality food.
Since originally publishing this post I've made this e-book available as a free download here.
Now I feel bad that I didn't mention this e-book sooner because food buying clubs are a very effective means to source quality food at a price you can afford.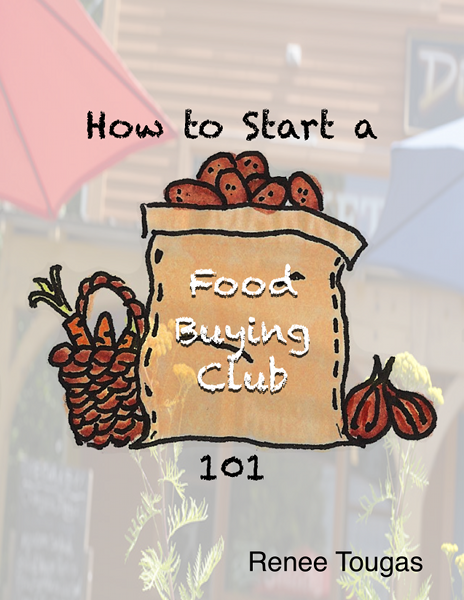 Want to save money on the food you buy and be more connected to your community?
Start a buying club.
Want to learn how to start a buying club? Download this e-book.
---
What are your tried and true methods and strategies for saving money on food? Or, how do you save money on other things so you can afford the rising cost of food? (It seems it's gotta be a bit of both.)
Renee Tougas participates in affiliate marketing, including the Amazon Services LLC Associates Program. Whenever you buy something on Amazon from a link you clicked here, I get a (very) small percentage of that sale. See disclosure for further explanation.
Filed Under
Resource Library
You can subscribe to comments on this article using this form.
If you have already commented on this article, you do not need to do this, as you were automatically subscribed.