My New Mug
September 6, 2012
For a couple years now I have been looking for the "one mug". As we have slowly downsized our belongings (maybe too much in some cases, we have only two wine glasses now in the house) the things we do decide to keep mean that much more to us. And their beauty and aesthetic matters to us.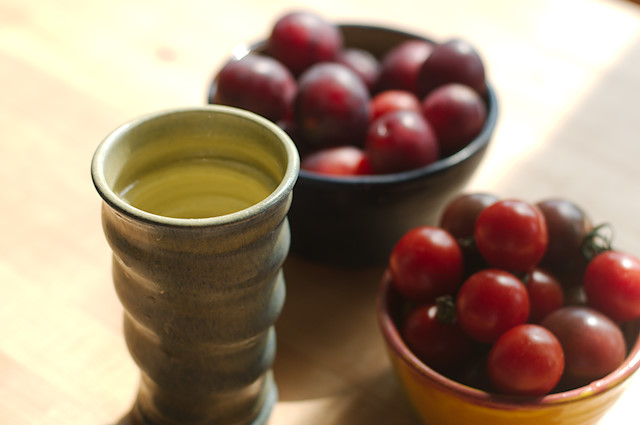 We keep one glass and one mug per person in handy reach in the cupboard. (One plate, one bowl, and one set of cutlery also.) We keep extras for hospitality but these are higher in the cupboard and generally out of reach. On a daily basis, we don't need more than one dish set per person. So if you only have one, you want that one to be nice.
Hence the search for my one mug. I wanted a mug that I could use for everything - water, tea, and coffee. And the occasional glass of wine. A mug to use as both a mug for hot drinks and a glass for cold drinks.  
I start my day with a cup of water. Right around now, it's 8:00am when I'm writing this, I make my morning cup of coffee. When that's done I switch to water for the rest of the day, till my afternoon cup of tea which is usually herbal though sometimes black or green.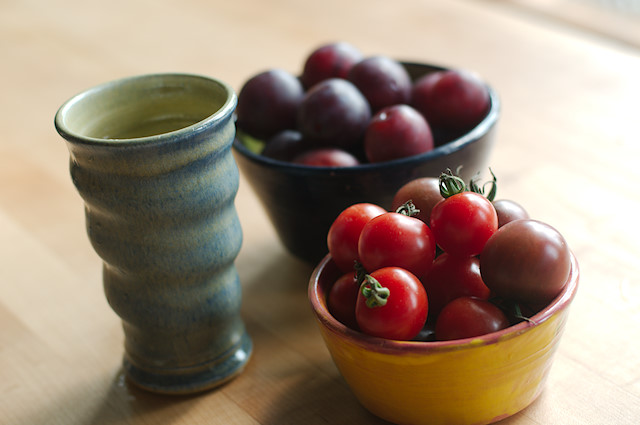 This mug does it all.
I've been looking a long time for a mug with this shape. For some weird reason I don't like drinking water from a mug with a handle, I'll do it, it's just not as aesthetically pleasing to me.
I have found mugs with this shape but not these colors. Or I've found handled mugs with the right colors but of course not the right shape.
So I commissioned a potter to create this mug for me.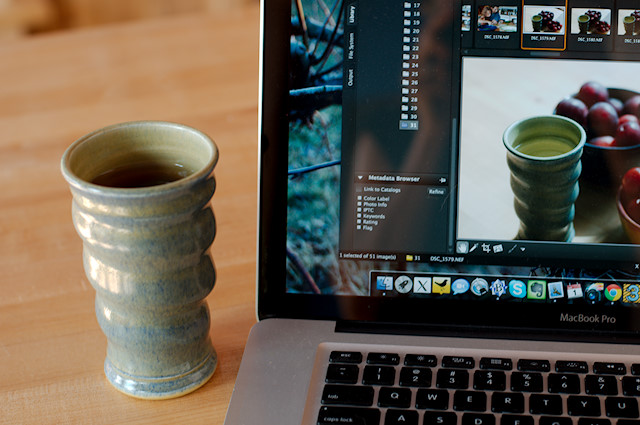 When we were in Nova Scotia this summer I visited Westcote Bell Pottery on the LaHave River. The studio is new to the area but the potters have years of experience. They recently moved their lives and business to Nova Scotia from New York state (good move).
In viewing their vast pottery selection and marveling at their skill I realized these potters could probably make me exactly what I had been looking for.
I had a few specifications - the approximate height and size, and blue and green glaze. The swirl design on my mug is the potter's own inspiration and I love it.
I ordered my mug while visiting my parents. The potter made it during the latter half of August and my mom picked it up for me and brought it when they arrived last week. I wasn't sure exactly what I would be getting, since I couldn't chose the final product. The potter made several others to sell in his studio and my mom choose the one she thought I'd like best. She done good. The mug has been my constant companion ever since (except while camping of course.) My parents bring old pottery mugs while camping, I stick with my titanium.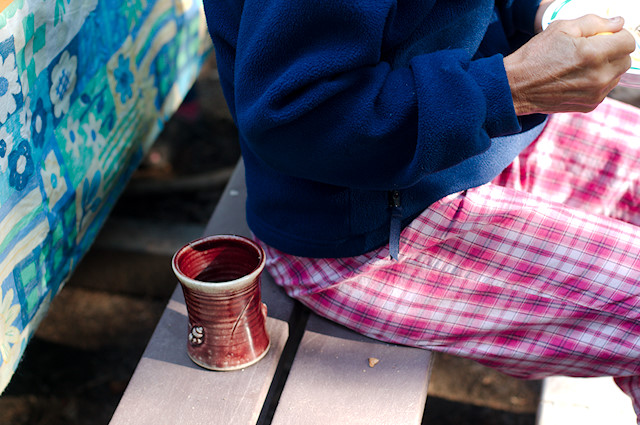 A couple thoughts on using a mug like this for all your drinking. Boiling water is really hot to hold without a handle. But you can't drink boiling water anyway. By the time my tea is the right temperature for drinking, the mug is a good temperature for holding in my hand. Also, if the mug feels too hot for my hand I hold it mostly at the top, where there isn't any liquid. However, I think this is only a summer issue. Come cooler weather, wrapping my hands around a warm mug will be delicious.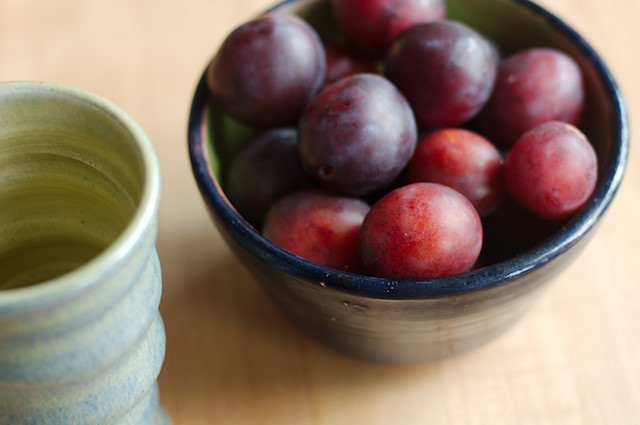 And in case you're wondering, the pottery bowls in these photos were made by the kids nearly three years ago during a hands-on visit to a potter's studio. And the fruit? That's the late summer bounty from our farm share and those plums were as delicious as they look!
Renee Tougas participates in affiliate marketing, including the Amazon Services LLC Associates Program. Whenever you buy something on Amazon from a link you clicked here, I get a (very) small percentage of that sale. See disclosure for further explanation.
You can subscribe to comments on this article using this form.
If you have already commented on this article, you do not need to do this, as you were automatically subscribed.