My Afternoon Time ~ When I Work
December 6, 2012
My days are lived in six parts. Early morning, morning, lunch, afternoon, supper and evening. I have certain activities I do in each. Usually, not always.
Sometimes I change the schedule on purpose or I'm required by circumstance to be spontaneous. A morning walk for example because if I don't "leave the scene" I might just go crazy. Generally though I prefer to schedule my spontaneity. Go ahead and laugh.
In the early morning - which doesn't start as early these dark days of December - I read, pray, plan, drink my coffee, start laundry and breakfast, and then write.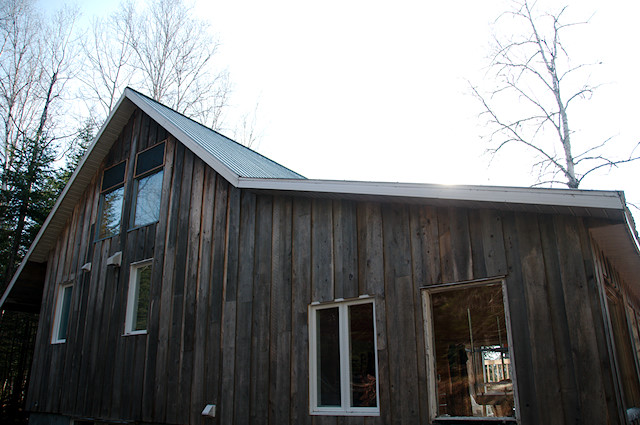 My morning block, which starts after 9:30, are for homeschool and miscellaneous homemaking. If it's a full homeschool morning I don't do any big homemaking tasks, just things I can do in-between helping with math, reading lessons, and science discussions.
Or sometimes I don't do any homeschool and I just attend to home things - like the unending bureaucracy that has accompanied the last year and half of our life, having moved four times and started over in a new country.
Even though we've been "settled" for five months at our home in the woods where we plan to live for a couple years, and have been back in Canada for eighteen months, I'm still attending to moving paperwork.
Lunch is a production, of sorts. The menu is the same every day. Salad mostly, stir fry sometimes. The kids help me prepare it. And while we're in the kitchen I do other kitchen work. There is always kitchen work.
We don't eat till 1:30 or sometimes later. While we eat we might listen to the Bible, read our own books or listen to an audio book.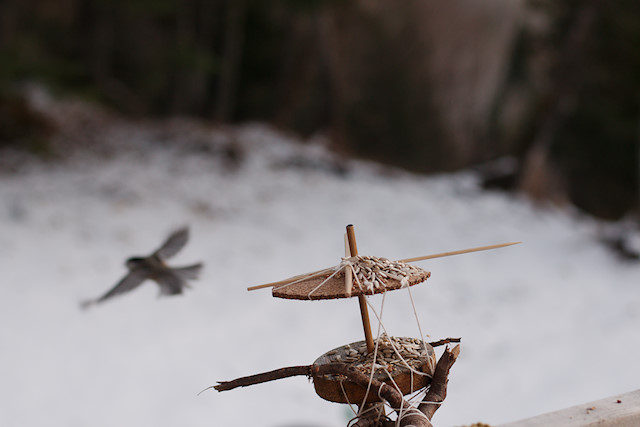 When we finally sit down to eat, after a full morning, there is a pause, an inflection point. The day's direction takes a shift.
First, we slow down, come to the table, eat together. (We don't eat family breakfast, people eat their oatmeal, baked potato or leftover supper on their own terms - in the midst of their other work.)
If I'm in a good book, after lunch is when I will sit on the couch or on the little red chair by the fire and read. Just stop and read. The kids chill too. Usually someone is playing their allotted video game time and the siblings gather round for the action.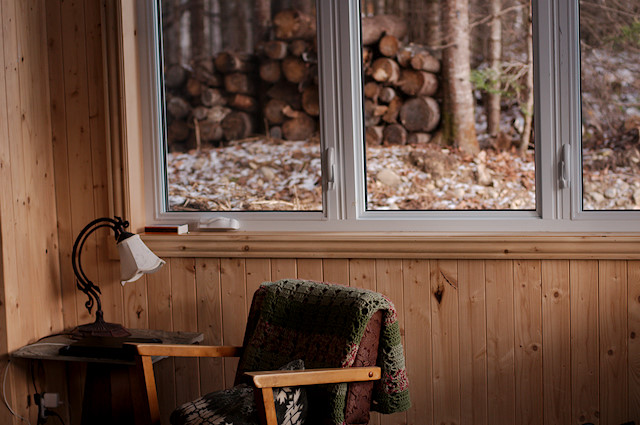 At this point, depending on the day (if there is Taekwondo at 6:30 or not) the afternoon appears to stretch out before me, full of possibility. I love that feeling.
Though my productive hours are approximately the same morning and afternoon - roughly 3 hours each, my mornings are committed to homeschool and homemaking. The afternoons feel like "my time". (This is a reversal of Damien's schedule, his personal project and exercise time being mid-morning and into lunch prep.)
My afternoon often includes a walk with the kids. They always want to come along - go figure. River play and hiding in the woods to freak me out has something to do with it I'm sure. Soon we will start ski season and this will no doubt change our afternoon walk routine.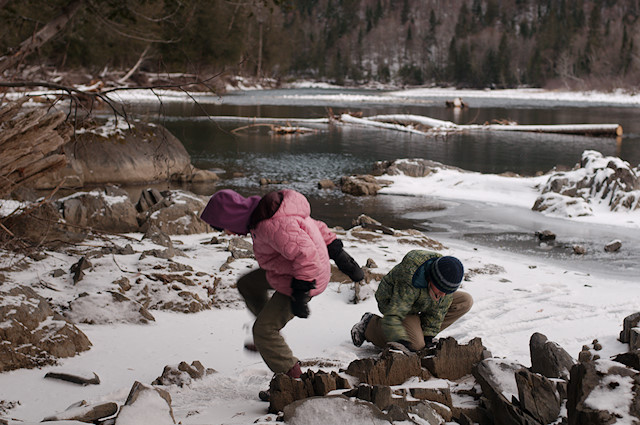 A couple times a week I study French with Celine. This is a discipline. Neither of us wants to sit down and exercise our brains but once we get past the initial, "oh, do we have to do this?", it's ok. There is often a lot of laughter that accompanies this time. You'd laugh too at my pronunciation.
Once every couple weeks I run errands. In our latest schedule iteration Damien does most of the errand running and grocery shopping. To say I'm thrilled with this arrangement is an understatement.
On Tuesday I prepare a rough menu for the week (this part is easy, we pretty much eat the same things on repeat) and a grocery list for Damien's weekly grocery run. I've been menu making/grocery list preparing for so many years I've got it down to a science.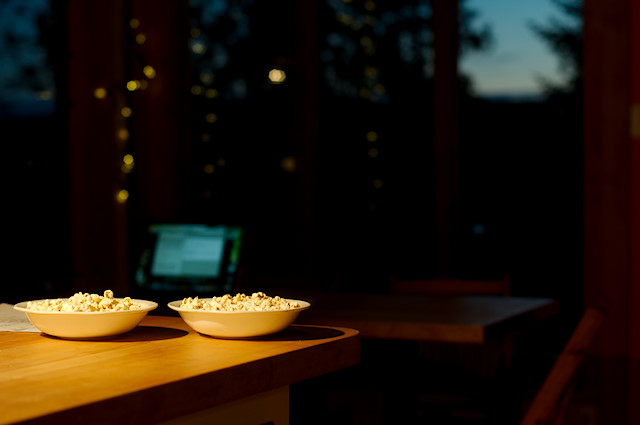 Late afternoon I might make a snack, or teach a child or two to make a snack, or more likely I will say "fend for yourself" which means rice cakes and peanut butter. Easy, raw vegetable snacks is something I want to work on.
A couple days a week I work for a bit in the afternoon, squeezed in there after reading, walking and French and before I have to start supper. It's not many hours, maybe three hours total all week. My income earning work is still a small part of my days.
The big question is will I work at the table? Where the antics of the chickadees and nuthatches at the bird feeder are a constant distraction. (It's so much fun to watch the birds.) Or will I take my computer downstairs by the wood stove?
It really depends on my mood but working with chickadees or by the wood stove is a luxury I try not to take for granted.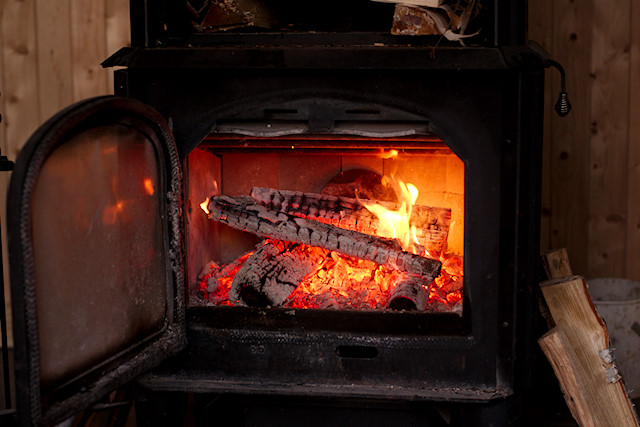 Two days a week I have to cut my afternoons short to start supper early because of Taekwondo.
Something totally new to our family this season was weekly lessons for the kids. Twice weekly lessons for the kids. The good thing is they do it all together. The other good thing is that Damien takes them and does the grocery shopping at the same time. This block of time, approximately 1.5 hours, twice a week, is my other main block of work time.
You can do the math. I have approximately 6 hours of non-writing work time during the week, not including a maximum of 2 hours on Saturday. This is for coaching, coaching prep, preparing teaching materials, marketing related stuff, focused e-mail, work on our store, etc.
Depending on the week I might not even do this much and I may use this the afternoon "work time" for other homemaking or homeschooling related tasks, like organizing an online book club (my latest venture).
And then supper. Turns out I only make supper four out of seven nights a week. Not bad. Celine cooks on Wednesdays, Damien and I cook together on Fridays when we eat a late supper and watch a movie with the kids, and Damien usually cooks supper once on the weekend.
These days it is dark long before I start making supper. While I cook, the kids do clean up - sweeping or vacuuming and end of the day tidying.
Lately we've been listening to a story together during this time. The sky is dark outside and the wood stove is going and it is a cozy time of day. Sometimes I listen to my own podcasts - On Being, Lisa's courses (I love her stuff and highly recommend it), or other interviews and teaching.
Two times a week supper is rushed. I barely get it on the table in time for my family to scarf it down and then off to town they go. When the front door shuts behind them I take a deep breath and enjoy the silence (and maybe a few chocolate chips) before starting my work.
I love my afternoons. Even though the late fall days are short in light-length these afternoons seem more expansive to me than at any other time of my life.
When my kids were wee ones I napped almost every afternoon, sometimes for an hour or more (my babies did not sleep well at night). Between napping, laundry, homemaking, meal prep, and occasional crafting, there wasn't a lot of time in my afternoons for much else. But now there is.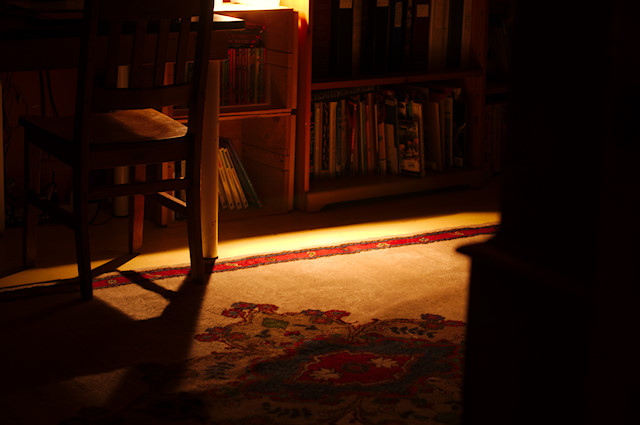 I loved my life then - dedicated as it was to my children and our home. But my babies grew up and my husband came home. And I love my life now - the same dedication but with more time for other things.
Renee Tougas participates in affiliate marketing, including the Amazon Services LLC Associates Program. Whenever you buy something on Amazon from a link you clicked here, I get a (very) small percentage of that sale. See disclosure for further explanation.
You can subscribe to comments on this article using this form.
If you have already commented on this article, you do not need to do this, as you were automatically subscribed.