Minimalist footwear changed our lives
June 11, 2013
That's a fairly audacious claim to make, but it's true. Our present day lives include the physical activities of running, walking, and hiking. But it wasn't always this way.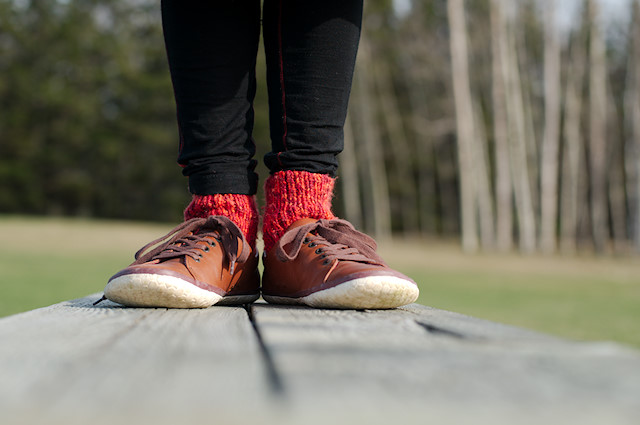 Damien and I met in University. We were young and we were both active. I wasn't as diverse in my physical interests as Damien, I mostly enjoyed brisk walking and occasional running. But meeting Damien introduced me to new activities - hiking, biking, even kayaking and rock climbing (we did this a bit while still in University with access to facilities).
Neither of us was into team sports but we both wanted to incorporate activity and the outdoors into our everyday lives, most notably commuting to school and work with human powered means such as walking or cycling.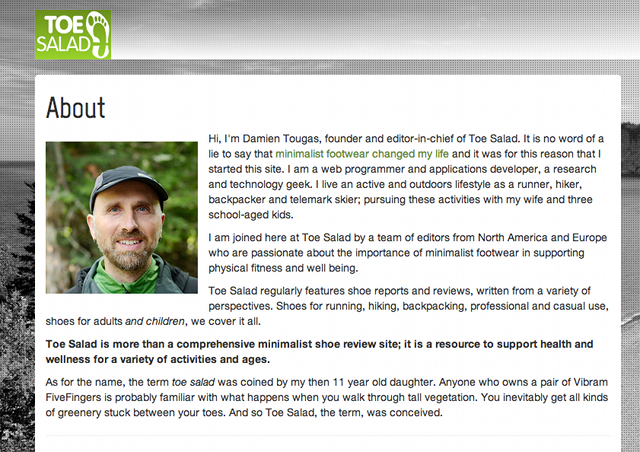 In our early years of marriage and baby raising, Damien was more motivated than me to be physically active. This has changed in recent years.
I am much more serious now about being physically active. First it was hiking, then skiing, and now daily walking and running. Damien and I share a mutual desire for increasing physical activity in our lives, and sharing this with our kids.
When we were young, staying fit and exercising should have been easy. But in his mid-twenties, Damien started to suffer from foot and knee problems.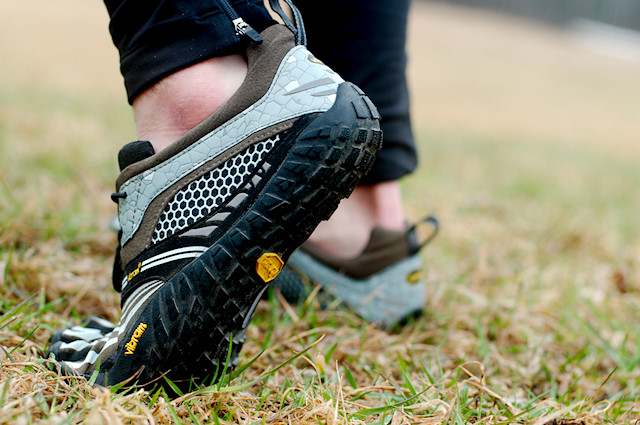 Activities Damien loved to do, running and hiking specifically, were too painful for him. Now that I am more active also I can appreciate the struggle this caused for Damien. At the time I wasn't as sympathetic as I am now to the frustration and loss caused by physical injury.
Damien spent a few years and several thousands of dollars investing in cycling as a means to stay active and fit. This was less hard on his knees and feet, but new physical problems developed and the time commitment of this sport turned out to be hard on family life. Then he did weight lifting for a while, building a simple home gym so he could integrate working out into family life.
Damien, ever the researcher, wasn't content to accept a life of sore feet, knees and back. In his early thirties he started looking for solutions to this problem. (Incidently, it was his eczema and allergy issues a few years earlier that lead us down the dietary path we now follow. Pain and poor health will do that; make you look for solutions.)
In looking for a solution to his bodily pain, Damien came across the concept of too much shoe being the cause of unnecessary injury.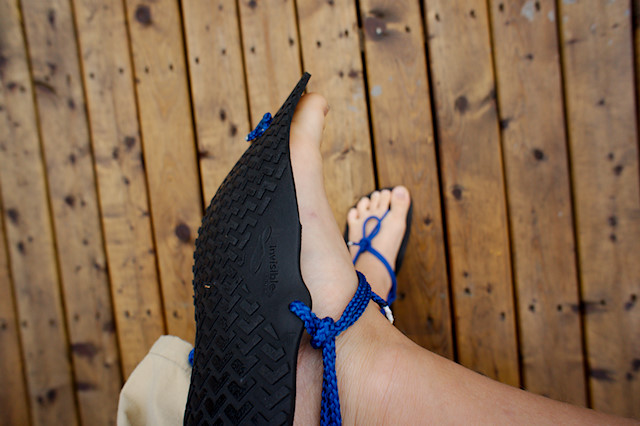 Footwear? Really? Shoes with shock absorption and motion control, carefully designed for and marketed to active individuals, this was the cause of the problem?
It was a radical idea at the time and a completely different paradigm than what were told by doctors who recommended expensive orthotics and pain killers. "Solutions" that weren't solutions at all.
Discovering the minimalist approach to footwear changed Damien's life. And the course of our family's future.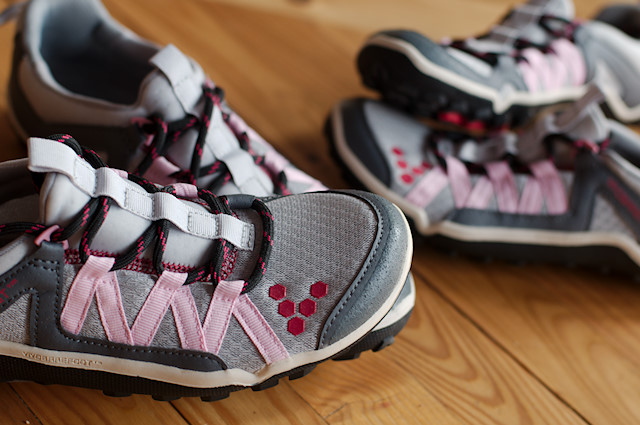 Damien, my now half-marathon running, backpacking, and hiking husband used to be unable to do these things.
Did you catch that? My forty year old husband is more physically fit than he was at thirty. Activities that were painful in his twenties and early thirties are now a regular part of his life as a forty year old man.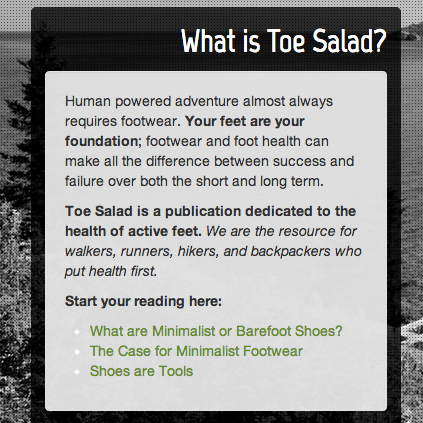 Damien discovered the concept of minimalist footwear and "going barefoot" when the idea had nowhere near the mainstream acceptance it has now. When Damien made the switch to minimalist footwear the only shoes available at the time were custom made moccasins.
The change in Damien's life was so significant he couldn't help but spread the minimalist footwear gospel.
After a transition period of building his foot muscles (they had atrophied over the years with "too much shoe") he could actually do activities that he thought were no longer possible.
Damien would tell anyone who cared to listen about his shoe conversion and the importance of letting our feet return to their natural state. He spent more and more time learning about foot health and he searched high and low for minimalist shoes. Minimalist shoes were hard to find in those days.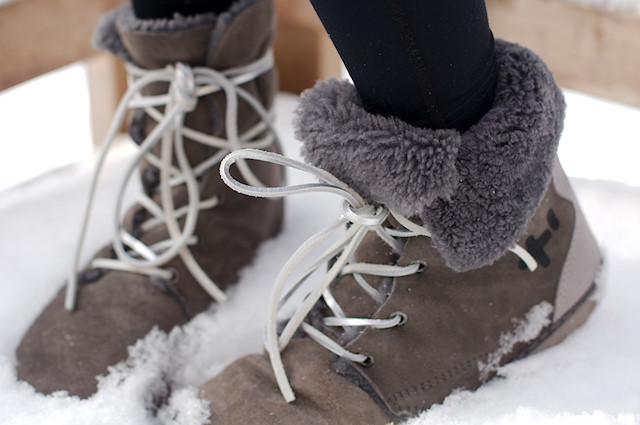 In time, I went minimalist also. We shod our kiddos in water shoes and low profile sneakers for hiking and let them run barefoot as much as possible in our northern climate.
All of this passion and interest birthed something completely new in Damien - the desire to write and share this message with the world. Before this Damien didn't like writing. But now he had something he actually wanted to write about. He had a message to share.
By the way, this is how we teach homeschool writing. Write about what you care about. Write for a reason.
At first he started writing about minimalist footwear on our (very quiet right now) adventure blog. Then he started doing lightweight backpacking gear and minimalist shoe reviews for another publication. He started to build a reputation as a minimalist shoe guy and wanted to create a resource for people interested in minimalist and barefoot shoes.
Damien wanted to create a site to provide solid recommendations for those just getting started and to hopefully encourage companies to continue designing and manufacturing more shoes for this growing demographic.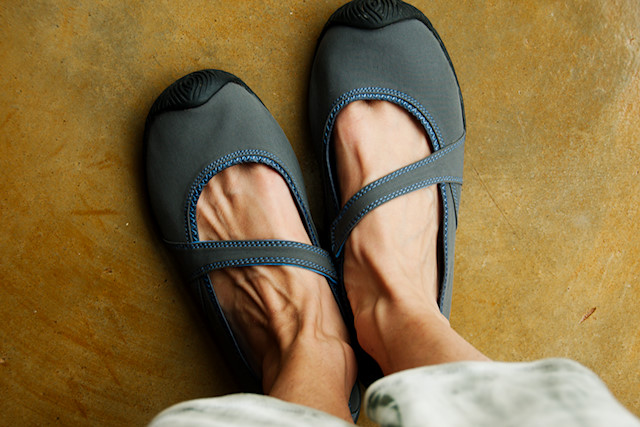 And thus, Toe salad was born, out of a passion (kinda like babies.)
A passion to share the message of healthy feet being the foundation of healthy bodies. And a passion to support other people in discovering this principle and to help them find footwear to meet their needs.
Toe Salad started publishing in January 2011. It's grown a bit since then and last week we launched Toe Salad v2.0, a major upgrade from the original blog.
Damien built the whole thing on a brand new platform. This version of Toe Salad showcases not just his footwear knowledge (seriously, the guy knows so much about minimalist shoes) but his computer prowess and technology skills. I thought that if Damien worked at home I would better understand what he does. Turns out I still have no clue.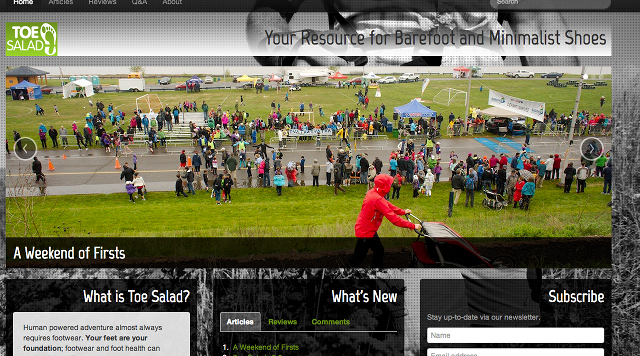 I share all of this with you - the story of how Toe Salad came to be and it's new look - for a few reasons.
The new Toe Salad makes it so easy for you to find information about shoes and ask questions. Over the years Damien and I have helped FIMBY readers with shoe and foot related issues. The old Toe Salad forums were a bit intimidating and many people just contacted us directly for help, which we don't mind, we're here to serve people. However, this upgrade makes it much easier to find shoes and help for making the switch to minimalist footwear.

Toe Salad is a big part of our family's life and a big part of my life. I am taking an increasingly active role in editing and writing. And as always, I take all the photos for Damien's posts.

If you visit our home, you will find we have more shoes than we know what to do with and if you are a men's size 9.5 we will try to give you some as you leave. I find it incredibly ironic that minimalist shoes clutter our lives. Ha, Ha! Seriously though, the benefit of this is we don't have to buy shoes anymore. Damien is considered an expert and authority in the minimalist footwear community and companies give him shoes for review and also "just because". This is a nice perk when raising three growing, active kids.

We teach lifelong, interest-led learning to our children by modeling that kind of education ourselves. This looks like having an interest or need, finding a solution, and sharing that solution. Experiencing personal change and growth, adding your voice to the world in an attempt to change people's lives for the better. By following our interests and investing time in our own personal growth we model for our children what life long learning and contributing looks like.

This explains why our adventure blog, Outsideways, has been so quiet lately. About seven months ago we decided to invest our writing and blog building energies on the sites we are most passionate about and that have the most traction and readership - Toe Salad and FIMBY. We'd love to build an awesome "think outside the box adventure blog" also, but with limited time and energy we are choosing to focus on our two main blogs. FIMBY feels a bit more adventure/outdoorsy because of this. Outdoor adventure is becoming front and center in our family life so this makes sense.

Damien is available for hire. Toe Salad is a resume of sorts for one just one slice of Damien's programming skills. Everything you see there, he made happen. For those of you familiar with blog platforms, there are no "plugins" for the work Damien did. He built it all, custom. I'm incredibly proud of him and in awe. If you need help getting things sorted out for your own blog, website, or online technology strategy, we can help. Contact us here.
Go check out our re-launched blog. If only to see how cool it looks. You'll find my mug and bio on the About page.
Renee Tougas participates in affiliate marketing, including the Amazon Services LLC Associates Program. Whenever you buy something on Amazon from a link you clicked here, I get a (very) small percentage of that sale. See disclosure for further explanation.
Filed Under
Resource Library
You can subscribe to comments on this article using this form.
If you have already commented on this article, you do not need to do this, as you were automatically subscribed.